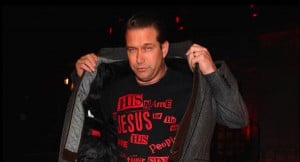 Actor/reality star Stephen Baldwin scored a $110,000 book advance to write a book entitled Ready to Get Dangerous? The book was supposed to be a memoir about Stephen's life with a heavy dose of Christianity. A press release described the book, which was sold in 2007, as "what it means to live everyday as 'a sold out, hardcore, nothing held back Jesus freak.'"
However, Stephen has not actually written the book, which puts him in violation of his contract. His publisher, Hachette, is now suing to get their money back. Clearly, writers' block isn't the issue, since Stephen managed to complete two other books (one a faith-focused book that came out in 2006 and the other a Christian-themed novel penned with a coauthor and published in 2008). The Celebrity Apprentice star might have already spent all the money, since it's been five years since then, and he's had financial trouble, including being busted for not paying three years' worth of taxes.
Stephen isn't the first celebrity to default on a book and find themselves having to pay back money to a publisher. Random House successfully sued P.Diddy after he failed to deliver a memoir they were planning to publish, and Victoria Gotti had to pay back HarperCollins, also for a memoir.