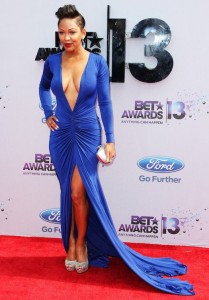 Actress Meagan Good is open about her Christian faith, and she's married to Devon Franklin, a movie studio executive slash Seventh Day Adventist preacher. But after wearing a low-cut dress (pictured) to the BET Awards last week, Meagan has faced a storm of negative complaints from her fellow Christians. After she got some negative responses on Twitter, Meagan issued a response:
I'm not any less holy because the dress I wore -I may not be who people think I should be -but I'm morphing into exactly who God wants me to be.. My excuse is never "I'm going to do me" and I don't feel that I need to make an excuse or defend or what I wore .. I know I have a responsibility -and I'm working daily to fulfill the full potential of all God has created me to be.
She added:
And it just makes me sad that us as Christians can't see beyond our initial reaction and don't seek God before the attack other brothers and sisters …and never think for one moment that: God knows what he's doing and he uses everything for his glory .. and he has a plan for every specific situation.. I had intentions on anything .. Merely picked a dress I saw and loved … God knows my heart and that I didn't do anything wrong .. And he will use even people's thoughts to bring him glory.
What do you think?