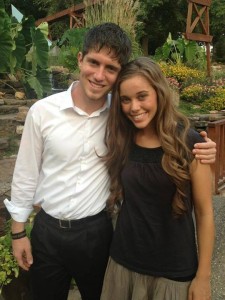 I've spent quite a few years waiting for one of the Duggar daughters from 19 Kids and Counting to get into a relationship. Oldest son Josh Duggar is married and has kids, but the older daughters are stuck at home taking care of their siblings instead of getting to have lives of their own. Luckily, there's one hint that that might be changing.
A young man named Ben Seewald recently posted this picture to Facebook, and the girl in it seems to be Jessa Duggar. Later, comments in the thread confirmed that Ben had met his girlfriend "by watching her on 19 Kids and Counting."
The photo appears to be legit. The young man in the picture lives in Arkansas, near the Duggars, and attends community college there. He is also Facebook friends with Josh Duggar. Ben's twitter also indicates that he loves University of Arkansas football and Jesus, which probably mean that he passes the Jim Bob Duggar test.
It would be great if one of the Duggar girls was finally allowed to get married and move out of the house, although I always hoped that oldest sister Jana Duggar would get to do the honors first. Either way, Jessa looks happy and adorable in this pic, so I'm thrilled for her. And considering that the Duggars' ratings were lower last season, the producers may have decided that a wedding would be a great storyline.
Another thing I love about this photo? Jessa and her boyfriend are hugging. It may not seem like a big deal, but the Duggars are extremely conservative about relationships, and Josh and Anna didn't do anything more than hold hands when they were dating and didn't kiss until they were married. Maybe Jessa is marching to the beat of her own drummer.