Cat Power, aka Chan Marshall, sports a cross necklace in her new video for "Manhattan."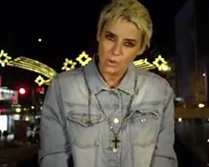 Normally, that might not be interesting. But Marshall has spoken out against religion many times in the past and even called it a "pyramid scheme" on Twitter recently, so what's with the neckwear all of a sudden? If you want a sense of exactly how not-interested-in-religion Marshall is, here's an excerpt from a very revealing interview in Dazed magazine:
My dad was a Jehovah's Witness. My parents both have Cherokee blood, so my mom liked going to pow-wows. I got baptised for my grandmother because I knew she wanted it so much. I'm 40 now, it took me, like, 35 years to get rid of all that knowledge of demons and Satan – it was real hard on me growing up. The last time I saw you, that's what I was dealing with. I thought I was in hell, in a processing centre for your soul. I'd just seen my ex-boyfriend get arrested and put into a psychiatric ward. Then I got a plane to Atlanta, and I started hearing voices. I went straight to a psychiatric centre and they put me on an experimental anti-psychotic that I shouldn't have been on. And then I went to shoot a video with Harmony Korine, and he put me on a cross. Which is fine, I love Harmony so much, but my frame of mind was… I was on another planet. Then I got on a plane to meet you. I shut the door when you guys left, closed all the curtains, didn't sleep for days. I thought I was going to be led to some sacrifice for Satan.
There's certainly no law saying that non-Christians can't wear Christian jewelry. But considering how complicated her religious history is, I'm kind of surprised to see her wearing this necklace so nonchalantly. My harebrained theory? She's doing it as a screw-you gesture to ex-boyfriend Giovanni Ribisi, who is a Scientologist.
After the jump, two of Cat Power's videos, first the one directed by Harmony Korine and then the recent one for "Manhattan."