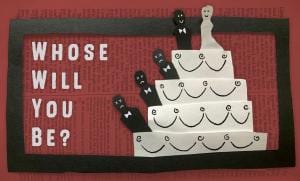 "Now at the resurrection whose wife will that woman be?"
To whom do you belong? Whose will you be? At it's core, this is what the Sadducees seem to be asking in this Sunday's Gospel from the Book of Luke Chapter 20: 27-38. The response that Jesus offers is surprising:  in, "the resurrection of the dead," he says, we, "neither marry nor are given in marriage." Does this mean, you might ask, that I won't be married to my partner in Heaven? Depending on the state of your relationship, I imagine you'l be asking that question with either a smile or a frown.
Rest assured, though: as my own theological mentor often says, Jesus is not offering a deletion of relationship, but rather a completion. That is to say, Jesus is painting a picture of Heaven, not as a place which removes the closeness, trust and intimacy we experience with one person in marriage, but where we can experience that same closeness, trust and intimacy with every person. It has been said that Heaven is where we will "know and be known," and this is the promise to which Christ refers in his admonition to the scholars of the law. In this redeemed order, marriage would simply be redundant. We will all belong to one another and, most ultimately, to God.
This is a beautiful promise, but it also leaves us with quite the responsibility here on earth. According to Christ's paradigm, marriage is the "preseason" (if you'll forgive the sports analogy) to the "game time" of Heaven. Marriage is the training ground where I learn to fully give my fullest self and receive my partner's fullest self in return. Marriage is the place, it seems, where we first "know and are known."
Of course, few of our relationships match this perfectly. But do not despair! If nothing else, Christ's words to the Sadducees call us not to settle for the pettiness of the world but rather to aspire to the dreams and standards of God. Seeing as He's the one who created us in the first place, He'd probably be the one to know if we (and our relationships) are capable of more than we might otherwise settle for.
Jacob Popcak, M.A., L.P.C. is an award-winning Catholic artist and a counseling associate of the Pastoral Solutions Institute. He can be contacted through CatholicCounselors.com.