Detective John Munch has died. He was 78.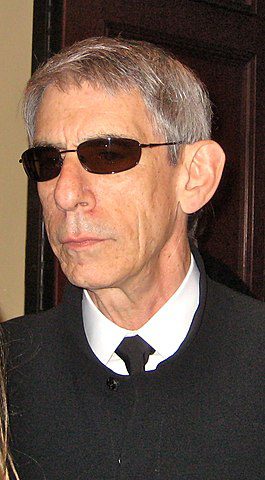 Comedian Richard Belzer played Munch from the first episode of Homicide: Life on the Street in 1993, through eight other series, to his last episode of Law & Order: SVU in 2016.
I spoke to Belzer during filming of the Homicide episode Identity Crisis, season 7, episode 19.
The episode aired April 30, 1999, so we must have shot in late '98 or early '99.
Belzer was number one on the call sheet and I was dead last. I was the last person in the last scene on a Friday.
I was lucky to be there at all. After seven years in Baltimore, the producers hired from a very tight core of cast and crew and the same background artists worked several days a week for years.
I played a crime scene photographer.
I spent all day hanging out with the other actors in my scene and wandering back and forth to craft services, where I had the best lobster bisque I've ever had. The cook said his secret was not diluting it with milk, it was pure lobster bisque.
I was warned by all the other background actors not to interact with Belzer. It's known protocol not to distract the principal actors on set, but Belzer was especially bad, I was told. Stay out of his eye line, they said, don't interact with him in anyway. I had seen him on television and he looked pretty intimidating, so I had no reason not to believe them.
According to The Hollywood Reporter, "his last words were, 'Fuck you, motherfucker.'"
I shot on the same day the cast and crew were told at lunch that the series was probably getting canceled. The mood on the set that afternoon was somber. (I had lunch with Austin Pendleton, but that's another story. If you've ever had lunch with Pendleton, then you know exactly what I'm talking about.)
When I got to set for my scene, a fellow extra dressed as a cop introduced me to the second assistant director, saying, "this is Jim, he's new."
The second AD looked me up and down and said, "I can tell."
A prop person handed me a medical examiner's camera and showed me how to make it flash, despite the fact it had no film in it.
The second AD showed me my blocking, my first position and where to walk.
The scene was in a coroner's lab, with Belzer, Pendleton as the coroner, and Kyle Secor as detective Tim Bayliss.
At the end of the scene, after one of the principles made a wisecrack, the second AD yelled "flash," and I took a picture and set off the flash.
"Can I get a copy of that?" Belzer said after the first take, evoking the only laugh I remember.
We shot the scene repeatedly, each time ending with me and my flash. The camera was on a Steadicam and was constantly moving around the crowed, chaotic set. Blocking went out the window. At one point after a take, I found myself behind the camera operator.
The prop person kept track of how many times I flashed the flash, because he occasionally came over and replaced the bulbs between takes.
When we all wrapped, Belzer and Secor dumped their prop guns and police badges on the examination table and rushed from the set to catch flights home.
I had spoken with Belzer earlier in the day, despite being warned to avoid him.
During one of our many walks to craft services, I found myself several long steps ahead of the rest of the actors in my scene. That's when I noticed Belzer walking towards us, his hands in his raincoat pockets.
We were about to pass each other in the parking lot and I had only moments to decide what to do. I didn't want to ignore him, that would have been rude. And yet, I was afraid to look him in the eye and perhaps evoke his wrath.
Finally, as he stepped next to me, I looked Belzer in the eye, and said, "hey," with a casual nod.
"How's it going," he replied.
Jim Meisner, Jr. is the author of the novel Faith, Hope, and Baseball, available on Amazon, or follow this link to order an autographed copy.