It's been 13 days since we first heard of the horrible massacre in Newtown, Connecticut. That's right, only thirteen days. It feels like a lot longer.
For the families and friends of the victims, I can't begin to process how long those days have felt. I can only continue to pray for their healing.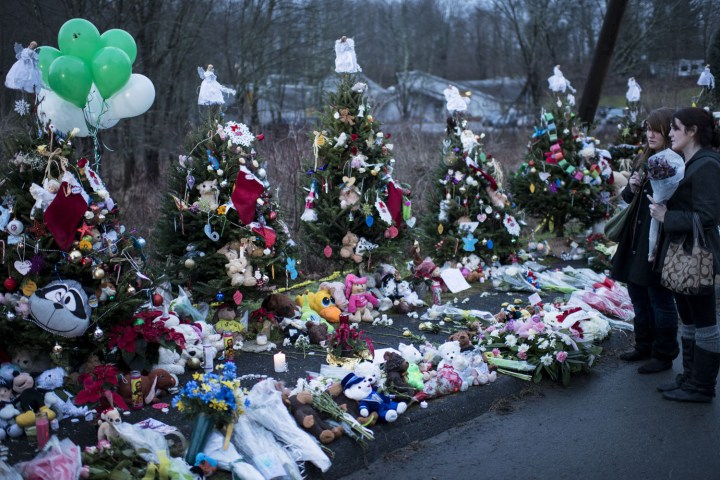 I've been reluctant to compile and share my thoughts on the horrific shooting at Sandy Hook in Newtown for two reasons:
I've been there before. As a school principal and school leader for the last dozen years, I know what it's like to some degree. I've felt the daily, personal responsibility of student safety. I've lost students to death come early, waited with others for ambulances and parents, and shared the worst of news with kids I love. And then hugged them when words just wouldn't help anymore. I've looked parents in the eye when they told me, as only parents can, that they're trusting me to protect their kids. Alongside that responsibility, I've known the frustration of only being able to do so much to do just that.
The other reason I've hesitated to speak is that although this tragedy is all too real for me, I know that won't stop the hate-filled animosity that I've seen flowing around the Internet, mostly in one direction. But I come back to the Scriptural warning: "If you know to do good, but don't do it, it's sin." Not good.
So I'll brave my own feelings and the threat of calumny from others to press forward with sharing 7 steps to safer schools. Maybe they'll help us stop some suffering in the future. At least they'll get us thinking; and that's a start. I'll develop each step as its own post in the coming weeks.
7 Steps to Safer Schools
Identify the Real Problem. No, it's not the NRA. Or the NEA. Or Presidents Obama or Bush. There is evil in this world. It is real. And it is the real problem. At the heart of the Christian gospel is the fact that all is not as it should be in this fallen world. Christians need not run from this reality — though we hate it with a passion — for Christ came to end it. Christmas is all about God overriding our rebellion to begin a process of reconciling evil people to Himself. But evil still exists as that process unfolds in time and space. And it always will, though one day it will be permanently confined. No amount of security, legislation, or steps can always stop a creative but corrupt monster willing to trade his or her own life for that of another — just ask the Secret Service which deals with that reality on a daily basis.

Mitigate Contributing Factors. No, video games are not the primary cause. Nor is the media's 24/7 rush for ratings or the glorification of the shooter's face, name, and family history. But we do need to talk about how these and other factors may have contributed to the problem. And, by all means, let's have a sane and reasonable look at gun laws to see if something needs to be done there. But let's have rational conversations about them all, not ideological spasms that simply spew sound bytes all over the place. While we're at it, dare I suggest we talk about returning lessons of morality and character instruction to their rightful center of education in public schools. Maybe we should also consider the effect of teaching shoddy science based on faith in defunct Darwinian theories on the origins of man. Certainly, we should talk about teaching children that they are nothing more than random genetic mutations without any purpose in life when we plainly see that their lives are so obviously more precious than that.

Take Reasonable Precautions. Having led in a school on a daily basis for a dozen years,  I understand the value of taking practical, proactive security steps. Restricting traffic into and near schools, requiring identification, enhancing video surveillance, constructing aesthetically pleasing but effective physical barriers to entry, and designing pro-active systems to head off threats before they reach the students — all these and more need our attention. But let's do it without creating a "bunker mentality" that promotes more fear at the expense of creativity. See my post To All Those Who Want Safer Schools in Newtown for more on avoiding that course.

Empower Those Who Care Most. No one cares more for the kids than their parents, teachers, and local school administrators. No, not even politicians in Washington who give emotional press conferences or bureaucrats at the Department of Education. But there is a problem. In Ohio, for example, a parent or teacher can legally carry a concealed weapon in their car in the parking lot to protect their kids. But once the child steps into the building, those who care the most can do the least. So take the bulls-eye off schools and other "gun-free" zones. More on this when I develop this point in future posts, but I know from personal experience that good teachers and principals will run toward, not away from, gunfire. Unfortunately, regardless of their level of weapons expertise, they must run empty-handed. It doesn't have to be this way. We can empower them AND keep schools safer for all.

Prepare for the Worst. Jesus warned us that in this world, we will have trouble. Offenses will come. Solomon advised that we'd be wise to see evil coming and prepare accordingly. Educators, parents, and community leaders can go a long way toward avoiding or at least lessening the long-term impact of local tragedy by intentionally cultivating community. I've seen this done right here in Chardon. I describe a glimpse of that process in How to Prepare for a Crisis: Ministry Lessons from the Chardon Shooting. To do this right, we must rethink the role churches play in our schools. Churches are at the heart, or should be, of most communities. The powers that be in education will have to get over their fear of being sued by the ACLU and start building bridges — before shots are fired or the next natural disaster strikes. 
Preserve Our Freedoms. If we have to err, let's do so on the side of preserving the freedoms that make our culture strong. It would be the saddest of all ironies if, in our rush to protect places of learning, we created schools where learning stopped taking place. The very institutions created to pass on the rich heritage of freedoms must not themselves become excuses for violating thse very freedoms.  Freedom is messy business, full of risk and responsibility, and fraught with peril. But the absence of freedom produces certain doom.
Free Local School Districts to Act. In my experience, most educators will acknowledge, some only privately, that their hands are tied for the most part when it comes to school safety — and a lot of other areas. Unions, federal and state bureaucracies, fear of lawsuits — all these and more unite to restrict local school authorities from doing what they think best for the safety of their students. The present system emphasizes a "top-down" mentality that causes schools to more resemble a behemoth aircraft carrier than adroit speedboats, easily adjusting to facts on the ground in each school district. One solution may not work for another. Yet all are presently forced to work largely within the same restrictions. By returning authority for decision-making to the local level, we can free local leaders to create security policies that they know will work well in their community and specific situation. They can then post the policies and let parents choose the safety environment they deem best for their children.
What Do You Think?
I warned that these 7 steps to safer schools are but an overview, a framework on which I plan to build over the next few weeks. I welcome you to follow along as I share more detail on each of them. And feel free to comment.
Before any of you start in with hate-filled assumptions about me, remember that a) I'm not interested invectives, just rational conversation; and b) school shootings like the one in Newton and right here in my hometown of Chardon are all too real for me and many others.
What do you think of these steps for safer schools? What would you add?