Why? For many Christians, it's the question we should never ask.
We tend to think we should just shut up and do what God tells us. He is, after all, a consuming fire. We know the whole story of when the earth opened to swallow those who dared to ask too many questions. So we keep our mouths shut, thinking it's never OK to raise our hands and ask God the ultimate question — why?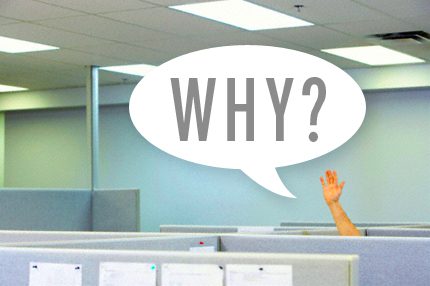 There's some truth to that thought. God is God, and we are not. His authority is non-negotiable. At a deep and fallen level, none of us really like that fact. As Graeme Goldsworthy put it, the fall was us reaching up to wrestle some of God's authority from Him. We know how that turned out.
So some Christians choose to take the Bud Dry approach. I don't mean drinking their questions away, although there's likely too much of that, too. Do you remember the jingle? "Why ask why? Drink Bud Dry." I confess to not even knowing why Bud needed to be dry in the first place, but that's the power of advertising.
Far too many Christians default to that position — why ask why? What difference does it make? God will do what he wants? It's not my problem.
But that simplistic thinking ignores the many instances where God tolerates questioning of himself. The disciples were, perhaps, the most obvious and repeated example.
Why Are We Asking Why?
As with most matters, I think it has more to do with with our heart. "Out of the abundance of our heart, our mouth speaks." It all depends on why we are asking why.
Here are a few reasons we might be asking the question:
Accusing.

Every parent has used

why

in this way. "Why did you do

that?"

Depending on how we ask this question, we can accuse our children of being brainless morons without actually saying so. And they can, as they get older, give that medicine right back to us. We can do the same with God. In those instances, we really don't want to know why. We're just angry at Him [See my post

You Don't Need All the Answers to Stop Being Angry at God

]. The Israelites mastered this approach, often with grave, ground-swallowing, catastrophic consequences. They didn't really want the answer to their question. They just wanted to complain. Likewise, our questions are often just cover for our complaints.

[Tweet this!]

A couple of examples should suffice:
All the congregation of the people of Israel moved on from the wilderness of Sin by stages, according to the commandment of the LORD, and camped at Rephidim, but there was no water for the people to drink. Therefore the people quarreled with Moses and said, "Give us water to drink." And Moses said to them, "Why do you quarrel with me? Why do you test the LORD?" But the people thirsted there for water, and the people grumbled against Moses and said, "Why did you bring us up out of Egypt, to kill us and our children and our livestock with thirst?" (Ex. 17:1-3)

Then all the congregation raised a loud cry, and the people wept that night. And all the people of Israel grumbled against Moses and Aaron. The whole congregation said to them, "Would that we had died in the land of Egypt! Or would that we had died in this wilderness! Why is the LORD bringing us into this land, to fall by the sword? Our wives and our little ones will become a prey. Would it not be better for us to go back to Egypt?" (Num. 14:1-3)
Confusing. Sometimes we ask because we're disillusioned by the way things have turned out. Our walk of faith turns out to not be what we thought it would be.  The problem in such circumstances is not with God but with us. We had begun to write the story for Him. No wonder we get frustrated when He erases our sketches and replaces them with His own designs. We can tell when our question is born of confusion because it is often followed by "But I thought…." It's not that we are accusing God of anything. Not really. We've just confused our ways for His ways. Moses asked why when he felt the same disillusionment after his first attempt to talk to Pharaoh was apparently a complete failure:
The foremen of the people of Israel saw that they were in trouble when they said, "You shall by no means reduce your number of bricks, your daily task each day." They met Moses and Aaron, who were waiting for them, as they came out from Pharaoh; and they said to them, "The LORD look on you and judge, because you have made us stink in the sight of Pharaoh and his servants, and have put a sword in their hand to kill us." Then Moses turned to the LORD and said, "O Lord, why have you done evil to this people? Why did you ever send me? For since I came to Pharaoh to speak in your name, he has done evil to this people, and you have not delivered your people at all."  (Ex. 5:19-23)
Learning.

God tells us to ask for wisdom when we lack it. Sometimes, the question we should ask of Him to get wisdom is

why?

Why have you made me? Why have you placed this person in my life? Why this particular challenge? Nothing wrong with asking God honest questions when we genuinely want to know for the purpose of becoming better FaithWalkers. Just prepare yourself for the answer, because

why

is a "big boy" question. As God told Job,

if you want that kind of wisdom, brace yourself to handle God's answer.
In what circumstances do you find yourself wanting to ask God why? Leave a comment with a click here to help us all grow with more abundant faith.