Most of us cringe somewhere deep within when we hear the word — test.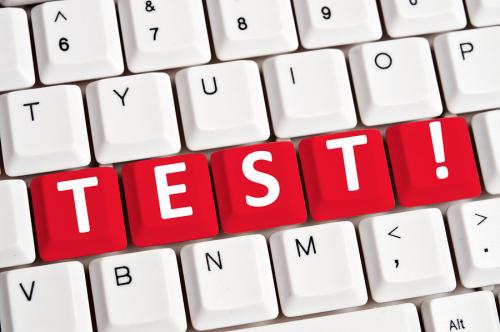 School taught us that tests are events to be feared. Red pens. Snickers from our classmates. Numbers not up to expectations. For far too many of us, tests are pre-cursers to failure. And that's a shame, because the only way for our faith to grow is for it to pass the test.
Count it all joy, my brothers, when you meet trials of various kinds, for you know that the testing of your faith produces steadfastness. And let steadfastness have its full effect, that you may be perfect and complete, lacking in nothing.   (James 1:2-3)
I've heard it said that "the test of your character is what it takes to stop you." True enough. But according to James, our character gets shaped when our faith gets tested.
My Own Testing Failures
One of my most painful test memories came when I took the LSAT for law school admission. Those familiar with the test will know that some sections are based on a logical progression. Your assessment of one question leads to the next and so on. Get the first question wrong and your answers for the entire section will be off.
Well, I did well in the practice tests. My scores would likely have put me in the top 10%. On test day, however, I flubbed those sections. I only missed two, but they were the first two in those sequential sections. By the time I figured out my error, I had run out of time. I ended up just filling in "C" for far too many scantron circles.
Somehow I still ended up in the top 17% — must have been a rather thin pool of test-takers. I ended up not going to law school, though not because of the test results. I just thought– maybe not based on the best advice I ever received — that I wouldn't enjoy it.
Meet Moses the Test-Taker
When Moses first arrived in Egypt to deliver the Israelites, his faith got tested. His worst fears came true. After telling Pharaoh to let God's people go, Pharaoh upped the ante by taking straw from the Israelites, but still requiring the same quota of bricks from them. Bottom line, the Egyptians laughed at him. And the Israelites asked him to please go away.  By all accounts, he had failed the test.
The giant that he had told God would be there punched him in the face. He had no influence with anyone. All he had was a calling from God. And his test was just getting started.
Moses passed the faith test by enduring through it, displaying some of that steadfastness James spoke of in the passage above.
By the time we reach the end of the plagues however, everything has changed. After enduring through the many toe-to-toe confrontations with the most powerful ruler in earth — by faith — Moses' influence now exceeds that of Pharaoh:
Moreover, the man Moses was very great in the land of Egypt, in the sight of Pharaoh's servants and in the sight of the people. (Exodus 11:3)
The Power of Simply Enduring
What happened? Moses endured through the faith test. John Maxwell defines a test as "an opportunity which challenges leaders to demonstrate their maturity and potential." An opportunity.  That's what a test is. But all too often we see it as a threat to be avoided, not an opportunity to be embraced.
I suspect Moses knew that he was being tested and that's why he endured through the test. When it comes to a faith test, it's easier to endure it when you know you're going through it. [ Tweet this! ] Maybe it's just me, but when I know I'm being tested, I can find a little more strength to suck it up for the next step and focus on learning what I can for a season. Because tests are always only for a season. "But he knows the way that I take; when he has tried me, I shall come out as gold." (Job 23:10)
By simply actively enduring, walking forward with alert steadfastness, we can pass the test of faith that God graciously sends our way. We can become better FaithWalkers, better leaders, more fit for Kingdom use — one step at a time. The simple truth is that we cannot be fully fit for the Kingdom until we've been fully tested by the King. [ Tweet this! ] See my post Failure: How to Bounce Back from the Next One.
Embrace the process of the test. Recognize a test when you're in it. Then, as Jon Ortberg put it, "If you can't get out of it, get into it!"
What tests have you endured lately that caused you to grow? Did you struggle to see the value of the test at the time? Leave a comment with a click here to help us all grow our faith.