While my mission continues in Guam, I am pleased to feature the thoughts of Kendall Lyons, a talented youth pastor, cartoonist, and writer. Kendall supplied the fun illustrations for my e-book Finding the Curve: The Secret to Explosive Personal Growth — still available for free here. Grab a copy of Kendall's delightful collection of short stories today at his site here. You'll be hearing much more from this talented leader in the years to come.
Right now, I feel more confident in the Lord and am a lot more comfortable in my identity in Christ as a strong man.
Not long ago, the status of being a strong man was questionable.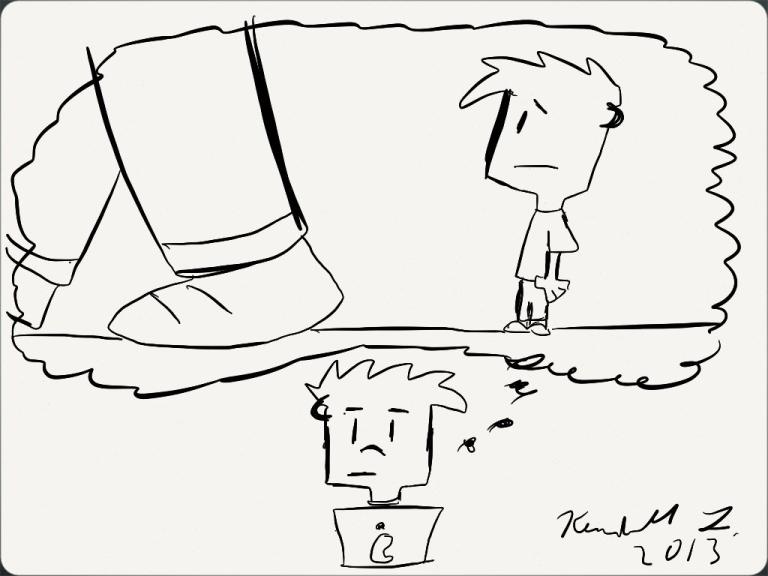 To be honest, a good chunk of my life I felt sort of, well, boyish.
Growing up, I wasn't very athletic. I had a few friends and usually kept to myself and buried my head in books, video games and TV. As I got older, I matured in certain things like communicating and connecting with people but lacked in areas like commitment and confidence in myself.
Though I stood around other brothers and sisters in Christ, be it hanging out or serving, I felt that parts of my life were un-finished, under-developed and in need of growth.
Toward Biblical Manhood
For months I have been on a deep, Bible-study focusing on manhood and masculinity pecifically for my own development but also for future sharing.
The study has taken me into deep places, places that I didn't want to admit were within me that needed healing. My study into the true, biblical definition of a man has led me to places in my life that made me realize how far behind I felt, as though I was still a kid. Throughout my study, I realized that a lot of my issues stemmed from my experience with family, other people, and my own way of coping with them.
This may be you — feeling inadequate, inefficient and ineffective or even like a child in certain areas of your life. Truth is, you may be a man serving, working and living, but inside you may still like a little boy. You're supposed to be 28 or 48 but you really feel like you're 8 or 18 when it comes to personal issues and spiritual matters, or stuff in which you have no experience.
I am about to go the way of all the earth. Be strong, and show yourself a man. (1 Kings 2:2)
When David was dying he gave a charge to Solomon, telling him to be strong, act like a man. When you read the rest of Chapter 2, David also tells Solomon to observe what the Lord requires, to walk in obedience, and keep God's decrees and commands.
The very advice David gave to Solomon has helped me greatly in my growth to be stronger. Areas where I felt weak and left behind have improved because I have drawn near to God and kept His Word and His teaching.
I'm learning to walk with my head up, not pointed downward. I've learn to be assertive, but not offensive or overly aggressive. I am learning to speak up and stand up, not shrink back and stay passive.
Other materials I recommend in this study of Biblical manhood are books like Wild at Heart Revised & Updated: Discovering the Secret of a Man's Soul
by John Eldredge, and Raising a Modern-Day Knight: A Father's Role in Guiding His Son to Authentic Manhood

by Robert Lewis.
What Biblical passages have you discovered that speak to this vital issue of Biblical manhood? Share your own story with a comment below.
———————————
Kendall Lyons is a minister, writer and cartoonist. He writes and creates content for cartoondailynews.com and kendalllyons.com. His latest book, It Could Happen: A Collection of Short Stories, is now available online for purchase on both sites. He currently resides in Dallas where he serves as a youth minister. You can follow Kendall on Twitter @Cartoondaily1.