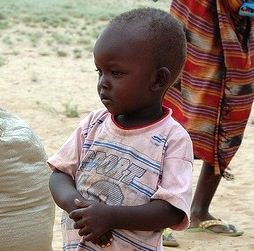 When was the last time you heard a sermon about adoption? I know that for me, it's been awhile. Maybe never, now that I think of it. And I've lived my entire life in Evangelical churches.
I've heard a lot of sermons about going to the mission fields overseas, but few about the adoption process that can bring that mission field to us and that displays the gospel firsthand in a way few things can.
But things are changing, thank God. Over the last decade, adoption has moved more into the mainstream in the Church conversation. One critical resource that removes friction for pastors and churches wanting to spotlight adoption is The Orphan Sunday Kit from The Adoption Journey (www.adoptionjourney.org).

In a word, the resources compiled there make preaching about adoption turn-key. The Orphan Sunday Kit removes all excuses. A quick click and you'll see it's not just about a sermon, but rather a holistic approach to sharing all facets of the adoption journey. From social media promotion to church bulletin inserts, from introductory videos to giving campaigns — it's all there. It even features song suggestions, sample prayers, and suggested service order.
Using this kit would be like hitting the easy button for churches with a passion for the orphaned. Imagine that! Churches could focus on moving into action instead of re-inventing the communications wheel.
One reason I think this kit is cool is that we've always had a desire to adopt more kids into our family. I know, with six children so far, a lot of people already think we're nuts. To this point, God hasn't opened the way for us to do adopt yet. But he did open that door for my good friend and Pastor Mark Spansel.
One Pastor's Adoption Story
Seven years ago, Mark and Michelle adopted two boys, ages 4 and 6, from a refugee camp in Liberia. Mark was serving then at The Master's College at the time, prior to being called into the pastorate. For them, adoption was about bringing the mission field home, a concept Mark applauds as explained by Russell Moore in Adopted for Life: The Priority of Adoption for Christian Families & Churches
. The two boys came from one of the least-reached people's groups.
But even now, although he preaches about adoption more than most pastors, he sometimes feels a little awkward. "I don't want to force my own passion about adoption on to others even though there is a biblical call (to help orphans)… But if we hadn't done it, I would feel like a hypocrite." Thus the Catch-22 that perhaps other pastors share — and that a resource kit might help solve.
What I like about The Orphan Sunday Kit is that it offers everyone in the congregation a way to help without the church staff needing to devote precious time and energy to research and resource creation. As Mark shared with me, "There's a temptation for people to think when we preach about adoption that if they don't go to the mission field, or they don't adopt, they don't love the Lord, but there are a lot of ways to get involved."
He tells the story, for example, of one couple who got an array of shots just so they could be qualified to be care-givers along side them. Others shared the financial burden. Still others just spoke an encouraging word as the adoption journey hasn't always been an easy one at all.
"If we didn't have the boys, we'd likely be pretty proud of our parenting skills," he only half-jokes. "It brings a lot of discomfort that is good. We could never have guessed the sanctifying role they have had in our life." His wife Michelle was herself adopted. Having to deal with the issues of abandonment and rejection now from the parental side has been a revealing process for her, as well.
But not everyone has been understanding, not even in the Church. "We got the usual concerns and questions. Don't you already have enough kids? How will you afford it?… People aren't trying to be hurtful or mean. They just don't know." When he preaches about adoption, he hopes to turn that ignorance into action.
Why Pastor's Should Preach about Adoption
"Adoption forces you to think about what it means to be truly accepted and belong to our heavenly Father, because we are all adopted," says Mark. "It's also reminder that it's not about you."
Indeed, nothing could be closer to the core of the gospel than the simple fact that we were called out of the darkness and into His Kingdom of light as children of the Most High with all the rights and privileges that go with that position:
You have received the Spirit of adoption as sons, by whom we cry, "Abba! Father!" (Rom. 8:15)

But when the fullness of time had come, God sent forth his Son, born of woman, born under the law, to redeem those who were under the law, so that we might receive adoption as sons. (Gal. 4:4-5)

The Spirit himself bears witness with our spirit that we are children of God, and if children, then heirs–heirs of God and fellow heirs with Christ,provided we suffer with him in order that we may also be glorified with him. (Rom. 8:16-17)
Mark added this sobering thoght as we concluded our time together: "When we forget our own adoption story, we forget what God has rescued us from…. The day may never come when our boys appreciate all we've done for them, and that's OK." Kind of like us and God. But we'll get to spend all eternity trying to figure out His amazing grace.
What Are You Waiting For?
Why not start now by focusing a Sunday on adoption? The only reason pastors wouldn't preach about something so central to the gospel message as adoption is the information and resource barrier to do it well.
The Orphan Sunday Kit takes care of that. Now there are no more excuses.
All that remains is the opportunity to call more families like Mark and Michelle Spansel to the high calling of imitating our heavenly Father in this eternal adoption journey we are all on.
If you want to see for yourself what all the fuss is about, click here to go to The Adoption Journey and register for free. Yes, free. And what pastor doesn't like free, high-quality resources?
You can also read more stories from adoptive families here or click here if you're thinking God may be calling you to adopt.
What has your church done to help those on an adoption journey? If you've used The Orphan Sunday Kit, how did it help get the word out? Share your story with a comment below.
Update: For all those attempting to leave comments decrying international adoption and falsely accusing Bethany Christian Services of being complicit in human trafficking, I suggest this excellent article by Johnathan Merritt.