Dr. Henry Cloud kicked off the opening session of Catalyst 2013 Labs with a session inspired by his new book Boundaries for Leaders.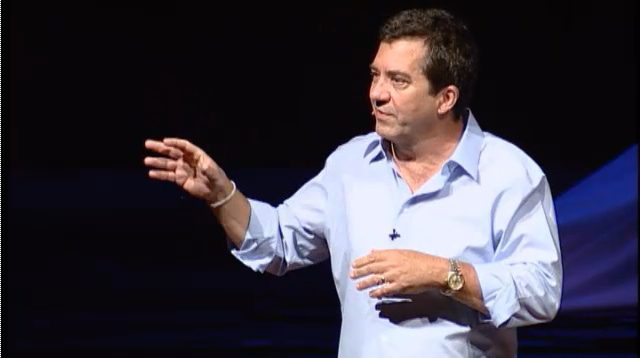 Dr. Cloud challenged Catalyst leaders to honestly acknowledge the reality gap that exists between what we know about leadership and what we actually experience in the real world of daily leadership struggles.
As Christian leaders, we know our identity is in Christ. We believe that proposition. But how do we truly understand our identity?
All too often we miss the reality that leadership is a journey, a faith-walk experience that God takes people through. When we don't understand that truth, we fail because we're not clear on who we are in Christ and who we are becoming.
Boundaries leaders must set to clear the path to understanding our leadership identity
We have an identity of a future reality. We start with the proposition that we have an identity in Christ. God secures the Promised Land but then instructs us to go possess it. It's in the journey of possession that we will come to be possessed by the identity He has for us. It is process driven. It is a paradox that God is perfecting those He has already perfected.
Attention. The brain begins to form circuitry and wiring through attention. Your brain is always asking who am I and what should I do? And these questions are answered by what you give your attention to. What is it that you must attend to in yourself and your mission to be successful? Do you know what you are about? The reality is that if everything is important then nothing is important. Focus requires our brain to interpret everything through that central mission. Find your focus, your strengths, and your gifts, and devote your attention to them.
Positive emotional climate. Identity requires a positive emotional climate because our creative (higher) brains require such a climate to thrive. Otherwise our protective (lower) brains shut down thinking and creativity to preserve our safety. God has designed us to become the leaders He wants us to be in an environment where we feel secure, accepted, and able to let ourselves fail as we grow. "Some of us don't need another person in the room to get a spanking." Too many of us live under a constant sense of threat that restricts our ability to authentically engage the growth process. God corrects and forgives without finding fault – what a concept! When we know that grace awaits us, we can find our identity as an overcomer.

Connected. We discover who we are in the context of our community. We find the opportunity to excel in our identity when we give attention to something, develop it in a positive emotional climate, and get connected with others who walk through the process with us. Dr. Cloud cited a curious study in which a monkey was scared witless. When they put another monkey in the cage, the stress level decreased by half. Taking the identity journey with others in a community positions us to handle the stress of the path God has for us.
Control. "If you have a bellybutton, you are a control freak." Our self is the one thing we all obsess about controlling. When NFL football coach Tony Dungee strove to win the Super Bowl, he challenged his team to do three things over which they had control: 1) Hold on to the football. 2) Don't break the rules. 3) Develop superior special teams. What do you have control over vs. the things you worry about but cannot control? Own what God has given you and only what God has given you.
The #1 factor that determines whether or not you will accomplish a goal is the belief that you can. By faith, we act. By acting, we achieve.