I am privileged to host a 3-part Q & A series with my friend Brad Lomenick on his new book H3 Leadership: Be Humble. Stay Hungry. Always Hustle. Brad is a leadership consultant, speaker, founder of BLINC, and author of The Catalyst Leader — and a really terrific guy who practices what he preaches.

As the former president and key visionary of Catalyst, he learned a lot about leadership and reveals a lot in this book about how God prepared him for this next phase of growth he's presently experiencing.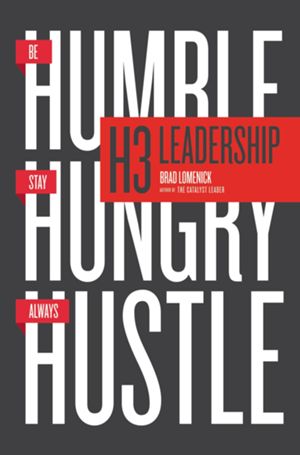 Brad, give us a quick overview of the book.
Brad: H3 Leadership is an application driven, practical leadership playbook that provides a proven process and much needed guidance on how to not only run, but finish well in the leadership race. Readers of this highly practical book will find it chock-full of easy-to-incorporate tips for catalytic leadership and ready to install strategies for living out the transformational habits of a leader.
Breaking down the "what" and "how" of daily leadership habits and routines that will awaken and transform the way you lead, H3 Leadership is a strategic guide and roadmap that uncovers and clearly defines the 20 key habits that will build your core leadership framework and establish a clear path to long-term sustainable influence. These 20 key Habits are not grand gestures of power, but simple practices that can easily be implemented into everyday life.
Based on over a decade of work with Catalyst and the gathered insights of some of America's most respected leaders from wide ranging fields, H3 Leadership offers 20 key leadership habits that will teach and train you to be a better, stronger and ultimately a more effective leader. It's a "how to put your leadership into practice" book focused on the habits a leader must form to lead now, and lead well.
True leadership can be complex. I'm trying to keep it simple with the three transformational habits of leadership: be humble, stay hungry, always hustle. These powerful words describe the leader who is willing to work hard, get it done, and make sure it's not about him or her; the leader who knows that influence is about developing the right habits for success.
Nearly half the actions leaders take every day aren't choices—they're habits. That's why great leaders are intentional about what habits they develop and why. My goal is to show the path to long-term sustainable influence through these three key leadership building blocks.
Leadership is hard work, so leadership must be habitual work.
This book covers so much ground on leadership. How would you describe it and where did it come from?
Brad: H3 Leadership is my attempt to make sense out of the three big-picture characteristics I've discovered are most important to succeeding as a leader: humble, hungry, and hustle. The book really unpacks these 3 key pillars of leadership, and practically provides the 20 key Habits that all great leaders have in common.
Leading is difficult and anyone who has been in a position of authority or influence for very long grapples with it. I know this first hand. I experienced my own leadership crisis back in 2013. Sitting at lunch with a close friend, he challenged me on my own leadership, and I knew I needed a restart.
I was at a critical point and needed a break. My leadership was stale and needed to be re-ignited and re-established. So I took a break from Catalyst, the organization I'd led for over a decade. It was an incredible period of renewal and focus for me. I pinpointed all of the habits found in the book in a frenzy of inspiration at the end of that sabbatical. I'd had time to reflect on who I was as a leader and to consider all of the incredible leaders with whom I've worked over the years. I'd also had time to think about what humble, hungry, and hustle really look like––about how you live those ideas out through habits.
In many ways, this book was birthed out of my own personal leadership "reboot." And from that leadership mile marker I was reminded of the 20 key habits that must be put into place. I had to return to what I knew as a leader. The 3 H's of Leadership- Humble, Hungry and Hustle.
These would be the foundational building blocks for re-igniting my leadership and putting some key habits back in place. The 20 key habits that re-established my core leadership foundation and will serve as my own personal leadership playbook for the next 30 years of my career life, the second half of my own leadership journey, providing vision and passion and a re-focused lens for being a change maker.
I returned to the understanding that effective leadership – the type that enables one to truly become a change agent in the modern world, is ultimately worked out every day in the tasks we complete, the ways we approach our work, and the rhythm we nurture in our lives. It hangs on the hooks of the patterns we create, not just the success we may stumble upon.
H3 Leadership details how to develop the habits leaders need to thrive. It also traces my own wins and failures as a leader. It's a very personal book. I'm sharing many times from my own failures in my personal journey. The book is a combination of roadmap, advice, and honest anecdotes from someone who's been in the trenches.
In a culture craving authenticity, my goal is to provide a practical leadership guide delivered in truth and transparency.