I'm probably the only one to feel as if I can never do enough, never be enough, never [insert your favorite complaint here]. But maybe you've felt that way, too?
I sometimes wonder what the Apostle Paul could be talking about when he prays in Ephesians 3:19 that we would be "filled with all the fullness of God."
Fullness? Are you kidding me? Most days I'm happy to feel as if I have anything in my God cup, let alone have it filled to overflowing. And my family often feels that impact of that emptiness the most.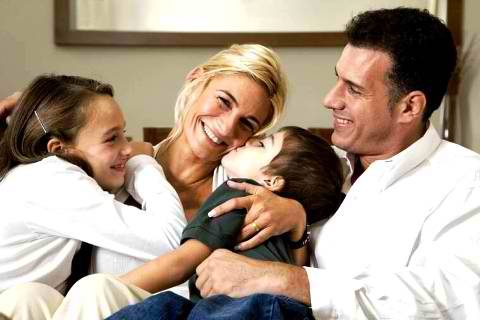 The truth is this: I am an introvert by nature who thrives when focused on a project. When I am "in the zone," nothing else matters but ensuring that this particular project is done to perfection. And that can be a great thing.
But when I neglect what matters most in life because of it — my faith, my family, my friends — it becomes a very bad thing indeed. I suspect you have a similar problem, even if it's a different aspect of life that tends to monopolize your time.
So how can we learn to give our full attention to the most important parts of life, yet still manage to be effective in all parts?
The 5 Gears Framework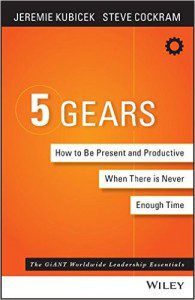 Jeremie Kubicek and Steve Cockram (Co-founders of GiANT Worldwide, parent company of the Catalyst and Leadercast conferences) offer a proven framework to help us solve this problem in their new book, 5 Gears: How to Be Present and Productive When There Is Never Enough Time.
I had the privilege of interviewing Jeremie for an upcoming episode of The FaithWalkers Podcast (Episode 3, releasing January 19, 2016). Subscribe via iTunes here or via email here.
He shared his own story of becoming so overloaded doing good things that he was never truly present at home and in relationships, even if he was physically present. In the book, he reveals how that came to a head and what he did about it. It's a story a lot of us who like to get things done can relate to.
Through that process, however, he began to evaluate how he thought about life. With the help of advisors who spoke into his life at a key time, he and Steve began to develop a framework using the analogy of gears in a car.
The thing about gears is that each one is useful and essential at certain times. If we were to try to pull out of our driveway in 4th gear, for example, our engine wouldn't last long. On the other hand, if we tried cruising the highway in first gear, we wouldn't go anywhere quickly, and we'd put others at risk.
And if we didn't have a reverse gear, we'd get ourselves into a lot of jams that we couldn't get out of without causing harm to someone or something. There is a time and a place for each gear.
Understanding the 5 Gears
The book lays out the rationale for the 5 Gears analogy and unpacks each gear, offering practical application, including:
What each gear looks like for you
Warning signs for self-evaluation: "You know you have an unhealthy 4th gear if…"
Closing challenge for each gear with an action step you can take right now.
Identifying which personalities will struggle most with which gear
The gears themselves are simple and straightforward:
Recharge Mode — Personal recharge, completely unplugged. (This is one I often neglect.)
Connect Mode — Being present with family or friends without work. (Guilty again.)
Social Mode — Present with people and can shift up or down easily. (More challenging for introverts than extroverts.)
Task Mode — Multitasking; working hard in various ways. (Not optimal, but often essential.)
Focus Mode — Task-Centered, fully focused and moving quickly. (My favorite.)
REVERSE — Responsive Mode — Backing up or apologizing when necessary. (A bonus gear that makes all the others work more smoothly.)
The book closes with a hands-on section by equipping the reader to make substantive changes using the GiANT CORE Process.
Using 5 Gears in My Own Family
I found it to be immensely helpful in my own life and in our family. It includes stories of people who've applied the 5 Gears framework with life-transforming results. I taught the 5 Gears to our children, ages 8- 15.
They clearly saw my own struggles, of course, so they were well aware of them already. But the 5 Gears framework gave us a common language to discuss them.
Now, when I am "in the zone" of Focus Mode and a child comes into my office with exciting news about Legos or Minecraft, I simply raise a hand with 5 fingers and they know, Dad's in 5th gear. He is focused on something else right now. It's not that he's ignoring me. He wants to give me his full attention and will do so as soon as he is done.
My son even asks me sometimes, "Dad, are you in 5th gear right now?" It helps keep me in check and opens the conversation about how and when they can be at their own personal best.
What Jeremie and I discuss in The FaithWalkers Podcast Episode 3 is that it takes faith to live out this framework. We must trust that God will provide for us if we stop multi-tasking and recharge. We must do what we believe to be true, often in spite of what we see, sense, or feel (my definition of faith) if we are to have any chance of being present and productive when there is never enough time.
Reading 5 Gears: How to Be Present and Productive When There Is Never Enough Time
is the perfect way to start the New Year, but I warn you — it will change the way you think about how you are living your life.
For most of us, that will not be a bad thing.
Explore more about the book and GiANT Worldwide with a click here.