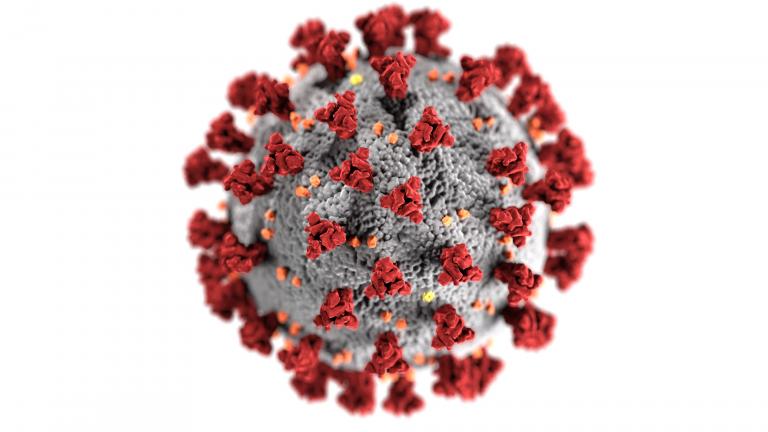 My husband and I are both quarantined, because we traveled over a part of the country last week that has been hit hard by the Coronavirus. We did come home ill, though I highly doubt it's the much talked about COVID-19, as the symptoms didn't match. But for the next nine days or so, it's just the two of us.
Weird. Very weird.
The reason we were traveling was to get my Mom, who has lived with us for nearly the last five years, settled at my brother's house where she'll be staying indefinitely. Before she came to live with us, we weren't quite finished raising our children. And to go back thirty years (I'm really dating myself here), we got pregnant a month and a half after we got married.
To put it mildly, we don't know what living with only one another is like. For even before the babies came, we had people bunking with us – either one of my siblings, or one of his siblings. At times, we had one of our other parents living with us. We even had a homeless teenager at one point. Our home has always been open to those in need, whether for a few nights, or a few years. But when you start to get old….ish, housing others becomes harder. Add my chronic illness in the mix, and it starts to feel painstakingly impossible, especially if those who come to stay are also chronically ill.
But enough of my problems. The world is bigger than my house and those who come and go, as we've been reminded this past week. Some have failed to care for others outside their own four walls, selfishly nabbing up the last seventy-six rolls of toilet paper, and other items, for themselves. Others have restrained themselves, only picking up what they absolutely need for the coming week.
So here we are, many of us quarantined, unable to work and not getting paid. The kids are home from school. We have weird food choices because one must simply grab what's left in the grocery aisles. We are freaked that we may be required to go without necessities. We may be bored, depending on how much in-home entertainment is available to us.
Some may be rejoicing — introverts who love to read and have a decent stash of books scattered about their homes. Or those who desperately needed some extra sleep. Maybe some are rejoicing more freely during this pandemic because they, like me, feel as though they've not seen their spouses or children for way too long, and this is their chance to do so.
By see, I mean really see.
Not see them for five minutes before they head out and catch the school bus. But see them for hours across the table as they put a puzzle together. Or for forty-five minutes as they go for a walk and a talk in the fresh air and sunshine.
About the time Mom came to live with us, I began reading Wendell Berry. Hannah Coulter was the name of the first book I read of his. At the time, I was exhausted from everything life had thrown at me. Things weren't that great at church. Busy! But not great. My Mom had just come to live with us, so my workload had increased dramatically. The husband had a boat load of work stress, and being one of the elders at church was putting plenty of church stress and responsibility on him (us!) as well. It seemed my girls were having babies once a month – each a blessing, but also more responsibility, as are all children. And I was recovering from my fourth (fifth?) cardiac pacemaker replacement, and the complications thereof.
Other stuff, too, that can't be disclosed.
As I read Hannah Coulter, I read about families who farmed. These farmers were a real community. They checked on one another. Helped those in need, even if it did real damage to their slim budgets … their stockpile of goods. They noticed one another. Saw one another. Loved one another.
Berry's pages painted America, before it became overly industrialized.
Small communities were common. Cell phones were not. Social media was non-existent. Life was quieter. People often walked to the store, because they could. And because they didn't have a choice. Obesity wasn't rampant because of those long walks and all the farm work. Most of all, families interacted at the supper table. They shared chores and had to find ways to entertain themselves that didn't involved Hollywood, current politics, Playboy, or Instagram.
I've thought for a long time, even before I read Berry, that America is not better off than she was seventy years ago. We may be richer in terms of stuff. But in terms of the stuff that has real meaning, we are poorer. Folks are struggling to connect with others, to feel a part of a community, and to feel loved. I include myself in those "folks."
My hope for America amidst the Coronavirus outbreak and mandatory quarantines is that our eyes will be opened to what, and whom, is truly important. And that we will, once all is well again, not forget the lessons we are hopefully learning. I hope we use this time to re-focus, and re-think about how we've been spending our time, our resources, and our energy to help others. And if we're aren't helping others, I hope we repent of our selfishness and begin practicing I Corinthians 13 …
Love suffers long, and is kind; love does not envy; love does not parade itself, is not puffed up; does not behave rudely, does not seek its own, is not provoked, thinks no evil; does not rejoice in iniquity, but rejoices in the truth; bears all things, believes all things, hopes all things, endures all things.
I've been reminded recently what an incredibly amazing (and supernatural) thing it is when someone steps up to love you in a way your heart craves, and how important it is to have someone hear you out about some past trauma you've never fully worked through — all while believing, yet not bludgeoning you with the truth. Truth is great. It's what ultimately frees us. But it's also powerful. And heavy truth smacked up against the side of your head is ineffective and serves only to deepen wounds.
I have also been loved in practical ways. Someone brought me a small stash of a much needed grocery item I wasn't able to find in my area. Two somebody's, actually, on three separate occasions.
My husband and I are spending lots of time together, talking, working on projects, planning the rest of our lives, and other things couples do that aren't the reader's business (*snort).
We're seeing each other, rather than simply being two ships passing in the daylight.
The TV and phones are still available. But you knock out work time, commuting, get togethers, church, and every other social opportunity, and all of a sudden, you have a few minutes to look up and realize the man you've been married to for thirty years has aged, and so have you. You've both changed. But you still need each other. You still want to love each other, and you have enough brain space to think up new ways ways to do so. You look for ways to be kind. To do away with any envy. To squash pride. To behave with decent manners. To refrain from provoking. To think only the best of your better half. To focus on the truth, both painful and lovely, about your relationship. To decide to endure whatever is next, because heck, you've been through so much crap since you married thirty years ago, what else could go wrong?
Point is:
We could all do a better job of seeing each other, listening to one another, loving one another. Since Trump was elected, Americans have done an especially poor job of loving their neighbors, of honoring community, and being for one another rather than against one another. If we are forced to spend some time away from each other, might this change? Will we begin to get our eyes off of the perpetuated drama that pits us against one another (as it is meant to do), or will we keep things simple and love our neighbor as ourselves?
Don't get me wrong. There are things worth fighting for in this world. But how much of the battles we are choosing to fight are over what truly matters? And how much of our fighting is straight up divisive bickering, backbiting, and bludgeoning with the truth?
Love suffers long, and is kind; love does not envy; love does not parade itself, is not puffed up; does not behave rudely, does not seek its own, is not provoked, thinks no evil; does not rejoice in iniquity, but rejoices in the truth; bears all things, believes all things, hopes all things, endures all things.
May Americans return to loving one another. And may it not take a pandemic killing half of us to get us to that point.