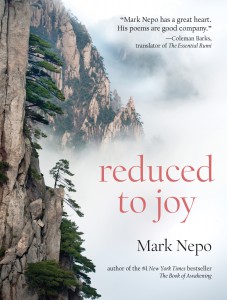 ______________
My new book of poems, Reduced to Joy, is just being published. The book contains seventy-three poems, retrieved and shaped over the last thirteen years, about the nature of working with what we're given till it wears us through to joy. For the next few months, I'd like to share poems from the new book with you.
Here is a reflection that explores what I've learned over the years about the nature of joy and what kind of teacher it is.
ABOUT JOY
Often, what keeps us from joy is the menacing assumption that life is happening other than where we are. So we are always leaving, running from or running to. All the while, joy rises like summer wind, waiting for us to grow in the open, large as willows it can sing through. Yet failing to grow in the open, we can be worn to it. Though working with what we're given till it wears us through seems to be the grace we resist. Like everyone, I've spent so much of my life fearing pain that I've seldom felt things all the way through. And falling through more than working through, I've learned that if we can stay true to our experience and to each other, and face the spirit that experience and love carry, we will eventually be reduced to joy. Like cliffs worn to their beauty by the pounding of the sea, if we can hold each other up, all that will be left will be wonder and joy.
A Question to Walk With: Describe your earliest moment of joy and how it came upon you. And what is your relationship to joy now?