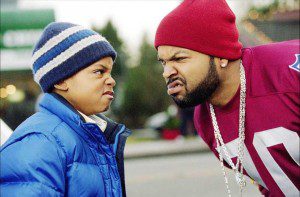 Since long before the invention of the automobile — and no doubt since long before the invention of the wheel itself — children the world over have had to cope with the fact that grown-ups will often try their patience by taking them on long and boring journeys. And now, thanks to so-called family films like Are We There Yet?, children have plenty of opportunities to return the favor, as they drag their parents and guardians to the multiplex and compel them to sit through mediocre, cliché-ridden comedies about such journeys.
There are two things potential audience members need to know about Are We There Yet?. First, the film was originally developed as a vehicle, so to speak, for Adam Sandler, who ultimately passed on the project. In other words, the movie — which now stars rapper-turned-filmmaker Ice Cube as a playboy bachelor who hates kids but gives two precocious little tykes a ride just to impress their mother — is a hand-me-down, a film that failed to meet Sandler's own not-so-high standards. Second, the film is set, for the most part, on New Year's Eve, and may have been intended for the holidays — but the studio didn't release it until three weeks later, when box–office competition is pretty soft. Perhaps this suggests a lack of confidence on the studio's part?
It helps, at least, that the stars have a fair bit of charisma. However R-rated the bulk of his films might be, Ice Cube has in recent years been moving towards the family-friendly mainstream, first with the PG-13 Barbershop movies — in which he plays a married father who is profoundly aware of the legacy he has inherited from his own old man — and now with this, his first solid PG effort. His character, Nick Persons, still has a bit of gangsta in him, and his attraction to Suzanne Kingston (Nia Long), the divorced mother he tries to impress, is primarily sexual, but Ice Cube has that easygoing movie-star quality that lets you know there is nothing to worry about; Nick's got a heart of gold. Likewise, Aleisha Allen and Philip Bolden are amusing as Lindsey and Kevin, the children who bedevil Nick and drive him to distraction while he drives them to Vancouver to meet their mother.
Still, personality only goes so far, and Are We There Yet? is more interested in crass humor than in creating remotely believable characters that we might actually care about. Sometimes the lowbrow approach works, as when Lindsey and Kevin set up a series of elaborate booby traps to ward off the men who would dare to come knocking on their mother's door. Sometimes it's just painful; as Home Alone proved so many years ago, children like nothing more than to see a man get hit in the groin, and this film does aim to please. And sometimes the gags just seem inappropriate for a "family film", particularly when both Nick and his talking Satchel Paige bobblehead doll (voice of Tracy Morgan) — don't ask — make admiring remarks about Suzanne's breasts. (For that matter, what is Nichelle Nichols, aka Star Trek's Lt. Uhura, doing here as a lusty old babysitter who farts in her sleep and promises Nick "a guided tour of Sin City"!?)
But it isn't
all
innuendo, slapstick humor and physical abuse. The filmmakers — including director Brian Levant (
Beethoven
,
Snow Dogs
, both
Flintstones
movies) and at least four credited writers — know enough about family films to know that a movie in this genre must impart some sort of lesson to the audience, as well. And so they come up with a few worthy themes: Nick, who values material possessions above all else, must endure the gradual destruction of his Lincoln Navigator in order to learn what really matters, while the children must learn to let go of the father who abandoned them, and so on. The problem is, these moments of enlightenment are delivered in a rather clunky manner, and they don't really fit in with all the chaos and mayhem that comes before and after them; instead of allowing one scene to grow organically into the next, the film feels like it was carelessly patched together from a list of obligatory ingredients.
The film's slapdash style only intensifies in its later scenes, in which, among other things, Nick comes to blows with a startled deer, takes a call on his cell phone while chasing a train on horseback, teaches Kevin how to deal with bullies by making nasty facial expressions at them, and contends with a trucker who thinks the children need rescuing because one of them put a "Help us!" sign in the window of Nick's SUV. Suffice to say the film, short as it is, has so much padding — none of which really holds together, in the end — that parents may well spend the last few reels checking their watches and itching to ask their children, "Is it over yet?"
1.5 stars (out of 4)
–
Talk About It
Discussion starters
1. Nick holds on to his material possessions, while the children hold on to the hope that their father will be reunited to their mother. How do these forms of "holding on" compare to one another? Should both sets of characters let go of the things they are holding on to? How do you know when it's better to let go than to hold on?
2. Do you think Nick and Suzanne know each other well enough to have any sort of relationship yet? What about the way the children interfere with their mother's dating prospects? Should she have to get their approval? Why or why not?
3. How do we teach patience to children, whether on long drives or in other situations? How do we learn it ourselves?
The Family Corner
For parents to consider
Are We There Yet? is rated PG for language and rude humor. Nick utters a few mild oaths, but is challenged on this by the children. Nick and his talking bobblehead doll also make fairly frank references to Suzanne's sexual attractiveness. In addition, there are scenes of children vomiting and urinating at comically inappropriate moments; there is a fair bit of property damage, particularly to Nick's car; and the film exploits Asian and Amish stereotypes for quick throwaway gags.
— A version of this review was first published at Christianity Today Movies.