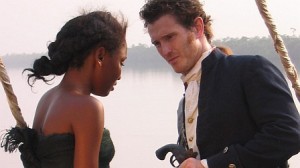 After India and the United States, can you name the country with the third-largest film industry in the world? The answer is Nigeria, where up to 1,200 low-budget straight-to-video movies are produced every year — many of which have Christian themes or are produced by churches.
Despite its prodigious output, no Nigerian film had been released theatrically in its native country since 1979 — but Variety reported last week that that changed recently thanks to a film called The Amazing Grace, which shows "how British slave trader John Newton's voyage to Nigeria in 1748 led to him writing the famous hymn." The film, which stars British actor Nick Moran as Newton, was made for $400,000 — an astronomical figure by "Nollywood" standards — and has grossed almost double what the previous box-office champ, Mr. & Mrs. Smith, earned in Nigeria. (Newton, of course, was also played recently by Albert Finney in the similarly-named British-American co-production Amazing Grace.)
Director Jeta Amata has sold the North American rights to The Amazing Grace to American distributor Rock City.
Christian themes and filmmakers have been making their mark in other parts of Africa, too. Reuters reported last year that locally-made gospel music videos have been a driving force in the Kenyan film industry. And last week, a film produced in Rwanda by a Youth with a Mission (YWAM) film class made an impression at the Cannes film festival.
Munyurangabo, also known as Liberation Day, was directed by Lee Isaac Chung, a Korean-American who went to Kigali, Rwanda with his colleagues Jenny Lund and Samuel Anderson to teach a course in filmmaking and photography. Along the way, they ended up making a movie. The Salt Lake Tribune reports that this film "is the first feature-length narrative made in Kinyarwanda, Rwanda's primary language, which Chung doesn't speak. He relied on a translator to communicate with the two street kids he cast as his stars, both of whom he found through YWAM's soccer-outreach program."
The film earned a rave review from Variety magazine when it played at Cannes last month. Critic Robert Koehler called it "by several light years the finest and truest film yet on the moral and emotional repercussions of the 15-year-old genocide that wracked Rwanda …. This is — flat out — the discovery of this year's Un Certain Regard batch, and deserves loving care from arthouse distribs after a liberating and fruitful fest tour …. The sheer confidence and artistic will that 28-year-old Chung exercises here can't be overstated."
Almond Tree Films, the production company run by Chung and his colleagues, plans to return to Kigali to stimulate Rwandan filmmaking — and Lund says they plan to donate any proceeds from their film to YWAM and other organizations "for scholarships and development."
In other movie news:
Evan Almighty studio reaches out to religious audience (New York Times)
Universal has also marketed the film to Latino and youth audiences
Aronofsky's script for Noah's Ark is "pretty much done" (Empire Online)
Says it's "not a comedy … . This is definitely more the sci-fi version."
The Dark Knight to shoot four scenes in IMAX format (USA Today)
Sequel to Batman Begins promises Joker "the grandest entrance possible"
$130 million epic Nefertiti to start filming in Egyptian studio (Variety)
About "love affair" between Queen and Moses, based on Ahmed Osman book
German group puts up money for animated Jesus film (Variety)
To tell the story from the perspective of Paul, Judas and Mary Magdalene
Canada promises to crack down on movie piracy (Toronto Globe and Mail)
Move follows threats by Fox, Warner to cancel screenings and delay releases
— A version of this article was first published at Christianity Today Movies.