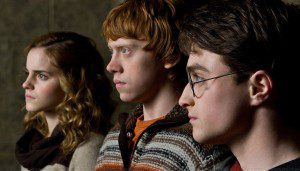 THE END is near, for Harry Potter and his gang.
Harry Potter and the Half-Blood Prince is the sixth movie to be based on J.K. Rowling's phenomenally popular books, and like all the previous sequels, it is darker and more mature than the instalments that have preceded it.
But there is only one book left to be adapted, and so this film is filled with a sense that things are coming to a head. Secrets are revealed, the nature of the evil Dark Lord Voldemort's futile plan to cheat death is finally spelled out, and the film ends on a major cliffhanger that will set the story spinning towards its inevitable climax.
The best thing about the film is the way it finally — after all these years — gets Dumbledore (Michael Gambon) right, giving the Hogwarts headmaster just the right mix of absurdist whimsy, personal authority and startling vulnerability. Also very good is Jim Broadbent, the actor hired to play Horace Slughorn, the new potions professor.
But the film is regrettably lacking in other areas. There is very little spectacle, for one thing; in an odd way, it feels like one of those small character-based British dramas, except that there happen to be lots of visual effects in the background. And yet, ironically, the film pays very little attention to the supporting characters who have given this series some of its best grace notes.
While some major plot twists do transpire in this film, it feels strangely inert, and lacking in momentum. Hopefully the powers that be will fix this problem when they adapt the seventh and final book and bring the story to what should, by rights, be a stirring conclusion.
— A version of this review was first published in BC Christian News.