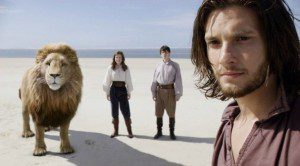 The first Narnia film was a massive hit five years ago; but the second film, Prince Caspian, made only half as much money at the box office when it opened three summers ago, and now it looks like The Voyage of the Dawn Treader will make only about half of that. In truth, it's not doing much better than The Golden Compass did at this time of year three years ago.
That's a shame, because Dawn Treader is a pretty decent family film on its own terms. It's not a particularly faithful adaptation of C.S. Lewis' original novel, true; but it retains enough of the key themes, and it has a storybook quality that sets it apart from the first two films. It also features one of the most unlikely but appealing friendships ever.
As before, the film follows Lucy (Georgie Henley) and her elder brother Edmund (Skander Keynes), as a magic portal whisks them out of World War II England and into a fantasy world where they are honoured as Queen and King. But this time, they bring along their bratty cousin Eustace (Son of Rambow's Will Poulter), a committed skeptic who is shocked to find that the stories he refused to believe about Narnia might be true after all.
This time, the story does not take place in Narnia,
per se
, but on a boat that carries King Caspian (Ben Barnes) and his entourage to various islands, in search of seven lords who were expelled from the kingdom before the events of the previous film.
There are several adventures along the way, including a skirmish with slave traders, and an encounter with a star that takes human form. But the heart of the film belongs to Eustace and his odd relationship with Reepicheep (voice of Simon Pegg), the valiant mouse who is initially inclined to rebuke Eustace for his lack of honour, but very quickly becomes a sort of mentor and protector of his. Their final scene together is surprisingly touching.
Alas, the writers have imposed a new storyline on the film to hold the various episodes together — something about a green mist that kidnaps people — and this means the movie reaches its climax a little sooner than it ought to.
The film still ends, as the book does, with the children meeting the divine lion Aslan (voice of Liam Neeson) at the end of the world, and being told that Aslan exists in our world under another name (hint hint). But instead of being the last in a series of mystical encounters, the scene now comes across as an afterthought, after the green mist has been dealt with.
— A version of this review was first published in BC Christian News.