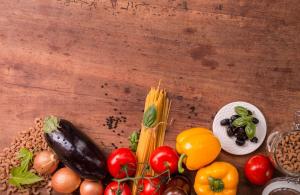 The world of religion is filled with so many foods. Apples, bread, honey, fish, wine, horseradish, hot-crossed buns, pancakes, pretzels, and much, much more.
Food, or in some cases the absence of food, has always played an important role in faith, worship, and religious celebrations. That's what we'll be exploring in this blog. We're going on a journey looking at the importance of food in spirituality, the joy it brings in celebrations, and the different foods related to religion in the United States, as well as other nations. We'll examine the history of these foods, the guidelines for their preparation, as well as foods that are forbidden. I'll occasionally share recipes to give readers the opportunity to try some new things for themselves.
I've always had a fascination with the history of food and the interesting facts involved with its creation and use. Food and religion have an even more fascinating relationship since it's used not just for consumption, but also to worship, show respect, praise, and tell stories.
I was raised in the Roman Catholic Church. While my faith in God and Jesus remains intact, I am not committed to any organized religion, and choose to worship at a non-denominational church. I have a respect and curiosity for all religions and forms of worship. Because of that, this column will explore food in all aspects of spirituality. Christianity, Judaism, Muslim, Buddhism, and many others will be explored.
A few things I'd like to cover for my readers. I appreciate you taking a few moments to read here. As a journalist and writer, I strive for accuracy and each column will be researched with input from experts. However, if you find something that you know to be an error, please don't hesitate to let me know.
Comments are open on each post, and they are moderated. I would love for you to share your ideas, feelings, thoughts, opinions, and personal history on any subject you see here. This is an interfaith blog and the focus is on food. I respect your right to your own beliefs, but I have a zero-tolerance policy for hateful comments. People of all religions and backgrounds are welcome at "Food and Faith" and all are deserving of our respect.
Again, if you have an idea for future posts, I encourage people of all faiths across the globe to share them. I hope this journey is fun, educational, inspiring, and tasty.
Welcome, and thank you again for reading!
Kevin