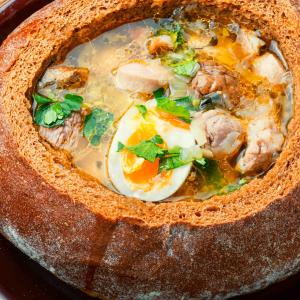 You probably have a brunch planned for Easter and/or a dinner, and since it's America, there's a high probability that ham will be involved. Americans purchase on average about 246 million pounds of ham every month and 110 million pounds for Easter alone.
I'm not discouraging you from having ham (mostly out of fear from the powerful spiral-slicing lobby), but why not make this a year to add a little international flair to the meal? Here are some popular Easter dishes from around the world, many of which can help you use up those Easter eggs!
Torta Pascualina (Argentina)
If you're a vegetarian, the torta pascualina (Eastertime Tart) is a good pick to add to your meal. A pie that's comprised of hard-boiled eggs, ricotta, spinach, artichoke, and parsley. Its meatless qualities make it a popular dish all during Lent in Argentina.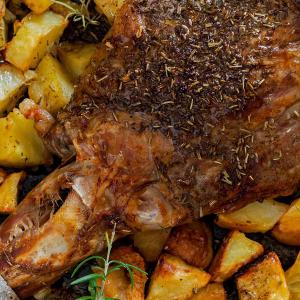 Pashka (Eastern Europe)
Historically a Russian dessert that is now popular throughout Eastern Europe, think cheesecake without the crust and shaped like a truncated pyramid. Pashka is made with cottage cheese and cream cheese and adorned with fruit. It also usually has the letters XB — "Christ is risen" — on the side. The link I use is to Martha Stewart's recipe because she sometimes skips the fruit and uses jellybeans instead. That's an idea I can get behind.
Fanesca (Ecuador)
Next week, we'll look at some of the most popular Easter foods in America by state. Fanesca is an interesting Easter soup because it's intended to be very inclusionary, designed to celebrate the cultural heritage of the county and the variety in its regions. Fanesca is a mixture of bacalao (dry salted cod), milk, cheese, beans, wheat flour, egg, garlic, plantains, avocado, jalapenos, and much more. It is traditionally made with 12 different grains to symbolize the 12 apostles of Jesus.
Le Gigot D'agneau Pascal (France)
A very simple recipe, this is a French recipe for a leg of lamb that's seasoned with garlic and herbs, roasted, and served with potatoes. Lamb is a very popular Easter dish in many countries because Jesus was the Lamb of God, and it's frequently the center of the Easter meal in France.
Tsoureki (Greece)
A sweet dinner bread that's also full of symbolism for the holiday, Tsoureki is a bread made with three braids to represent the Holy Trinity. It has a distinct cherry and almond flavor and is baked with blood-red eggs on top to symbolize the blood of Christ. It also works as a brunch bread.
Pizza Chiena (Italy)
This dish is more like a stuffed pizza and it has many different names. pizza chiena is similar to a pie made with a mix of cured meats (your choice but make it multiple), cheeses, eggs, pizza crust, and seasonings. It's a meal that's enjoyed at the end of Lent and through Easter, and it can be made differently every time.
Capirotada (Mexico)
Although it is fading in popularity, capirotada is a sweet Mexican bread served around Lent and Easter. It is highly customizable with the exception of three ingredients — bread that represents Christ, cinnamon sticks that symbolize the cross, and cloves that represent the nails. Otherwise, it can be adorned with fruit, nuts, and sprinkles.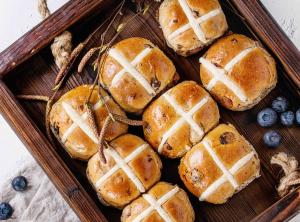 Zurek (Poland)
People from Poland travel to church on Holy Saturday with their Easter food ingredients in tow to have the next day's meal blessed. One of those foods is zurek, a soup that has a base of ryemeal sour aka fermented rye flower. It's important to note that if you make this dish for your dinner, the ryemeal sour needs to be prepared a week ahead (unless you have a ryemeal sour guy). It's rounded off with biala kielbasa, potatoes, and half of a hard-boiled egg, and it's served with bread on the side.
Hornazo (Spain)If you'd prefer to add a little spice to your Easter breakfast, then hornazo is a perfect choice, but you better be a carnivore. Hornazo is a savory bread stuffed with eggs, chorizo, and bacon. If you're feeling more daring, toss in some Spanish blood sausage.
Hot Cross Buns (United Kingdom)
They're available all year long, but an Easter tradition in many countries. The buns are dotted with currants or raisins and use a glazed cross to signify the crucifixion of Christ. It's also believed that giving a hot cross bun to a friend will bring good fortune throughout the year.