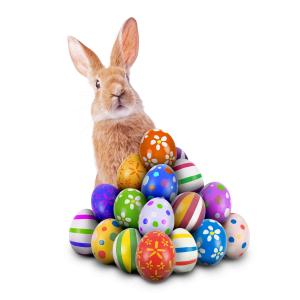 The confectionery world lost an icon in early February with the passing of Ira "Bob" Born. If you don't know his name, you most certainly know his creations. Born was the man who brought us Mike & Ike's and Hot Tamales. He also unleashed Peeps, one of the country's most loved or most reviled Easter candies, depending on where you stand on marshmallow blobs coated in sugar.
While Peeps is well-known, it's not the most popular Easter candy. Nor are chocolate bunnies, with only one cracking the top 10. Instacart did a deep dive into its deliveries around Easter 2022. Here's a list of the top 10 things the Easter bunny is likely to drop in your basket, along with a little fact about each candy or company:
10. Hershey's Milk Chocolate Easter Eggs
Milton Hershey attended the World's Columbian Exposition in Chicago in 1893 to see machinery that produced chocolate products. The German company that invented the machinery sold it to Hershey at a steep discount to avoid costs related to shipping back overseas.
9. Just Born Peeps Marshmallow Chicks
Of all the colors and flavors available, yellow Peeps remain the top seller. According to a study by Just Born, manufacturer of Peeps, about one-third of consumers intentionally let their Peeps go stale before eating.
8. Brach's Jelly Bird Eggs
Considered by many to be a staple of the Easter basket and picked as the favorite candy of the holiday by a quarter of Americans. More than 50 percent of people like fruity or "fun and fruity" flavors. A little less than a quarter of people like non-fruity, such as licorice.
7. Lindt Milk Chocolate Bunny
This is the only bunny to make the list, possibly because there are numerous manufacturers. The gold-wrapped bunnies with a red ribbon were created in 1952 but didn't reach the United States until 44 years later.
6. M&M's Easter Milk Chocolate Candy
M&M's were first made with Hershey's Milk Chocolate because the company controlled the rationing of chocolate during WWII. The "M" stamped on each candy was added in 1950 and was done in black. It was switched to white just four years later.
5. Hershey's Milk Chocolate Kisses
Kisses have been made since 1907, currently at a rate of 80 million per day. Production was halted from 1942-1947, not because of chocolate rationing but because of aluminum rationing. During that time, Hershey retooled its Kisses machinery to manufacture chocolate D-Rations for the military.
4. Cadbury Chocolate Mini Eggs
Although they were introduced in 1967, the mini-eggs history dates to 1875, when Cadbury introduced Dragees, dark chocolate filled with sugar-coated drops. The U.S. version comes in solid colors, including blue, while the U.K. version is speckled with the blue color excluded.
3. Starburst Easter Jelly Beans
There's not a lot of trivia about these jelly beans, except that they're very popular among jelly beans. However, it's interesting to know that Starburst (called Opal Fruits when created in the U.K. in 1960) was first introduced in the U.S. as M&M's Fruit Chewies in 1967. The name was changed shortly after Starburst to capitalize on the country's interest in the Space Race.
2. Reese's Peanut Butter Eggs
While they're not at the top of the list, if you count all Reese's products, the brand dominates the market throughout the year. Reese's products are purchased more than any other brand, and it accounts for 47% of all holiday candy sales. The Reese's brand has annual revenues that top $2.5 billion. Although it's owned by Hershey now, H.B. Reese's heirs still receive $66.3 million every year for a creation that cost 1 cent when first introduced.
1. Cadbury Easter Crème Eggs
Cadbury released its first chocolate egg in 1875 but didn't first fill them until 1923. The version that's available today was introduced in 1971, and more than 1.5 million are manufactured every day, but only sold from January 1 through Easter. A study by Cadbury revealed that 6% of people scoop the crème filling out with their fingers before eating the chocolate.
I encourage you to take a look at the Instacart page to see the entire study, including a breakdown of the top-selling candy by state. If you have a lot of time on your hands, you can look at an extensive list of Easter candy from the 70s, 80s and 90s and the ads for them.