by Gary Bergel
Emily Bissell introduced the Christmas Seal in the United States on this day in Delaware in 1907. Her cousin, a doctor working at an open-air sanatorium, enlisted Emily in the growing fight against tuberculosis (TB). The small sanatorium was in danger of closing for lack of funds.
Emily had read about the sale of Christmas Seals in Denmark in 1904, an idea conceived by Danish postal worker Einar Holboll to help raise money for children with tuberculosis. She decided to try the idea in the U.S. Emily borrowed money from friends and designed a small postage stamp that she persuaded her local post office to sell for one penny each.
Emily hoped to raise $300 to keep the small hospital open. Instead, $3,000 was raised which more than enabled her cousin's TB sanitorium to remain open. The next year, Christmas Seals raised more than $10,000.
The Christmas Seal annual campaigns linked with the American Red Cross for some years. These efforts gave rise tothe National Tuberculosis and Respiratory Disease Association which became the American Lung Association in 1973.
After World War II with the development of the antibiotic streptomycin,TB became a curable disease, although it would be decades before it could be considered under control in developed countries. Tuberculosis periodically reemerges in parts of the world and can be carried by immigrants and refugees. It is still one of the most common major infectious diseases.
Christmas Seals continue to benefit the American Lung Association to this day. They help fund the periodic battles against TB, research on lung cancer, asthma and other lung related diseases – especially those now caused and aggravated by the dangerous poisons in air pollution, toxic emissions, and secondhand smoke.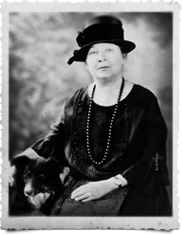 We at the Evangelical Environmental Network are grateful for the American Lung Association's careful ongoing research and their continuing education of the U.S. on air-related threats to public health. Their research and collaborative efforts helped us bring about issuance of the Mercury Rule to the Clean Air Act at the close of last year, action that after 20 long years will finally protect America's pregnant mothers and their unborn children from mercury and other heavy metal toxins emitted from coal-fired power plants.
The creation and sale of first the Christmas Seals by one concerned woman in Denmark, Einar Hulbollto, and by one concerned woman in the United States, Emily Bissell, illustrate the potential that is in each one of us to help enact positive change in our environment.
In this Advent and Christmas season, let's reflect and pray, asking the Lord how He might desire us to engage on behalf of public health, and especially on behalf of our children, America's and the world's most vulnerable citizens.