Our U.S. team are all in country today. We spent the morning meeting with representatives from the government, church, and civil society to hear reports on climate impacts and how they're responding. Their stories and reports were startling. More than once we heard "the challenge and level of response needed is comparable to our efforts around HIV/AIDS."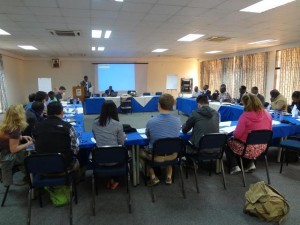 They have seen a six fold increase in major events which include droughts and floods. The predictability of planting no longer exists. Short rainy seasons are the norm. The result is that in this country where 80% of the 14 million people subside off the land, is real insecurity around food and a major impact on cotton and tobacco sales.
We made the beautiful drive down from Lilongwe to Blantyre in the afternoon and will spend all day tomorrow visiting some local villages to hear first hand testimony.
More soon.