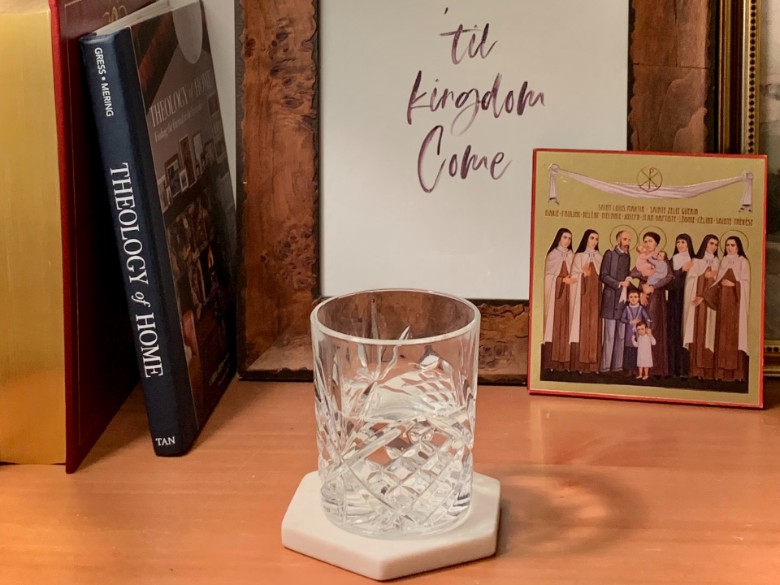 It's been a big week.
Loving Others
The kids got a little sick – while visiting family across the country.
While I was praying for all of the family, and especially the little ones, I decided to look ahead at the readings for this Sunday's Mass. It can be hard to focus on Sunday with the kids, so I thought it'd be nice to pre-read and think of them.
Starting with the Gospel to get a theme, the first words I read seemed like an odd answer to my prayers for the kids, especially after a week visiting my parents!
Jesus said to his apostles:
"Whoever loves father or mother more than me is not worthy of me,
and whoever loves son or daughter more than me is not worthy of me;"
Really? This is what I need to hear right now?
In a way, it was exactly what I needed to hear.
Love God More
As a little kid, my Dad would sometimes ask a leading question when saying goodnight: "Who loves you the most?"
And while later on the answer was known and obvious, the first time I got it wrong.
"You?" I replied.
"No…"
And then he spelled it out for me. Here was the answer:
God
Mom
Dad
While I'm sure numbers 2 and 3 were close to a tie, Dad likes to put Mom first.
As I mentioned, I got to see my family this week, which is always great no matter how difficult the journey.
This passage and this memory reminded me that seeing them is made even greater because of the Goodness of God.
Then I turned to the Psalm for Sunday:
For ever I will sing the goodness of the Lord – Psalm 89
A good home to come back to is a blessing that I am very thankful for, regardless of any stress going on in the lives around us.
And it is God that makes all things possible. So as I thought more about the Gospel verses, I realized that the key words that I was missing at first were more than me.
We love others, not more than God, but because of  God.
First of all, others would not exist if they were not created. Beyond that, so many of the people in our lives are there for a reason that we could not explain without Him.
By loving God more and first, we are able to love others more. We recognize in each moment, that God put them there for a reason, and we are called to love the lives that He has entrusted to us.
I was not insulted to hear my Dad say that he couldn't love me as much as God loves me. It sounded honest, real, and true. If God is infinite, His love is probably pretty great!
Thus, I would not be ashamed to say that I want to return love the same way: to God first, then others.
All Else Will Be Given
Next, I read through the first reading for this Sunday (because the first readings often mirror themes of the Gospel).
To summarize:
Woman asks the prophet Elisha to dine with her family
Elisha stops by whenever he is in town
The woman makes a room for him to stay in at his next visit
Elisha stays there sometime later
This doesn't seem like too much, but in light of the Gospel reading, it is amazing!
"Whoever receives you receives me,
and whoever receives me receives the one who sent me.
Whoever receives a prophet because he is a prophet
will receive a prophet's reward"
This passage reminds me a lot of a verse earlier in Matthew:
But seek first his kingdom and his righteousness, and all these things will be given to you as well.
This "seek first" portion isn't always easy, but the "all these things will be given to you" part sounds worth it.
Sure enough, the woman who receives Elisha, with her sign of hospitality and works of mercy, receives a reward. Even though her husband is getting old, they are given the news from the prophet that they will have a son!
Hospitality Getting Us to Heaven
Hospitality is rooted in kindness – not a kindness that is mere politeness (though that is important) but a kindness that actively seeks to fulfill a need of another unprompted. It is a great balm that can heal, soften, and change the course of a conversation or a direction in someone's life.

Pg 145, Theology of Home: Finding the Eternal in the Everyday by Gress, Mering, and Baile
As mentioned, this woman from the first reading performed a work of mercy. In fact she hit 3 of the 7 corporal works of mercy just by providing food, drink, and shelter.
Tradition tells us that by loving others with these works, we are loving Christ (Matthew 25:35-46), and loving Christ is a pretty good way to tell him that you'd like to spend eternity with Him.
Giving and Receiving Hospitality
While it is good to love Christ in others, we less often think of the times that we can let others love Christ too.
A missionary friend once told me that she would always ask for a glass of water first thing after arriving at someone's house. This was a way of helping them to get to heaven by inviting a work of mercy.
"And whoever gives only a cup of cold water
to one of these little ones to drink
because the little one is a disciple—
amen, I say to you, he will surely not lose his reward."

Matthew 10:42
I like this idea of receiving hospitality for the sake of others – especially when the request is something that almost anyone has access to, so it is very little burden. In fact it would even make others feel good about being helpful*.
At first I wasn't so sure if the whole "ask for water" idea applied because the verse is conditional, "because the little one is a disciple". Yet, the more I read it, the more I can kind of see it another way.
My first look made me think that the person has to give the cup of water intentionally due to the fact that the person is a disciple. Right?
But what if we shift the condition: "…because the person is a disciple… he will surely not lose his reward".
Now the tables have turned and the condition is on you to be a disciple, so that they can receive their reward.
Even if that may not be the intent of the passage, I don't think any theologians could argue against receiving some water as an attempt to lead others into a habit of hospitality and works of mercy.
Bring others to Heaven, ask for water.
---
*Quote II under "Quotes from Others" in this post by author James Clear tells a little story of unknown origin about borrowing salt – similar concept, so I thought I'd share.
---
Read more Formed by a Flame or Subscribe to the Newsletter!