"Sister sister! You've never seen a nun shut it down like this one," As noted by the Huffington Post. If Pope Francis is the New Church of love, here is his best ambassador ever!
The judges of singing competition "The Voice of Italy" couldn't believe their ears when they heard Sister Cristina Scuccia belting out Alicia Keys' "No One," but they were in for a greater shock when they saw what Scuccia looked like. Judges begin the show with their backs to the stage, and if they like what they hear they can swivel their chairs around– but none of them were prepared for the sight of 25-year-old Scuccia, a member of the Ursuline Sisters of the Holy Family, delivering a jaw-droppingly good performance in her black habit and silver cross. As the crowd cheered, her fellow sisters jumped up and down in delight.
WATCH!!!!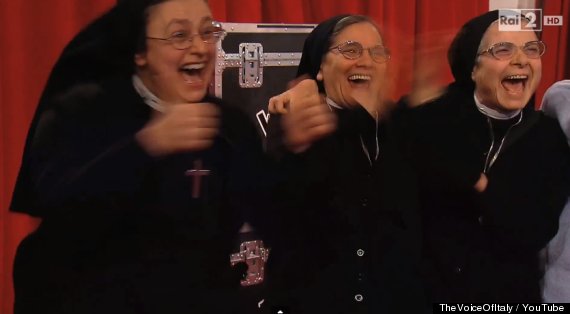 The shocked and impressed judges asked her if she was really a nun, to which she replied, "Yes, I am truly, truly, a sister."
A native of Sicily, she arrived at the show accompanied by four sisters from her community as well as her parents. "I came here because I have a gift and I want to share that gift. I am here to evangelize," she said, reports Catholic News Agency.
"If I had found you at Mass I would always be in church," said J-Ax, an Italian rapper who is one of the judges. "You and me are like the devil and holy water."
She trended on Twitter after her unbelievable performance, with many Italians showing their love for "#suorcristina."
The judges asked her what the Vatican would think of her singing, to which she replied, "I hope that Pope Francis will call me now," according to NY Daily News.
We can't wait to see more of this sister act!
Also… Do me a favor (after you stop crying over this nun and he love of life that is….
I'm looking for people who will read "WHY I'M AN ATHEIST WHO BELIEVES IN GOD" and agree to review it for Amazon and post the review the week it comes out in MAY.
That's the deal. I'll send you the file in about 2 weeks if you sign up now. Please add your name. I need your help.
Will you?
Please email me now for your FREE file of my new book
"WHY I'M AN ATHEIST WHO BELIEVES IN GOD" at:
frankaschaeffer@aol.com
I have a book about to come out this spring–May 15. Here's the back cover copy below. I'm self publishing because this book does not fit with my secular publishers or any religious publisher. It will have a significant readership, I think. Also, that way I get to keep the price low: $3.99 on Kindle and $9.99 in print.
Does the jacket copy work for you? Please let me know. Would you like a free copy as an e-file before publication, in return for agreeing to review it on Amazon? Please let me know. Contact me at http://www.frankschaeffer.com/
Very Best,
Frank
WHY I'M AN ATHEIST WHO BELIEVES IN GOD
How to Create Beauty, Give Love and Find Peace

By
Frank Schaeffer
[Back Cover]
"As someone who has made redemption his work, Frank has, in fact, shown amazing grace." — Jane Smiley, Washington Post
"To millions of evangelical Christians, the Schaeffer name is royal, and Frank is the reluctant, wayward, traitorous prince. His crime is not financial profligacy, like some pastors' sons, but turning his back on Christian conservatives." — New York Times
"Frank Schaeffer's gifts as a writer are sensual and loving. He's also laugh-out-loud funny!" — Andre Dubus III, author of House of Sand and Fog
Caught between the beauty of his grandchildren and grief over a friend's death, Frank Schaeffer finds himself simultaneously believing and not believing in God—an atheist who prays. Schaeffer wrestles with faith and disbelief, sharing his innermost thoughts with the lyricism that only great writers of literary nonfiction achieve. Schaeffer writes as an imperfect son, husband and grandfather whose love for his family, art and life trumps the ugly theologies of an angry God and the atheist vision of a cold, meaningless universe. Schaeffer writes that only when we abandon our hunt for certainty do we become free to create beauty, give love and find peace.
***
[Author photo]
Frank and Genie Schaeffer
FRANK SCHAEFFER is a bestselling author, movie director, blogger, speaker, artist, father of three, grandfather of five, and a survivor of both polio and an evangelical/fundamentalist childhood.
Cover art: "Greeting the Day" © oil painting by Frank Schaeffer. Author photo by Camilla Tilling
ISBN barCode, Price Library of Congress reg Bookstore order info Amazon info
Follow Frank on Twitter www.twitter.com/frank_schaeffer
See Frank's paintings http://www.frankschaefferart.com/
Follow Frank on Facebook https://www.facebook.com/frank.schaeffer.16
Contact Frank at http://www.frankschaeffer.com/
Frank Schaeffer is a writer. His latest book — And God Said, "Billy!" exploring the roots of American religious delusion, and offering another way to approach true spirituality, is on Kindle, iBook and NOOK for $3.99, and in paperback. It spent 8 weeks as Amazon's #1 best seller for Political Humor.