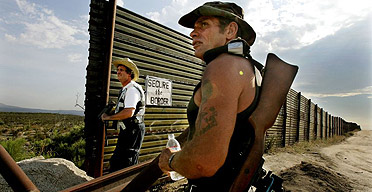 When Republican lawmakers slammed President Barack Obama for announcing Thursday that he would act unilaterally to provide deportation relief for approximately 4.4 million undocumented immigrants, there didn't seem to be much of the Thanksgiving spirit in their response. Isn't this a time to welcome the stranger in our midst? There was no question in my mind that besides being ungenerous there is also a racial component to the GOP response. A black man is going to flood us with more people "like him!"
I am a white 62-year-old former Republican and religious right activist who back in the early 1990s changed my mind about politics. Here's how the New York Times ("Son of Evangelical Royalty Turns His Back, and Tells the Tale," August 19, 2011) described my change from right to left: "To millions of evangelical Christians, the Schaeffer name is royal, and Frank is the reluctant, wayward, traitorous prince. His crime is not financial profligacy, like some pastors' sons, but turning his back on Christian conservatives."
Given my background, I "get" the response to President Obama, especially since the Republican leaders are catering to the white mostly evangelical base from which I came. One of the most unpleasant responses came from Michelle Bachmann. It so happens that as noted by The New Yorker ("Leap of Faith," August 15, 2011), she credited reading my late father Francis Schaeffer's evangelical writings with inspiring her to get into radical right-wing politics. Speaking with reporters, Bachmann had said the "social cost" of Obama's immigration policies would be extensive, with "millions of unskilled, illiterate, foreign nationals coming into the United States who can't speak the English language."
According to the Washington Post ("Republican leaders hope to contain outrage in the ranks over Obama immigration moves," November 20), when pressed on why she used the term illiterate, Bachmann said, "I'm not using a pejorative term against people who are non-American citizens. I'm only repeating what I heard from Hispanic Americans down at the border." Bachmann's clarification notwithstanding, it's hard to hear the word illiterate in this context and to not make the connection to the literacy tests that were designed in the Jim Crow era to keep black men and women from voting. And once that thought crosses one's mind, it's hard to ignore the current Republican strategy of voter suppression that they've followed through Obama's presidency as a means to keep young and minority voters from the polls.
Put it this way: Do you think the GOP reaction would be the same if Obama was white and the "undocumented immigrants" were white men and women from Germany and the UK?
The GOP response is not being made in a vacuum. It is part of what amounts to a far-right, white Republican mugging carried on by other means.
Obama has faced unprecedented obduracy in his Republican opposition. When has a newly elected president being faced with the leader of the other party's caucus—Mitch McConnell—saying, "Our number-one priority is to make this president a one-term president"? Now Mitch McConnell, the soon-to-be Senate majority leader, is leading the charge on opposing the president's executive order, and there even rumblings of another shutdown.
When, in September of 2009, Congressman Joe Wilson interrupted a speech to Congress by President Obama and shouted, "You lie," I heard what was behind those words: "You lie, n——r!" Not to be outdone, in a video on her Facebook page, former Alaska Gov. Sarah Palin continued with the Joe Wilson "tone" in her response to Obama's executive order. She said Obama was "giving the middle finger" to voters. Meanwhile Maricopa County, Arizona, Sheriff Joe Arpaio (known for his investigation of President Barack Obama's birth certificate and his claim that it is forged) said he would file a lawsuit against the president over the executive action.
It only remained for Rep. Lamar Smith
(R–Texas) to state that Obama's announcement amounted to a declaration of war on the United States. "President Obama has put the interests of an extreme wing of his party above the interests of American workers. Some have said that the actions he is taking this week equal a declaration of war on Republicans," Smith said in a statement. "I believe he is actually declaring war on the American people and our democracy."
President Obama has been blamed for his own mugging, even by some liberals. One famous liberal commentator wrote a book on how Ronald Reagan and Tip O'Neill could disagree and still be friends. Why, he asked on many a TV show promoting his book, couldn't President Obama be like that? Because, I yelled at the screen, those two men were white Irish Americans and part of a ruling white oligarchy. Because, I yelled, you might as well ask why Nelson Mandela didn't talk his jailers in South Africa into seeing reason. Because, I yelled, President Obama has been lied about, attacked, vilified, and disrespected since Day One.
We Americans don't like to admit who we really are. So we make excuses and blame the victim when the ugly specter of our racist reality raises its head. I'm ashamed for our country.
If President Obama were white and had been playing on a level field, Congress would have passed immigration reform long ago. For now we can just hope that the hatred by the Republican Party for our first black president doesn't drive us to the brink of ruin—again—as they shut down our government and/or try to undermine healthcare reform, all just to get even with the black man they swore to destroy. Meanwhile President Obama is managing to govern anyway, even if only through executive orders, pushed to govern by extreme means by his extremist and irrational opponents. And his action seems more in keeping with the spirit of Thanksgiving than the bitter opposition to welcoming the stranger in our midst is.