Take a good look at these smiling self-satisfied white faces. They are killers. Paul Ryan's all white selfie with interns shows lack of diversity in Washington. Smug hardly covers it. Ryan's agenda is anything but something to smile at. The speaker of the House was subject to well deserved online ridicule after his Instagram post with dozens of Republican Capitol Hill interns who were just about all white.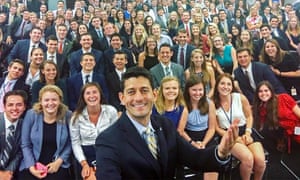 As noted by the Guardian: Ryan "was lambasted on Twitter on Sunday after posting what he thought was a harmless selfie with some of Capitol Hill's interns." The caption on the Instagram post read: "I think this sets a record for the most number of #CapitolHill interns in a single selfie. #SpeakerSelfie."
What he failed to recognize was the overwhelming lack of diversity in the picture.  Ryan and these cute white wannabes are going to be the team to destroy Medicare, crash Medicaid, gut Social Security and destroy the safety net. Want to be on if they will be looking out for anyone other than upper crust whites?
The picture racked up more than 5,000 comments on Instagram, far more than any of Ryan's other photos.
Some users used the hashtag #GOPSoWhite – a play on the #OscarsSoWhite – but RJ Khalaf, an intern for Democratic congressman Andre Carsonn, told USA Today the photo included interns from both parties.
People of color are largely absent from the legislative branches. According to a study by the Joint Center for Political and Economic Studies in December, people of color make up 35% of the US public and only 7.1% of all senior-level Senate staff.
Ryan's all-white staff will soon strip close to 30 million people of health care coverage. Then they will craft the destruction of Medicare and then Social Security. These smiling white pigs are going to destroy people of color, the poor, everyone but Ryan's billionaire cronies. As I said… take a good look at these smiling self-satisfied white faces. They are killers.
Ryan's all-white crusade to pass repeal in January has nothing to do with policy and everything to do with politics. He wants Congress to vote before the rest of the country, and maybe even the president-elect, wakes up to the real-life changes such a vote would unleash.
The Ryan and whites-only picture reminded me of this one… another whites-only guy… and his whites-only "Christians"…
(YouTube)
And that picture reminded me of this one… Welcome to 2017 (I mean 1937)
(Photo YouTube)