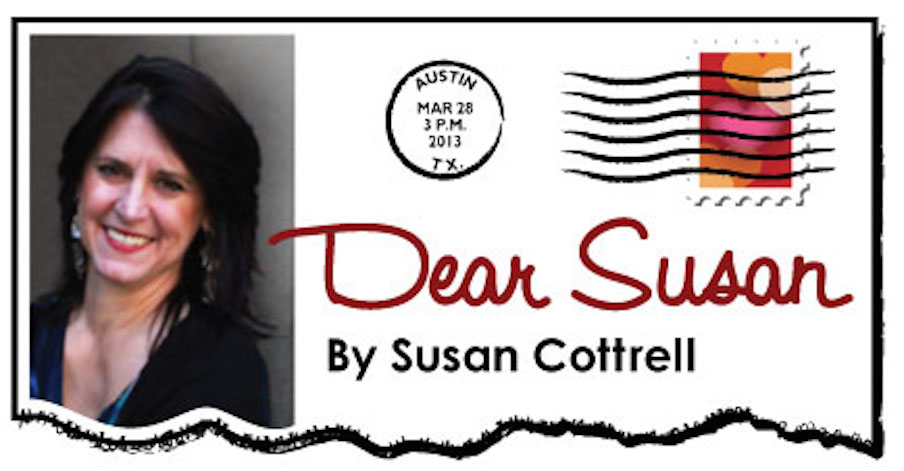 As parents of LGBTQ children, sometimes we are just starting to be at peace with our child coming out and they drop a bomb on us that the love in their life wants to sleep over! Okey dokey then. Something else to deal with.
It's all part of this journey of growth, trust and unconditional love.
I write Dear Susan posts every Friday. Sometimes they will be poignant, sometimes thought-provoking, sometimes tender, sometimes funny… but hopefully always worth the read. 🙂
Dear Susan,
I am so glad that I Googled your page. My wonderful lovely daughter is 24 years old and I love her sooo much. But my heart is so very very very broken as she decided that she is gay.
I feel so bitter and I really feel as if I had let her down, somewhere, somehow. All my dreams are shattered and I really find it very difficult to cope with this – it is tearing our whole family apart.
She has asked if her friend could sleep over at our house. She promised me that there will be no physical contact of any sort around us as she respects how we feel. What do we do? Do we allow her friend to sleep over even though it is against everything we believe in?
Thanks for your work – it helps to know there are other people out on the same journey.
Just A Mom
Dear Just A Mom,
I am so sorry about your broken heart. I hear you. Let me tell you, she did not "decide" to be gay, and she is not gay because you let her down somewhere. Seriously. People are gay because they're gay. You did not do anything to make that happen – and neither did your daughter. She is just brave enough to finally live true to herself.
And I totally get it about your dreams shattered at your feet. I encourage you to grieve. But grieve for the loss of your dreams, and realize that her dreams are likely different and very much alive! To grieve the loss of your dreams, it will help to get some sort of journal, or anything to write and pour out your heart and soul about all that is going on in you. You can only be free of what you express in one form or another; to keep it inside makes you stuck with it. You know?
As for her sleeping with her friend… I can only tell you this: the girl is 24 years old. An adult. You might not prefer it, you might wish it could be another way — and I say she's being very respectful to be discreet in front of you — but this is how it is. You are, and always will be her Mom, but you are no longer her "mom" in the sense of "correcting her." Sometimes we want to continue to parent (maybe trying to make up for what we perceive were our mistakes) long after that role has passed! And it can cause a lot of pain, tension and distance. She is an adult now, and your job is to love and encourage her. That's your privilege and responsibility.
I would always err on the side of letting her live her life as the adult she is, trust her with God. But if you do decide to enforce these kinds of rules under your roof, please be sure those rules would be the same for a straight child and a gay child.
By way of a story… my hubby and I visited our daughter in Chicago. We stayed in the bedroom part of a hotel suite, and she and her love stayed on the pullout sofa in the living room. 🙂 What a blessing! We got to spend SO much more time together than if we had insisted on separate rooms.
Forcing your daughter and her friend to stay apart results in her just doing it to appease you, but then she does what she wants behind your back. This can produce intense guilt in her – which I know your heart does not want – and it can begin to make you irrelevant in your daughter's life.
Breathe. Trust God to guide and lead your daughter as she continues down her own journey.
And keep her close to you through your unconditional love.
Susan