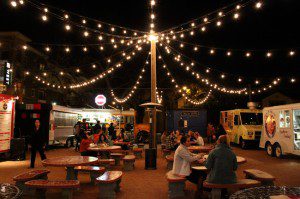 Austin is renowned for food trucks. In my neighborhood is a great little coffee truck – Beware Coffee – where I like to write as I drink some delicious yumminess.
The young couple that run it have that hip Austin vibe—so chill and easy to connect with. When I first met them, we talked about Freedhearts—they asked what I do, and I told them I reach out to parents to help them pursue reconciliation for with their LGBTQ kids. And I help those kids (of all ages) heal from their spiritual wounds.
Today as I sat in the breezy afternoon with my cappuccino, I listened to customer after customer order coffee, and I realized something profound. These two have conversations with interesting people all day long.
They hear stories, and various viewpoints, and different situations. And all they did besides make coffee was to engage with people all day long. They did not tell people they were wrong. They did not feel the need to set anyone straight. They just were.
I don't know whether they are Christians, but I experienced from them the love of Jesus. Transcendent kindness and peace. Our earthly assignment in these 80-some years we get, is to let the love of God flow through us. That's really the whole story. And, if it is indeed God's love that is flowing, it will look like Jesus on earth. It will have a sweet aroma. It will be lovely.
"Go and make disciples of all nations." That was the instruction. That means to let them know that they are fully and completely loved by God. It is St. Francis Assisi's motto: Preach Christ at all times. If necessary, you can use words. Let the beauty of your ways do the talking.
Don't say how much you love someone – show it.
Don't tell them about what Christians believe (as if that were all one thing). For sure, don't tell them what they need to believe.
Love is truth.
Love is what draws people in.
Promise.