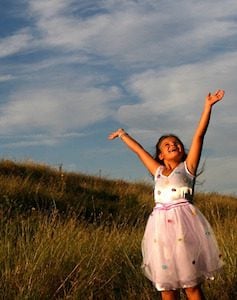 Prodigal. It has come to mean "someone who was wayward but has now straightened up and back in God's good graces." Some parents hang onto this idea like a sweet promise: trust God while your child makes some poor choices, possibly self-harms, until they come back to their senses. Other parents hang it over their kids' heads as a kind of judgment. You come back and then you get full relationship again.
And the kids feel it, the condition in which they must return—full of apology and admission of guilt. Even if they do not believe they are wrong, they must say they are to regain relationship… an unjust requirement when there were two sides to the story.
None of this is what the story really means.
Go back to the word "prodigal"—a more accurate meaning would be "lavish." Lavish? Yes! Lavish with an overtone of being wasteful.
Yes, that fits with what we think about the son, but it is not only the son who is lavish (wanting to spend his money with reckless abandon on wild living)—the father is lavish too. Ah, that's where it gets interesting. And Mom & Dad, that leads me to my question for you today… Are YOU a prodigal (lavish) parent?
The Bible story is that the son comes to his dad and asks for his inheritance—basically his meaning was, "I wish you were dead so I could have my money and live the way I want." That would get him banished in the culture, for sure. How dare he?! But the father, incredibly, gives him his inheritance! I'm sure his friends would consider him wasteful too! ("What are you doing giving that boy his inheritance? You should have disowned him!") Isn't that the way so many Christian parents counsel each other?
But this "wasteful" father grants his crazy and self-centered wish so the son can go do what he wants. And go he does. To live as lavishly as his money would allow, throwing wild parties for his friends—until he runs out of money… at which time he runs out of friends! Now, he's done it. He gets a job feeding pigs, and it hits him: the pigs are eating better than he is! What is he doing here?
Then he comes up with a plan. That's what "He came to his senses" mean: "He came up with a plan." He decides to approach his father with a plan that his father hire him as a servant. Then at least he can eat well, and not be stuck feeding pigs (which is not the preferred position for a Jewish boy…). And so he sets out to go take this business idea to his father (whom he has no business asking any favors from, given his previous request that Dad would die and leave him his money.)
But the father, the story famously unfolds, sees him from a far way off! He's been watching for him, hasn't he? He shouts out for the servants to kill the best cow and start cooking a great feast.
The father is wasteful again!
Then he gathers up his robes and so he can run out (a great indignity) to meet his son! Who cares what he looks like, who cares what the neighbors think, who cares that he's been made a fool of—he is running to meet his beloved son!
You see, the father is extraordinarily lavish–he lavishes mercy and kindness on his son. He lavishes on him a feast and complete acceptance.
Jesus tells us this is how God is with us! Lavish to the point of wasteful. God wastes love on us, God wastes tender kindness on us. God wastes mercy and forgiveness and abundant acceptance on us.
Don't let anyone tell you God is a strict taskmaster who you have to work very hard to make happy. Not true, so not true.
Jesus is telling us that we don't have to leave God to get lavish love and acceptance but that no one will ever give us more of that than God will. We could never provide such lavishness for ourselves!
This story is about restored relationship, not conditional, based on repentance—that's just not in the story. It's simply acceptance that God lavishes on us, and we have no leg to stand on not to lavish it on those around us, especially our own children (Matt. 7:9-10).
To view this as a story of repentance is to miss the whole point of the story. It is the story of a lavish parent. Are you a lavish parent to your LGBTQ child? If you're not, because you don't approve of them, no one can make you change. But DON'T blame that stuff on God.
If you withhold your approval until the situation suits you, then you are the do-gooder brother who doesn't want Dad's lavishness to cover someone who hasn't earned it. Isn't that so much of the church today? We want acceptance for ourselves, of course, but not for those we disapprove of.
This story has nothing to do with repentance but with lavish, rich, abundant love and acceptance granted to us.
And that is what God wants us to lavish on others, our family and friends… even those with whom we disagree. 🙂
Please don't hurt your children. Instead, be a prodigal parent—a lavishly loving embracing parent!
As parents, it's the very least we can do.