I think it's time for us to get a little bit more uncompromising in our defense of compromise. Jonathan Rauch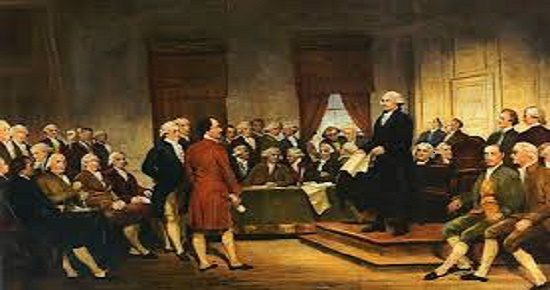 One of the many benefits of getting up early on Sunday morning in order to make the 8:00 service at church is that I can catch the last fifteen minutes of Krista Tippett's radio program "On Being" as I drive. I first became aware of Krista several years ago when I was on sabbatical at the ecumenical institute in Minnesota where she first got the idea for her program a few years before my semester there. Her show—called "Speaking of Faith" at the time—aired on Sunday afternoons in Minnesota—I listened every week and was pleased when our local NPR station picked it up a couple of years ago. Not every week is a classic, but every once in a while there is an "On Being" broadcast that I just can't stop thinking about.
Some time ago, I tuned in just in time to hear one of her guests say the following:
I don't know why it is, but I think we're just at this moment in time where the public conversation is at a particularly low level of quality—the coarseness, the ugliness, the assumption of bad faith, the triviality, the sensationalism. I really think that so many people are aware of this . . . I can't diagnose it, really, I don't have a diagnosis. All I really know is it's terrible, it's bad for the country, it's bad for our souls.
"Tell me about it," I thought—the guest's description nailed my perception of what public discourse has devolved into for the past several years. His comments were particularly timely for Independence Day. The title of that "On Being" conversation was "The Future of Marriage"; the speaker I just quoted is David Blankenhorn, who argued against same sex marriage as a social good both in California's tumultuous Proposition 8 debate as well as in his 2007 book The Future of Marriage. He is also founder and director of the Institute of American Values. Blankenhorn's conversation companion that day, along with Tippett, was Jonathan Rauch, a Senior Fellow at the Brookings Institution, a lifelong journalist and the author of Gay Marriage: Why It Is Good for Gays, Good for Straights, and Good for America. Rauch is a gay man and has publicly debated the gay marriage issue with Blankenhorn so often over the years in various forums that they ultimately became good friends. In the midst of the intellectual arguments for and against, both men realized that they shared something important in common. As Blankenhorn put it in a New York Times op-ed in 2012,
My intention is to try something new. Instead of fighting gay marriage, I'd like to help build new coalitions bringing together gays who want to strengthen marriage with straight people who want to do the same.
It was a costly decision for Blankenhorn financially. Half of his institute's board members resigned and half of his funding dried up. Together in 2015 Rauch and Blankenhorn launched a joint initiative called The Marriage Opportunity Council, crossing liberal and conservative, gay and straight boundaries.
The hour-long conversation is fascinating and informative—I encourage you to take a listen.
David Blankenhorn and Jonathan Rauch — The Future of Marriage
But as Independence Day approaches, I am particularly interested and intrigued by the final ten or so minutes of the show. Neither Blankenhorn's nor Rauch's intellectual arguments convinced his friend to change his mind on the issue. But the evolution of their friendship and dialogue is an illustration of what they call "Achieving Disagreement." Blankenhorn's description sketches a possible approach to raising the low level of public discourse in this country:
It's easy to have a false disagreement. I can just say, "Oh, you're a bad person and you're stupid." I can just have a belief. But to actually know where we disagree requires effort from you and from me. We have to have a relationship to do that. And part of achieving disagreement means identifying areas of common ground. It means finding out where we agree. . . . In today's world of hyperpolarization and the sheer idiocy that is our public debate on most days, ninety-eight percent of the time, the heart just cries out for this kind of serious effort to achieve disagreement.
This very difficult but necessary strategy transcends any particular issue. Human beings are capable of falling into polarized and ossified positions on every issue imaginable—what would it be like to start difficult discussions with an extended search for what those disagreeing share in common? In the case of Blankenship and Rauch, discovering that they both were equally committed to strengthening marriage as a social institution changed everything—it got them past the divisive issue of who should be allowed to be married.
Jonathan Rauch argues that "achieving disagreement" is not only a good strategy for engaging with controversial issues, but also is our patriotic duty.
I believe there's an element of patriotism about this. I believe that there are higher values, ultimately, than what each of us wants as individuals. I discovered in you [Blankenhorn], I thought, someone who understood that you're a multivalue person and that as strongly as you felt about marriage, that you felt even more strongly that we have to share the country. And it is our duty as citizens to find ways to live together. And that's a higher value still. I equate that with a form of patriotism. When I see someone who won't compromise, I see someone betraying the core purposes of our Constitution, which is to force compromise.
In a culture in which compromise has come to mean weakness and lack of principle, it is refreshing to be reminded that our country was constructed by its Founders to run on the fuel of compromise. To read James Madison's Notes on the 1787 Constitutional Convention that produced our Constitution is to be immersed in a several month long exercise in compromise. It's time to return to that positive energy. As Rauch continues,
I think of it as a duty. I think there are higher things than being right. By compromisers, by the way, I don't mean people who give up on their core values and roll over and get rolled by the bitter partisans on the other side. I just mean people who at the end of the day say, "You know what? I'm not going to walk out of here with everything I wanted." I think it's time for us to get a little bit more uncompromising in our defense of compromise. I think we should understand and say this is a matter of patriotic duty to our country. . . . If your idea of compromise is the other guy's going to agree with me . . . You are not being a patriotic American and you are betraying the founding premise of this country.
For this day Independence Day, I commit myself to being a better compromiser. I am as willing and as capable of demeaning and belittling those who disagree with me on issues that are important to me as the next person—but I can do better. Enjoy Independence Day—and don't forget to compromise!