Human love in the purest forms we can know it, wife and husband, parent and child, has the aura and the immutability of the sacred. Marilynne Robinson
Occasionally on an early Sunday morning, Jeanne and listen to Krista Tippett's "On Being" on our local NPR station. Appropriately for Valentine's week a couple of years ago, Krista interviewed philosopher and author Alain de Botton–the topic was "The True Hard Work of Love and Relationships."
On Being: The True Hard Work of Love and Relationships
Jeanne and I are more tthan thirty years into our relationship, and much of Krista and Alain's conversation was spot on. Because it is the hard work that makes anything worthwhile–and worth celebrating.
On New Year's Eve a couple of years ago, I saw a Facebook post that said "Like if you are going to celebrate New Year's Eve in your pajamas at home with your pets." I hit "like" immediately, because that is precisely what Jeanne and I have done for the past several New Year's Eves (and each one since). New Year's Eve was forever ruined for me in my youth as I was annually brought to a "Watchnight Service" at church where everyone celebrated the new year in with sermons, prayer, and crippling boredom. But now I don't think I could celebrate New Year's Eve with traditional partying and drinking even if I tried—I'm introverted and I'm getting old.
I've often heard it said (and may have complained myself a few times) that Valentine's Day both is a creation of Madison Avenue and is primarily for the young. It is indeed a big money-maker,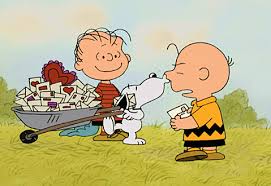 and I remember clearly how Valentine's rituals were forced on me as early as first grade as we peered into our decorated brown paper bag containers, each of us hoping not to be the Charlie Brown of the class with the fewest Valentine's cards (I often was).
In my twenties I went through the uncomfortable process every year of trying to find an appropriate valentine for the person to whom I was married but did not love any more, if I ever had (I'm sure she struggled similarly trying to find one for me). But it does offer a yearly opportunity to reflect on important relationships, particularly with one's significant other (if one has one).
I have never thought of my parents as a love story—they were my parents, for God's sake.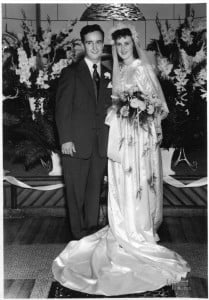 But it occurs to me that Jeanne and I are now both several years older than my father was when my mother died. I understand so much better now than I did thirty-some years ago at least some of what he must have gone through, since I have no doubt that he expected he and my mother would see their fiftieth wedding anniversary (they made it to their twenty-seventh) and live together into their eighties as both his parents and my mother's parents had done.
For years Jeanne and I have had a good-natured disagreement about which of us is going to die first—neither of us wants to outlast the other. I can't imagine life without the person with whom I have for better and for worse spent half of my years. My Valentine's wish is what the author of the Book of Tobit asks: Mercifully grant that we may grow old together.
George Eliot uses this epigram to introduce one of the late chapters in her masterpiece Middlemarch, my favorite novel to which I returned when reading Rebecca Mead's My Life in Middlemarch a while ago. Mary Ann Evans (George Eliot was her nom de plume) lived a bit of a scandalous life by the standards of Victorian England, but I was amazed to see how many similarities there are between Jeanne's and my relationship and Mary Ann's relationship with the love of her life, George Henry Lewes. Mary Ann and George (Evans took her writing first name from Lewes) met in their early thirties, as Jeanne and I did.
When we met, Jeanne had never been married, while I had been divorced five months earlier; when she met Lewes, Evans had never been married, while Lewes was still married to his estranged wife who after their separation had four children with another man (due to the technicalities of British law, they were never divorced). I had two sons in tow when Jeanne and I met; Lewes had three sons in their teens when he and Mary Ann met, all of whom were at boarding school.
To the great scandal of Victorian society, Evans and Lewes lived together openly without marrying for more than two decades in what appears to have been a very happy and fulfilling relationship. Jeanne and I did get married after being together for six months or so in a quick impromptu ceremony performed by my father because my mother was dying of cancer. Because no one other than our two sets of parents were able to attend, we fully planned for a big, blowout wedding once our new blended family got used to each other and "things settled down." It's now over thirty-one years later—that wedding never happened.
I loved reading Rebecca Mead's chapter on Mary Ann and George's relationship because so much of it sounded familiar. To use an overused term, they were clearly soulmates; if the word means anything at all, it describes Jeanne and me as well. In an essay written while she was on her "honeymoon" in Germany with Lewes, Mary Ann wrote that
It is undeniable, that unions formed in the maturity of thought and feeling, and grounded only on inherent fitness and mutual attraction, tend to bring people into more intelligent sympathy with each other,
while in a letter to a friend later in life she wrote that
To be constantly lovingly grateful for the gift of a perfect love is the best illumination of one's mind to all the possible good there may be in store for man on this troublous little planet.
During a rough patch a number of years ago, a dear and trusted friend told me that Jeanne and I are "home for each other." We are. It sounds as if Mary Ann and George were home for each other as well.
Around the same time I read Mead's book, Jeanne and I hosted the first party at our house in a long time. There were fifteen or so visitors there, all of whom are good friends but only two or three of whom had ever been to our house (which is a good indication of how seldom we have people over). Thank you comments over the next week repeatedly noted how peaceful and welcoming our home is and what a good team Jeanne and I are together.
As I did my introverted thing with two or three people in our little library room while Jeanne did her extroverted thing with everyone else, one of our guests and I talked about something she and her husband share with Jeanne and me. For the first time in thirty-five years of marriage, this couple had just started living in their house by themselves—no children, no guests, no long-term tenants. Similarly, that party was during the first few months of the first time in our three decades together that Jeanne and I were by ourselves in the house. After years of not seeing each other for weeks at a time when Jeanne was travelling constantly for work, all of a sudden we were in each other's space all the time (and continue to be).
"Has it been really hard?" my friend asked, silently implying that it had definitely been a challenge for her and her husband. I could truthfully say that while it is certainly different, it has not been hard at all (except when I am continually trying to go to some location in our little house at the same time that Jeanne wants to get there).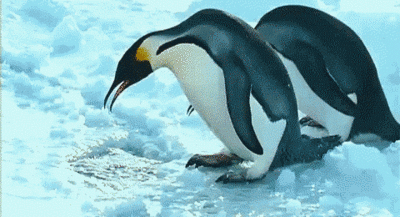 We have a quiet, normal life of the sort that those who only know the extroverted side of Jeanne would find hard to believe. Only those who lived through it would know how many life experiences, many of them challenging and difficult, have brought us to this very welcome place of peace and quiet happiness. Ours is not the sort of love story that people write novels or make movies about—there's too much of the everyday and too little blockbuster drama to hold a viewer's attention. Toward the end of Rachel Kadish's Tolstoy Lied, the main character reflects on what she has learned about love.
Love–real love–is not cinematic. It's the stuff no one talks about: How trust grows rootlets. How two people who start as lovers become custodians of each other's well-being.
This Valentine's week, I am grateful beyond measure that I met this beautiful redhead at my parent's house a bit over three decades ago—it is more than I could have hoped for and more than I deserve. There is one way in which I do not wish Jeanne's and my relationship to be like Mary Ann and George's. They both died at age 61; we are now both older than that. And so I ask, mercifully grant that we may grow old together.