I was the scheduled lector at the 8:00 service last Sunday, the first time I got to read up front in a couple of months. After the Psalm, the reading for the day was from Isaiah 58. The opening lines were
SHOUT OUT, DO NOT HOLD BACK! LIFT UP YOUR VOICE LIKE A TRUMPET!
Which I did, sort of—as much as I dared to in church at 8:10 in the morning. As I continued through Isaiah's "in your face" challenge to anyone who will listen, I thought "Wow! Imagine if Isaiah showed up at the National Prayer Breakfast and started shouting this!"
This year's National Prayer Breakfast took place on the day after the Senate voted, largely along party lines, to acquit President Trump of two articles of impeachment. Arriving late to the breakfast, holding up two newspaper headlines reporting his acquittal, then shaking hands with the half of the people on the dais who weren't sitting on Nancy Pelosi's half, Trump waited out Arthur Brooks' eloquent call for people on all sides of the "contempt" divide to follow the gospel directive to "love your enemies" (the theme of this year's breakfast).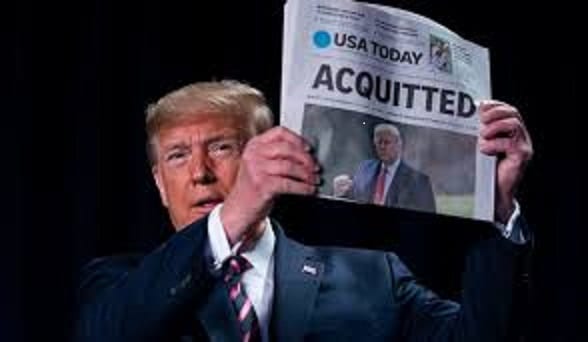 When it was his turn, the President very quickly indicated that he wasn't about to do that, given that he had been so grievously wronged by bad people who don't deserve to be loved. Trump's remarks were part rally stump speech and part preview of the revenge he intended to take on those who had opposed him. It was ugly, partisan to the core, and entirely contrary to what the prayer breakfast is supposedly for and about. In the Washington Post the next day, Cal Thomas opined that
Perhaps it is time to suspend this annual event, or to hold it without this president attending if he can't accept the non partison theme that has been its tradition for nearly seven decades.
Perhaps. But I have a different idea. What if, rather than suspending the event, a different sort of person with a different sort of message was invited to be the keynote speaker? Imagine along with me . . .
"Ladies and gentlemen, please welcome our keynote speaker, Isaiah, along with his "contemporary language interpreter."
Isaiah: Thus says the Lord! Day after day they seek me and delight to know my ways, as if they were a nation that practiced righteousness and did not forsake the ordinance of their God; they ask of me righteous judgments, they delight to draw near to God.
Translator: You're all here pretending that you care what God has to say, acting as if you are the righteous, and claiming that you want to be partners with God.
You ask "Why do we fast, but you do not see? Why humble ourselves, but you do not notice?"
You complain that "we're doing the right things—such as organizing this lovely event—but you don't seem to be holding up your end of the bargain. What's up with that?"
Look, you serve your own interest on your fast day, and oppress all your workers. Look, you fast only to quarrel and to fight and to strike with a wicked fist. Such fasting as you do today will not make your voice heard on high.
So while you set aside a couple of hours to pretend that you give a crap about what God wants, you ignore the interests of those whom you supposedly represent, imagining that I actually care about your pitiful efforts to kiss up to me.
Is such the fast that I choose, a day to humble oneself? Is it to bow down the head like a bulrush, and to lie in sackcloth and ashes? Will you call this a fast, a day acceptable to the LORD?
Are you so clueless as to actually think that I care about your setting a random Thursday morning in January aside to "pray" and act as if you don't hate each other? Do you think I am impressed by those of you who even go through the motions once a week in church? Seriously?
Is not this the fast that I choose: to loose the bonds of injustice, to undo the thongs of the yoke, to let the oppressed go free, and to break every yoke? Is it not to share your bread with the hungry, and bring the homeless poor into your house; when you see the naked, to cover them, and not to hide yourself from your own kin?
If you're interested in knowing how to really honor me, here's a list. Establish a living minimum wage nationally. Stop putting people in cages at the border. Focus all of your attention and activity on those who are falling through the cracks—the hungry, the homeless, those without proper food and shelter, those without adequate housing and health care. Stop acting like they don't exist.
If you remove the yoke from among you, the pointing of the finger, the speaking of evil, If you offer your food to the hungry and satisfy the needs of the afflicted, then your light shall rise in the darkness and your gloom be like the noonday. Then you shall call, and the LORD will answer; you shall cry for help, and he will say, Here I am.
Stop blaming each other for problems that you all are responsible for. Envision a society that works for everyone and not just for you and those most like you. Start acting like you care about something and someone other than yourself and your political survival. If you do, then maybe you'll find out that the divine response is up to you to put into action. Stop calling on me and get to work. But of course, if you don't, perhaps someone else will visit the prayer breakfast next year. You have been warned.