In our three years in Milwaukee, our first years together as a married couple trying to cobble a functional stepfamily together, Jeanne and I set our radio alarm to NPR, which would awaken us every morning at six o'clock. The early show was classical music, hosted by a local public radio fixture with the comforting and dulcet tones of an educated uncle. As we emerged into the day from sleep, the host would provide a brief weather report before queuing up the first musical offering of the hour.
On some mornings, he would announce that "ladies and gentlemen, it is an introspective day—let's begin with something appropriate from Beethoven." The first movement from the Moonlight Sonata, or the second movement from the Fifth Piano Concerto, or the third movement from the Seventh Symphony—one of these products of Beethoven's inner complexities would then serenade our rolling out of bed.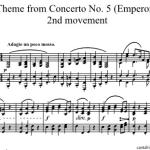 "An introspective day" meant that it was foggy, rainy, snowy, or at least cloudy—a day designed for redirecting one's energies inward, the sort of day that everyone should be allowed to sit by a fire, drink their hot beverage of choice, and read. Nothing electronic blaring, no external demands, no pressures, just a chance to be quiet, breathe a bit slower, and feel a bit more deeply.
Nice virtual image for a couple of minutes, but then real life showed up with two kids to arouse, feed and get to school, receiving a phone call telling Jeanne where in the large Milwaukee Public School system she was to report for the day, my twenty-minute bus ride downtown to Marquete University where another day of PhD preparation activities awaited me. The introspective day stayed at home, a nice idea for the five minutes that it lasted.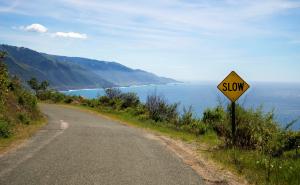 I remembered this phrase one June morning, more than twenty years later, as I arose at 4:30 to get a shower before Vigils at 5:30. The day before, my first full day on retreat at a Benedictine hermitage in Big Sur, was more touristy than retreatish, as I drove south on Route 1 along the Pacific Ocean from the hermitage, ostensibly to find someplace with cell phone service (no cell or wireless service at the hermitage or within thirty miles in either direction), but really because this was my first time at Big Sur and I was not ready to settle down into a few days of silent retreat until I saw more of the most beautiful scenery imaginable that I had driven through coming from the north the previous afternoon. Every switchback turn revealed another breathtaking vista; by the time the landscape flattened out a bit I had taken almost one hundred pictures.
I finally found flickering phone service on my Anroid at a large parking area right on the beach—a beach that just happened to be Elephant Seal Vista Point, where several dozen elephant seals, twenty or thirty yards up on the sand looking like small beached whales, were piled next to and on top of each other like so many random logs. It was molting season; apparently elephant seal molting is facilitated by rolling in sand and throwing it around with one's flippers, all the time talking trash to your neighbor who is doing the same. Wishing that Jeanne, who is a great lover of all seal-related things, were with me, I took pictures until my phone's battery screamed for mercy. After exchanging texts with the significant other, I headed back for the hermitage, having missed Sunday mass (mea culpa).
Stepping out onto the patio of my retreat house room at 5:00 AM on Monday, expecting to see, as I had the previous morning, brilliant stars above and the cavernous expanse of the ocean before me awaiting sunrise to come into view, I walked instead into a fog so thick I could not see the end of the patio ten feet in front of me. "Ladies and gentlemen, it's an introspective day," I heard the NPR guy say from more than two decades earlier, and it indeed it was. For the first time I understood Moses' experience when he went into "the thick darkness where God was." The day was so introspective that I would not have dared to drive the two-mile long switchback road from the hermitage down to US 1 even if I wanted to. But I didn't want to.
On the California Benedictine calendar, this day was the anniversary of the dedication of the Monterey cathedral, a place I've never seen and probably never will. But as we read appropriate psalms for the dedication of a building, rejoicing in the loveliness of God's dwelling place, I returned in my imagination to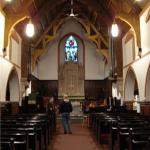 St. Matthew's Cathedral in Laramie, Wyoming, where I first experienced God as more than an idea or intellectual construct. As the lector read Peter's call to "come to him a living stone . . . and, like living stones, let yourselves be built into a spiritual house," I said a silent thank you for the Living Stones seminar group at Trinity Episcopal in Providence who have taught me so much over the years, and with whom I had met a week earlier.
After bringing post-Vigils coffee to my room, I decided to read some more of War and Peace, where Tolstoy's mastery placed me next to Napoleon at the Battle of Borodino. I observed as it slowly dawned on the Emperor that on this day, after years of unqualified victories, he was defeated by something that could not have been factored into his battle plans and calculations—the spirit of those willing to either defend their homeland or die trying. Vladimir Putin has yet to learn the same lesson vis-a-vis Ukraine. After then spending a few minutes with Pi Patel in Yann Marel's Life of Pi, floating with a four hundred fifty pound Bengal tiger on a life raft in the middle of the very ocean that lay unseen at the bottom of the steep mountain sloping down from my patio, I took stock.
Without travelling more than thirty yards, I had turned back the clock more than twenty years for a visit to Milwaukee. I had visited a Pacific beach littered with elephant seals, my home town on the opposite coast, and a cathedral in a town between those coasts more than a mile above sea level. Without leaving the rocking chair in my retreat room, I had travelled back two centuries in time to the carnage of a battlefield fifty miles outside of Moscow, as well as to uncharted waters in the southwestern Pacific.
Someone once said that the whole universe is contained in a drop of water. Within this drop of water, at the center of my inner world, is the source of it all. I need go no further than that inner world to resonate with the cosmic, concluding doxology of Psalm 96, the morning's final psalm.
Let the heavens rejoice and the earth be glad,
let the sea and all within it thunder praise,
let the land and all it bears rejoice,
all the trees of the wood shout for joy
at the presence of the Lord who comes,
who comes to rule the earth,
comes with justice to rule the world,
and to judge the peoples with truth.