Man is in his actions and practices, as well as in his fictions, essentially a story-telling animal. Alasdair MacIntyre, After Virtue
The most recent edition of The New Yorker—the one with my birthday (March 6, 2023) and Ron DeSantis (ugh!) on the cover—includes a several-thousand-word essay titled "The End of the English Major," followed by the subtitle "Enrollment in the humanities is in free fall at colleges around the country. What happened?" Although I'm glad I read it, it does not hit home for me very well, even though I am a humanities professor. For one thing, the article focuses on Arizona State University and Harvard University, hardly effective stand-ins for the small liberal arts college with a successful business school and a nursing school on the way where I have spent my last 29 years teaching.
Still, the article got me to thinking yet again about some things I have learned over the more than three decades that I've been a college professor, things that are continually front and center these days as I do more and more early preparatory work on the book tentatively titled Nice Work If You Can Get It: Lessons and Stories from a Life in the Classroom that is my Fall 2023 sabbatical semester project. I've learned, for instance, that the most effective way to engage students with the humanities is to tell stories, specifically stories about why the authors on my syllabi are there. These are the authors who have changed my life, including Dietrich Bonhoeffer, Simone Weil, Albert Camus, Iris Murdoch and—in very specific ways—Alasdair MacIntyre.
I suspect that all academics who can still remember their graduate school days will recall books in their disciplines that were all the rage, books that all of the graduate students talked about but that no one had read. During my graduate years in the late 1980s and early 1990s, two of these books were Richard Rorty's Philosophy and the Mirror of Nature (1979) and Alasdair MacIntyre's After Virtue (1981). I don't recall exactly when I finally read Rorty's book (I promise I did), but I recall very clearly the circumstances surrounding my first reading of After Virtue.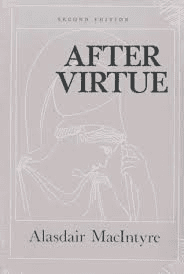 My teaching assignment for the fall semester of my second year at my first teaching job after my PhD—Fall 1992—included two sections of "Ethical Theory." Although according to my vitae my systematic area of specialization was ethics, this would be my first opportunity to actually teach an ethics course. In the early part of the summer, I constructed a typical introductory ethics syllabus, a cafeteria-style tour through relativism, egoism, divine command theory, utilitarianism, and Kant, followed by an applied topic or two. Shortly afterwards, I happened to come across After Virtue as I was rearranging a bookshelf in my office and decided that it was about time I read this book that everyone had been talking about. I expected it to be my "fun" reading for the summer.

The book absolutely blew me away—I sat up late at night and finished it in less than a week. I could not get out of my head the possible implications of MacIntyre's claim that human beings are "story-telling animals" for ethics and teaching. As soon as I finished the book I immediately went to my office computer—we had no computer at home—located my newly constructed ethics syllabus, and deleted it. Reading After Virtue changed the way I think about ethics. I have taught upwards of fifty sections of introductory ethics in subsequent years; virtue ethics eats up more and more of the syllabus each time.
But the most important pedagogical question After Virtue raised for me struck deeper than "How should one think about the moral life?" Because if it was truly the case that the dozens of students in my classes each semester are "story-telling animals," the most important question for me became "What is the best way to invite/seduce such an animal into the life of learning?"
Over the thirty years since that summer of MacIntyre, I have become convinced that students flourish most often in a learning environment when the teacher is willing to place her or his own narrative on public display, particularly the portions most intimately related to her or his own life of learning. It's a strange but true fact that my students know more about me than anyone other than Jeanne and my immediate family, simply because I put myself—my foibles and fears as well as my certainties and successes—on public display every time I enter a classroom.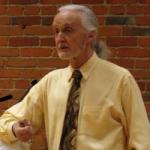 I get my students to start thinking about themselves in narrative fashion by showing how my own narrative has been written and shaped by what I have read, studied, and experienced. They learn that Aristotle is on our ethics syllabus because thinking about virtue and moral excellence as habits to be cultivated rather than rules to be obeyed has made a profound difference in my own moral journey. They learn that Simone Weil is on the syllabus because a seemingly random encounter with one of her essays changed my life many years ago. And so on.
Stories are not only the natural context within which human beings understand themselves and each other, but often are also vehicles of inspiration. What is it about stories that grabs the attention of co-learners in ways that facts or objective descriptions cannot? Theologian James Carse writes that "The way an audience is visibly awakened by a narrative example during an otherwise precisely factual lecture shows that stories touch closer to a listener's center than accurate descriptions of objective states of affairs."
In my experience, students care less at first about what a text is saying than about what this text is doing on the syllabus. More directly, they want to know "Why does this text matter? What difference has it made in your life?" And the only possible answers in response to such questions will of necessity be narrative in structure. According to Richard Rorty, the classroom must be a place where "the teachers [are] able to teach the books which have moved them, excited them, changed their lives," inspired by
An encounter with an author, character, plot, stanza, line or archaic torso which has made a difference to the [teacher's] conception of who she is, what she is good for, what she wants to do with herself: an encounter which has rearranged her priorities and purposes.
The only way that there can be "joy in the work," to use Simone Weil's phrase, is if there is an example, a lived story, of such joy on display. Over the many years of seemingly endless core curriculum reform debate on my campus over theyears, I often argued that the true point of what we are doing in the classroom has, first and foremost, little to do with content. What we are doing is facilitating and nurturing the attitudes and skills of lifetime learning. Such attitudes and skills must be shown in embodied form.
Telling a story is a creative activity—telling one's own story is perhaps the most important creative activity a human being ever participates in. MacIntyre tells us that it is through paying attention to the narrative structure of human reality that we begin to fashion the disparate, fragmented aspects of our existence into a unified, morally responsible whole.
To be the subject of a narrative that runs from one's birth to one's death is . . . to be accountable for the actions and experi­ences which compose a narratable life . . . in what does the unity of an individual life consist? The answer is that its unity is the unity of a narrative embodied in a single life.
Telling a story is more than getting the facts straight. A life lived with only the facts in mind is a life subjected to "just one damn thing after another." As James Carse points out,
No matter how carefully we line up the historical data or how honestly we report the actual events through which we have lived, these do not by themselves tell the story of our lives. To tell all is not to tell a tale. Getting the facts straight is not enough to find the story to which they belong. In fact, getting the facts straight is a very different activity from that of finding a story that can be "faithful" to the facts.
Good story telling, like good pedagogy, is attractive and seductive. Each individual human story is endlessly hopeful; there is an inherent joy in shaping the classroom experience within narrative parameters. Because the stories being told are the ones that matter most—the stories of our lives. As an old rabbi once said, "God created human beings because God loves stories."