I'm in the early stages this summer of working on my next book project—a memoirish book with the tentative title Nice Work If You Can Get It. The project has not advanced as far as I had thought it would have by now, but hey—it's only July. Jeanne has reminded me several times that this book will need to include a chapter or two on teaching during COVID-19, and she's right. The problem is that even though, along with thousands of other college teachers across the country, I shifted in mid-March from in-person to distance learning classes at what seemed like a moment's notice (it was actually about five days' notice), I honestly have no idea what it will be like this fall. Neither does anyone else. Here we are in early July, and there is no certainty about how our classes will be conducted in the fall. As is always the case in academia, though, everyone has an opinion.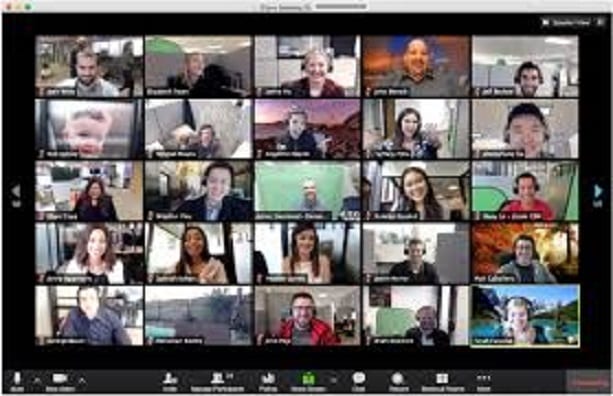 There have been a lot of Zoom meetings, a dizzying collection of committees and subcommittees tasked to figure this out, lots of daily angsting back and forth on social media with each participant seeking to outdo the other in the contest of "who can provide the link to the most depressing and apocalyptic predictions about what will happen if campuses open up"—and that's just for starters. My college is no different in these matters than any other, I'm sure. Rather than digging into the half-established details of what might happen, details that change daily, I am choosing to step back and rely on something I am surer of—myself.
I am an optimist by nature, and don't stress easily. I am not a worrier. I am very confident in my effectiveness and abilities as a teacher, and have learned over the years that my classes run better when I remember not to overprepare or structure. Rather, it is better to be flexible, let things evolve and change in real time, and follow class conversations where they lead rather than forcing them into paths that I think they should follow. All of this served me well when required to teach online for the first time in mid-March; I am confident that it will serve me well going forward in the fall.
My response when asked how I'm going to prepare for classes in the fall when we don't yet know whether we'll be teaching classes-in person or online (actually, it's probably both, and very possibly both at the same time) has consistently been "I'll figure it out." I always do. At a Faculty Senate meeting on Zoom a couple of weeks ago, after a couple of dozen people had described their worst-case scenarios and descriptions of the upcoming fall semester, a colleague of mine from the Business school, a friend who has been at the college as long as I have, shared a perspective similar to mine. "I'm somewhat surprised by what I've been hearing," he said. "You people sound like you've never taught a class before. We're PhD's with hundreds of collective years of teaching experience. We actually did this successfully with no preparation for eight weeks last semester. We'll figure it out." Now that's what I'm talking about.
Actually, I'm not quite as absurdly idealistic, optimistic, and stress-free about the unknown as the above might suggest. I have my moments of worry, doubts, and misgivings. I've even thought that if I was five or six years older, I might consider saying "thanks for the memories" and retire—this from a guy who has told everyone for the last thirty years that I plan to die in the classroom in my eighties. But teaching is my life, my vocation—and COVID-19 isn't going to change that. And every once in a while, I get an unexpected affirmation that puts everything into perspective.
On Independence Day, Jeanne was out of town and I walked the mile from our house to my office on campus to water my plants. I was surprised to see something in my mailbox, since snail mail has essentially disappeared on campus over the past few months. A smile spread over my face when I saw who the card was from.
The card was from Charlotte (I've changed her name), a recently graduated student (this past May) whom I had in class three times, once each during her Freshman, Sophomore, and Junior years. I have written about her in this blog before. Charlotte was one of those students that every professor would like their class to be filled with. She did the work, sat in the front or second row, and had one of those attentive faces that makes the teacher feel as if what she or he is doing actually matters. Charlotte was a solid B/B+ student, but will take more from her education than many straight A students do.
Charlotte was unusual among her fellow students in many ways—a California girl surrounded by Northeasterners, non-religious at a Catholic college where the majority of students are products of twelve years of Catholic parochial school, a writer and an artist whose aesthetic sensibilities undoubtedly were not always a perfect fit with those fellow students whose primary goal was to get a well-paying job after graduation. We had connected during her last semester on campus by email and planned to grab a beer a couple of times before she graduated.
Then COVID-19 hit, school shut down, and she—along with all of our students—finished her four years of college education on Zoom. As a senior, she also was robbed of all of the Commencement and graduation-related celebrations that she and her fellow seniors had earned and were anticipating. Here's what she wrote to me in her card:
Dear Dr. Morgan
I came in 2 minutes late on the first day of freshman year of CIV lecture, you handed me a syllabus at the door and nodded to an empty seat. Thank you.
When I was surrounded by what felt like every other person on campus who had no idea where I came from my sophomore year in Apocalypse, you told me of time spent on a retreat in Big Sur. Thank you.
Junior year I came to find out that your discovery of Simone Weil came from that silent retreat and you encouraged me to say something profound. Thank you.
Most recently, during a dinner shared with the extroverted woman from your stories, whom I've related to so many times, she encouraged me to honor my uniqueness. Thank you.
You provided me with some of my most cherished memories at PC. Know that when I think back to my time in Providence you will be dearly remembered; even more so, you will be remembered in the providential and quiet moments where small tokens of your classes present themselves to me.
I've heard it said that the best proof for the existence of God is a changed life—if that is the case, thank you for being an ambassador of that change in my life over the past four years.
Seeking to be an ambassador of change—that's more than enough to keep me going even under COVID-19 restrictions and parameters. This Sunday's gospel reading includes the parable of the sower; I have often said that the teaching life is like that sower. I throw the seed out there indiscriminately on a daily basis, hoping that on occasion it will land on receptive ground in which it can grow. This is an entirely non-economical and wasteful activity, especially since it sometimes takes years for academic seeds to germinate. I often will never find out where the scattered seeds took hold.
But sometimes, as with Charlotte, I am fortunate enough to see the seeds germinate and sprout in real time—it's enough to balance out any number of seeds that have fallen on rocky, thorny, or sandy ground and died. I'll be sowing the academic seed once again in the fall—because that's what I do. It's my life. In person, on line, both at the same time—just tell me what needs to be done. I'll figure it out.