Assignments: You would think after twenty-five years of teaching that I would have learned not to have sixty-four final papers/projects spread over my three classes, ranging from eight to fifteen pages long, due within ten days of each other.
Vocabulary:
How I know I'm more than ready for the semester to end—I used the word "like" incorrectly more than once last week and am using the word "awesome" way too much. I'm beginning to sound like my students.
I just found out that "irregardless" is either not a word or, if it is, it means the same as "regardless." Who knew?
A Facebook acquaintance recently shared a link shouting The Top Ten Reasons Why You Will Never Want To Eat McDonalds Again! I commented that "I never have wanted to eat McDonalds. I also have never wanted to eat at McDonalds."
Leadership: Everything I know about leadership from four years of chairing department followed by four years of running a program I learned from Tom. Tom is my hero.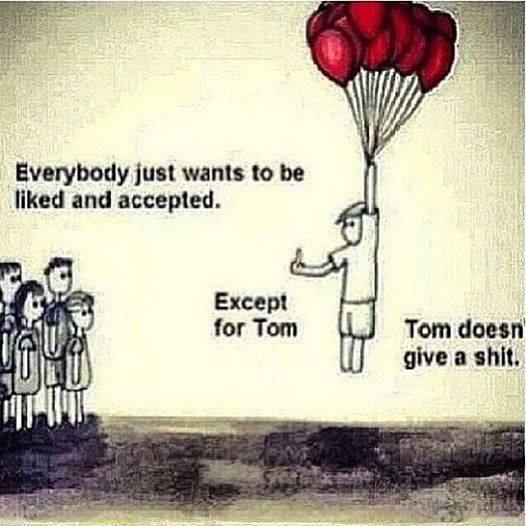 Good idea/bad idea:
The Providence College Hockey Friars winning the NCAA national championship with a remarkable display of tenacity, talent, camaraderie and grace from the hockey gods—Good Idea. Celebrants flooding neighborhood streets and honoring the spectacular victory by setting furniture on fire and injuring a policeman—Bad Idea. The best of times and the worst of times—just a few minutes apart.
Valet parking at the hospital when the visitor parking lot is full to capacity—Good Idea. Waiting for twenty minutes while the valet parking guy tries to remember where he parking your car—Bad Idea.
Best laugh of the semester: In my Philosophy of the Human Person class I quoted

Hobbes' famous description of life in the state of nature: Solitary, poor, nasty, brutish, and short. I commented that this sort of sounds like my ex-wife.
Sometimes it works: A colleague let me know in an email about a discussion with a group of sophomores about the value of the interdisciplinary program I direct that they had been taking for the past four semesters. In the midst of a conversation about whether or not this program had any success in moving students in the direction of a morally aware humanity (they were studying Dorothy Day), a student of mine from last year said the following: All the history and stuff from first year is a blur, but I really remember how Dr. Morgan challenged me to think in new ways and how and what to question in life. It made a huge impact on me. This student, along with Tom, is my hero.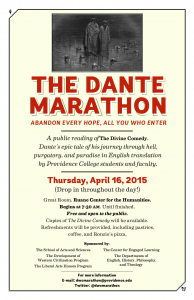 Running a marathon: Observations from the DWC-sponsored "Dante Marathon," a twelve-hour reading by students and faculty of Dante's The Divine Comedy in its entirety last week:
Hell is more interesting than purgatory or heaven—but then I knew that.
Our students are slobs—my colleague who ran the event reports his biggest job was picking up after them all day.
The high point of the day was not Dante finally meeting Beatrice or the Empyrean Rose. It was the delivery of five massive pizzas in the middle of the afternoon. Gone in fifteen minutes.
Sartorial splendor:
The visiting outside evaluator for the philosophy department, upon seeing me last week dressed in my typical manner (corduroy jacket, dress shirt without a tie, jeans) commented that "for a philosopher, that's about as good as it gets." I haven't decided whether that was a compliment or a criticism.
When did umbrellas go out of style? Earlier this week as walking from one building to another in the middle of a steady rain while classes were changing, I noticed that of the hundred or so people within immediate view I was the only one using an umbrella. Either umbrellas are entirely out of style (and they used to be so chic!), or the younger generation is a bunch of ducks for whom a mere hoodie is sufficient.
Sometimes it works 2: This semester I am teaching a colloquium with a colleague from the history department called 'Love Never Fails': Grace, Truth, and Freedom in the Nazi Era" as one of the offerings in the Development of Western Civilization Program ("Civ") that I direct. We piloted "Nazi Civ"—as the students have nicknamed it—a year ago. My colleague and I received this email a few days ago from one of last spring's students:
Hello! I hope that you both are doing well! I wanted to email you and thank you for teaching the Love in the Nazi Era Colloquium last year. This semester I am studying abroad in Rome, and I had the opportunity to go to Auschwitz-Birkenau last week. It was such a powerful experience that allowed me to reflect on what I learned last spring, and truly brought Civ to life. I kept thinking back to Simone Weil, Le Chambon, and St. Maximillian Kolbe who contrasted such evil forces back then. Thank you for teaching me so much about that time period with the strong reminder that good always conquers evil!