As the end of the semester draws near and my upcoming sabbatical looms, I'm wondering what it will be like to be out of the classroom for fifteen months. This post from a year ago makes me think that it's not going to be easy.
Last Saturday, virtuoso violinist Itzhak Perlman was the featured guest on 'Wait, Wait, Don't Tell Me," my favorite NPR show.
He was a fascinating interview, full of stories about the world of being a recognized genius in the midst of mere mortals and the world of classical music. Guest host Michael Pesca asked Perlman "which would be better—the second-best violinist playing the best violin in the world, or the second-best violin being played by the best violinist in the world?" "The second one," Perlman answered immediately, illustrating with a story from the life of another violin virtuoso: A woman once approached
Yehudi Menuhin after one of his concerts and said "your violin was beautiful tonight." Menuhin held his Stradivarius to his ear and said "That's funny . . . I don't hear anything!"
I remember something one of my teaching models and mentors in my early years as an assistant professor once revealed that he told his advisees when they sought his input about which courses to take the next semester. "Go for the jockey, not the horse."
A mediocre horse ridden by a great jockey will do better in a race than Secretariat ridden by a mediocre jockey. Something taught by the best professor on campus will always be better than the greatest syllabus in the universe taught by a less stellar professor. Arrogant? Probably. But absolutely true. Over the years I have often said that students will choose "challenging but interesting" over "boring but easy" every time. I have seen enough counterexamples over the years to know that this is not a self-evident truth, but it is better than that—a time-tested hypothesis.
I have cultivated my teaching craft for twenty-five years now, all the time making it known to anyone who would listen that I have the greatest job in the world, that I actually consider teaching to be a vocation rather than a job, and that I consider myself to be inordinately privileged to be able to make a decent living doing what I was born to do, something that,
if I were independently wealthy, I would do for free. I pulled off my most effective April Fool's Day stunt ever last year when I posted on Facebook that "Despite my frequent claims to the contrary, I have decided that my job really sucks." People who don't know me very well immediately commiserated with "I know, it's that kind of day, isn't it?" and "I know it's a thankless job, but if it helps you're doing great!" A colleague from my department came up to me at lunch the next day and said, with appropriate
Eeyore-like visage, "Vance, I'm really sorry." I think he was disappointed when he found out that it was a joke. Those in my closer circle of friends and colleagues knew, however, after a few seconds of confusion, that it was a prank. "You had me going for a second—Happy April Fool's Day!" was their typical response. Because they knew that if I ever came to the point that I said "my job really sucks!" and meant it, I would no longer be me. Simple as that.
This sort of narrative breeds and exudes confidence, so much so that I've learned over the years that I often need to tone my enthusiasm for teaching down, lest I be misinterpreted as someone who has a superiority complex and never experiences the insecurities, mistakes, and failures that are necessary parts of a teacher's life. Trust me, I've had more of these than I could possibly remember—the "it isn't working" moment of alarm happens as frequently now as it ever has. But now it exhilarates rather than frightens me—I have fun with the moments that, in earlier years, might have paralyzed me in front of a class.
A couple of days ago, I introduced a bunch of freshmen to the Scientific Revolution in the interdisciplinary humanities program I direct and teach in. The class immediately brought to mind a class with the same material roughly a year ago with a different pair of colleagues, a class which almost became the sort of nightmare that all teachers fear. I came to class expecting to rely on what I modestly considered to be a fabulous PowerPoint show. And the computer wouldn't work. What in earlier years would have caused the sweating of bullets instead spawned a few jokes, then a living illustration of the heavenly bodies moving in circles, epicycles, and eccentrics created by my assigning different students the roles of the various planets circling and interweaving with each other, all with the purpose of showing how a beautiful theory can become so complicated over time under the pressure of new and continuing data as to collapse under its own weight.
My guess is that the students will remember what we did far longer than if they had seen it on a screen. One of my colleagues asked "How did you come up with that idea?" My answer, as always, was "I don't know—it just seemed that it might work."
The process of transformation from scared-to-death graduate student to comfortable-in-my-skin professor has been a long one with many landmarks along the way. One of the first was my favorite movie, "Dead Poets Society," which was released in 1989, the very year that I was thrown, as a completely inexperienced and totally frightened graduate student into my own classroom for the first time. It has become trendy recently to trash this movie in various ways,
Dead Poets Society is a Terrible Defense of the Humanities,
but I don't read such critiques. This movie was seminal for me, showed up at the right place at the right time in my life and continues to inspire my teaching energies.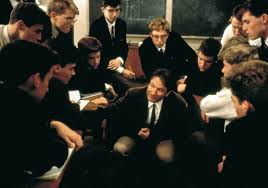 Dozens of scenes could illustrate; one will suffice. As the dynamic young teacher Mr. Keating, played by Robin Williams, gradually inspires his students to think for themselves, his young charges start taking their new-found freedom and running with it in unpredictable ways, as teenage young men are apt to do. One of these young men suggests at a school assembly that God wants girls to attend their all-boys school; the sheer outrageousness of the idea as well as the impromptu and disrespectful manner of his expressing it almost gets the student expelled.
The young man expects that Mr. Keating will admire his daring and creativity, but he soon finds out otherwise. "You being expelled from school is not daring, it's stupid. You'll miss some golden opportunities," says Mr. Keating. "Like what?" "Like, if nothing else, the opportunity to attend my classes." I want my classes to be like that, I thought. I want to teach classes that will make students glad they came to my school. It's one thing to see it in a movie, though;
it's another thing to find the path that might lead, over a career, in that direction.
Three years later, at a silent retreat, I stumbled across the work of Simone Weil, who in Waiting for God expressed the energy and passion at the heart of the learning process so well, it became and remains my "teaching philosophy."
Contrary to the usual belief, [will power] has practically no place in study. The intelligence can only be led by desire. For there to be desire, there must be pleasure and joy in the work. The intelligence only grows and bears fruit in joy. The joy of learning is as indispensable in study as breathing is in running. Where it is lacking there are no real students, but only poor caricatures of apprentices who, at the end of their apprenticeship, will not even have a trade.
Early in my life I had been infected by the love of books and of ideas; at this early point in my career it was becoming clear that all my teaching really amounts to is the desire to pass this infection on to others. All I want to do is to help others find the joy in learning that has sustained me through times in my life when there seemed to be nothing else worthwhile except a book.
Simone gave me the words to express what I'd intuited all along, that for me, teaching is a vocation, a sacrament, a holy thing.
Last year I was assigned to be lector on Palm Sunday at our church, something I had forgotten until I walked into the service. Completely unprepared, I read from Isaiah that "The Lord God has given me the tongue of a teacher . . . Morning by morning he wakens—wakens my ear to listen as those who are taught." My best days are the ones when I don't forget this.