Although it often caused trouble and brought me grief during my primary and secondary education years, I have never tried very hard to hide my serious geekiness. Accordingly, I start today's blog post with the ancient Greek lyric poet Pindar. I need to be careful here, because I have four colleagues and friends on campus who are trained classicists—for all I know, one of them might have written their dissertation on Pindar. Many of Pindar's surviving poems are "victory odes," celebrations of triumphs gained by competitors in Panhellenic festivals such as the Olympian Games. Here's an example:
One born to prowess / May be whetted and stirred / To win huge glory / If a god be his helper.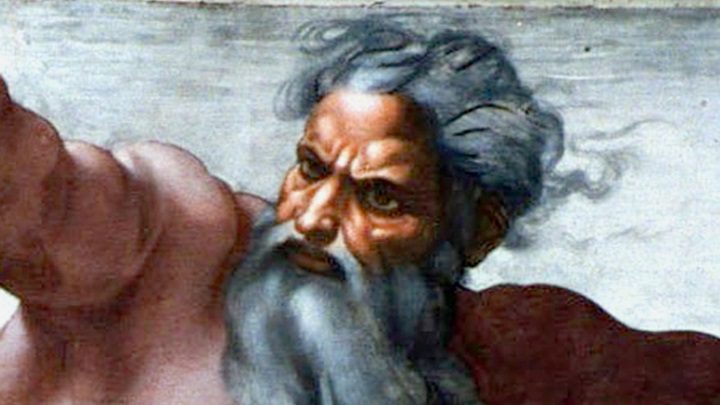 This tendency to attribute athletic prowess to divine help is still with us, as anyone who has watched a football player point to heaven after scoring a touchdown or heard a basketball star thank his Lord and Savior Jesus Christ for a game winning shot will tell you.
It's highly unlikely, of course, that God gives a crap about who wins or loses sporting events, but attribution of success to divine assistance is so common among athletes both professional and amateur that it can easily become annoying. I remember once a number of years ago hearing Jim Rome mention on his daily sports talk radio show what he would say if he was God when someone points to heaven after scoring a touchdown: Stop pointing at my crib when you score a touchdown or I'll break that finger off and shove it up your ass! That's the sort of God who inspires a muscular Christianity. But the very idea of God playing favorites in this way makes no sense.
Or does it? My "go to" news source, The Onion, published a shocking and revealing article on this very topic not long ago. As it turns out, the Lord God Almighty, Creator of heaven and earth, has been caught red-handed playing favorites and giving gifts to certain college athletes in deliberate defiance of NCAA rules and regulations.
Reports indicated that over the past several decades, the Almighty has provided hundreds of players from high-profile Division I football and basketball programs with abundant natural speed, strength, and agility, and both the universities and the players themselves are now said to be facing heavy sanctions and punishments. "We take these allegations incredibly seriously and are doing everything in our power to determine the precise nature of God's relationship with these college athletes," said NCAA president Mark Emmert. "There is mounting evidence that the Lord—in blatant violation of NCAA rules and regulations—bestowed upon these players special and innate athletic abilities that other students never received."
The article goes on to say that over 300 D-1 NCAA schools are implicated; I must say that when I watch my Providence Friars play, I fear that at least two of our players may have received such gifts—which makes me wonder whether our many wins this coming season will ultimately be voided. One thing's for sure—athletic directors across the country are not going to put up with God acting in this manner.
University of Oklahoma athletic director Joe Castiglione . . . denied any knowledge of Sooners players receiving illegitimate gifts, but assured reporters that going forward, the school will strictly forbid any communication between student-athletes and God during church services or private moments of prayer. 
The article concludes by reporting that "at press time, NCAA officials had announced an eternal ban on God that will prevent Him from having any association with collegiate sports until the end of time." Good for them—the last thing we want is a deity inserting itself inequitably into human affairs.
As shocked as I was by the revelations from The Onion, upon further thought I wasn't that surprised. Jeanne has remarked regularly ever since I have known her about the various ways in which God plays favorites, granting miracles and making personal appearances to those who don't deserve it while the most pious and committed among us get the divine cold shoulder and silence. One can hardly read a chapter of any book in the Jewish scriptures without encountering blatant divine favoritism on display.
But in fairness, there are other ways to explain this apparent unfairness. We are told that the sun shines and the rain falls both on the just and the unjust; any number of sacred texts warn against assuming that God is being unfair simply because things don't turn out the way we would prefer. In divine inscrutability, God does what God does, and it is up to us to find a way to work with what often looks for all the world like divine randomness. As James Stockdale once summarized the message of the Book of Job, God is telling Job that "this is my world. Deal with it. Either get with the program or get out."
The older I get, the more inclined I am to look for intimations of the divine in places both unusual and mundane. Sometimes favor seems to drop into the day as light as a feather and as ephemeral as a wisp of smoke, while at other times transcendence invades the everyday in ways that only the most deliberately blind could miss. Jeanne and I call such events "Big Bird moments" and have come to expect them as a normal part of our lives. Then there are other reminders that we are not alone and that this is not all there is which, instead of dropping in from outside, arise from within our deepest selves. Marilynne Robinson refers to these as moments when we discover that "we are more than we are," moments she describes as follows:
By this I mean to suggest the feeling all of us have who try something difficult and find that, for a moment or two perhaps, we succeed beyond our aspirations. The character on the page speaks in her own voice, goes her own way. The paintbrush takes life in the painter's hand, the violin plays itself. There is no answer to the inevitable questions: Where did that idea come from? How did you get that effect? Again, particulars are lacking. We have no language to describe the sense of a second order of reality that comes with these assertions of higher insights and will override even very settled intentions, when we are fortunate.
In my own life, these moments occur regularly in the classroom; I have also experienced such moments on the organ or piano bench. When I walk out of a classroom thinking "Whoa! Where did that come from?" I am realizing that I am more than I am and I had nothing to do with it. When I am able to improvise a bridge between the penultimate and final verse of a hymn on the fly that is far better than I could have come up with if I had thought about it, I have the "sense of a second order of reality" that Robinson is talking about. Sure, it could be luck, chance, a confluence of unknown events, or Scrooge's blob of undigested cheese. But I choose to consider such moments as "thin places" where the membrane between the here and now and what is greater than us becomes so porous as to almost disappear.
Such moments cannot be planned, nor can they be manufactured. But they can be witnessed rather than ignored. Recognizing them requires a shift in attitude and focus that needs to be cultivated—it's something I've been working on, with mixed success, for the past several years. We are surrounded by moments of pure grace, moments when, as Anne Lamott writes, "suddenly you're in a different universe from the one where you were stuck, and there was absolutely no way for you get there on your own." We are surrounded by such moments, if we only have the eyes to see them.