A third predictor of NCAA tournament success is prior success in the conference tournament leading up to it. Let's think of Pope Francis' "conference tournament" as the highlight reel of what he wrote, what he said, and where he went during his first decade.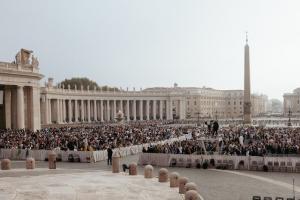 What Pope Francis Wrote
Encyclicals are letters the pope writes to the whole Church on matters of theology. Apostolical Exhortations are less authoritative and urge the Church to consider an issue seriously. Pope Francis' writings say a lot about his priorities.
 What Pope Francis Said
Often referred to as "The People's Pope," Francis quickly became known for his frank simplicity and the folksy word choice. Francis communicates more pastorally than the theological Benedict XVI or the philosophical John Paul II.
For example, he famously chided the faithful for proclaiming the Christian message "like we're at a funeral." But his creative imagery sometimes rubs people the wrong way. In 2015 on a return flight from the Philippines, he responded to a question about contraception by saying that Catholic parents are not expected to "breed like rabbits."
Other frequently quoted comments say a lot about how Pope Francis views the Church and his role as its leader.
In the summer of 2013, he notably told young people from Argentina to bring the gospel to the streets using the colorful phrase, hacer lio. Roughly, this means to "wreak havoc" or "create a mess."
 On the return flight from that summer trip, he made what may be his most repeated comment when asked about gay clergy: "If someone is gay and he searches for the Lord and has good will, who am I to judge?"
 He also described the role of the Church as that of a "field hospital." He consistently emphasizes the Church's healing function over its role as arbiter of ultimate truth.
 Shortly after he was elected pope, he told the clergy under his direction to get their hands dirty in living the gospel. He said they should "be shepherds with the smell of sheep."
 Throughout the "conference tournament – or Francis' first decade – he has decried today's "throwaway culture" that fails to respect the dignity of every human life.
 Where Pope Francis Went
Every bit as important as what Francis has written and said is who he has chosen to visit. Although he didn't travel widely as archbishop in Buenos Aires, he has "pressed the flesh" a lot more as pope.
For comparison, John Paul II is the most traveled pope. He visited 129 countries during 104 foreign visits. But he accomplished this during his lengthy 27-year tenure. After ten years, Francis is averaging roughly the same number of trips per year but slightly more countries visited.
In his first ten years, he has taken 40 trips abroad. This is no small feat considering that he didn't travel in 2020 due to covid. He has visited six countries no pope had before: United Arab Emirates, Bahrain, North Macedonia, South Sudan, and Myanmar.
Papal travel is about more than just connecting with the faithful across the globe. Each trip tells a story. A couple of examples from Francis' jaunts make this clear.
His first trip in 2018 was to Lampedusa, an island in the Mediterranean close to Africa. It's well-known for the many thousands of refugees detained there in terrible conditions. The optics were not accidental. He stated the importance of "welcoming the stranger."
His visit to Iraq in 2021 also taught a lesson about inclusion. Most thought Francis would never travel there because of the security challenges, the relatively small number of Christians, and the pandemic. However, his determination to take this trip made a powerful statement.
Papal Performance
Pope Francis' "performance in the conference tournament" provides a lot of clues about what his final legacy will be. His writing, speech, and travel during his first decade suggest a few predictions as he enters the "NCAA Tournament."
Based on what we've seen, there's no reason to believe he won't keep tackling controversial issues. They have made him a hero to some and a villain to others, which will only continue. Second, his pastoral focus on caring for the poor and vulnerable will only increase in his final years. This will continue to be a significant priority of his papacy.
The past is the best predictor of the future, both for winning NCAA basketball teams and globe-trotting popes as well! It will be interesting to see how this unfolds. It's tournament time, baby!