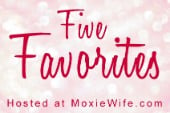 1.
Teamwork Makes the Dream Work

I read a wonderful article yesterday by the author of this book, which led me to it. 7 secrets of a happy marriage. The book shares 12, but the article was merely a teaser. I LOVE it. Had to download the book on my kindle.
So good.
2.
This guy.
Mr. Bruce Springsteen. Love him. I celebrate the man's entire collection.
The best concert I ever attended (other than Yo-Yo Ma with the symphony orchestra), was seeing Bruce at the United Center in Chicago in 2009. He's more than 60 years old and he sang, danced, and performed for more than 2 hours without a break. It was awesome.
He is so much more than Glory Days and Born in the USA, though those are awesome.
The Rising, Across the Border, Ghost of Tom Joad, Jersey Girl. So many amazing songs.
Newest album, High Hopes, is just out this week and I am listening to it as I type.
3.
Rosebud Balm
I have the most terrible chapped lips in the winter. It's really awful and painful. I use two products on my lips when its cold. One is a splurge and luxurious (Fresh Sugar tinted lip balms — I have three). The other is Smith's Rosebud Salve. It's been around for like a hundred years, costs 6 bucks a pot (and a pot lasts easily one or two winters) and they're the only things that work on my lips.

4.
Twin Z Pillow
We have twins. Yikes. It's hard when they both want to eat at the same times but there's only one person to feed them. Also, they like to hang out together.
Enter stage left the Twin Z Pillow.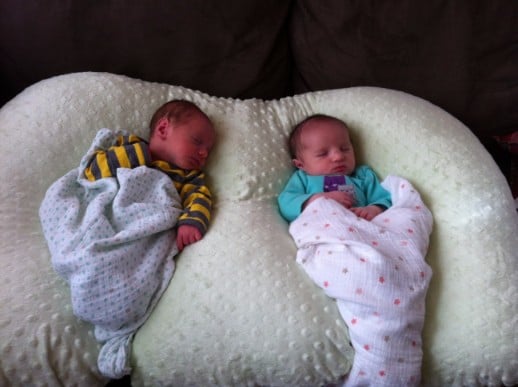 Charlie and Mary Cate chillin' together. One of the best twin mommy inventions ever. The middle part goes up and it also functions as a nursing pillow for mamas who are nursing.
5.
Friends
Several of the women from my awesome Catholic women's book club met for s spur-of-the-moment coffee date last night. It was my first time out of the house at night since the babies were born. It was so wonderful. Charlie came with me, and he was a huge hit, of course. The only gentleman at ladies night.
There's just something about laughing and talking with friends that makes the daily grind seem less grind-y and makes life's burdens feel just a little bit lighter. This is an amazing group of beautiful women and I'm so happy and privileged to call them my friends.
What are your favorites this week? Head over to Hallie's to share or see what others are loving.