As I sit here drinking my own pumpkin spice latte concoction, complete with kitten marrow (or so I hear), all I have to say is…
In other news, Notre Dame football started on Saturday. They won. No big. The Fumbles clan was all decked out for the first game, complete with very fierce game faces.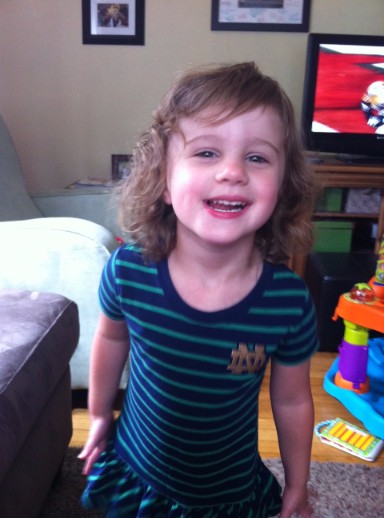 This is how she smiles now. In every single picture.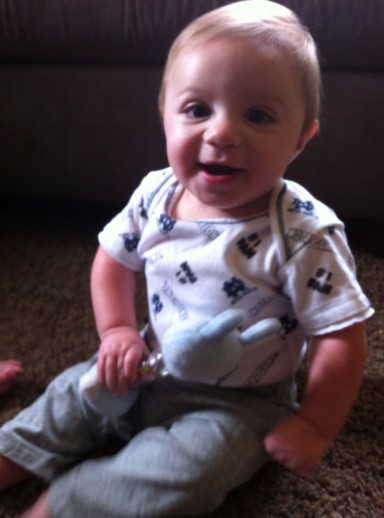 Future Domer, right here.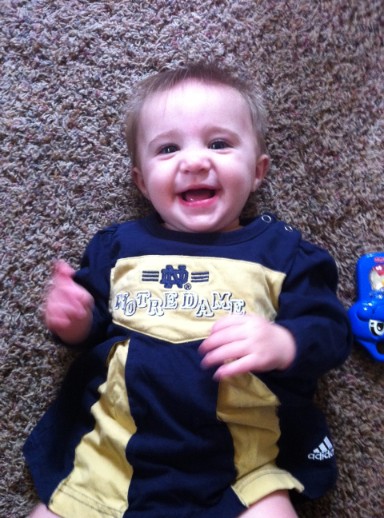 Class of 2036 (sweet Jesus someone hold me) look out.
After watching a thorough trouncing of Rice by the Irish, it was time to enjoy Maggie's last hurrah before preschool started back up, which was today.
We took all the kids to the Zoo on Labor Day, though I did not get any pictures,because I was very busy corralling an almost 4 year old who wants to walk everywhere now, thank you very much.
Yesterday, the dynamic duo reached a huge milestone. They celebrated being NINE months old. That's right, they've been out longer than they were in.
We documented the momentous occasion with some iphone glamour shots.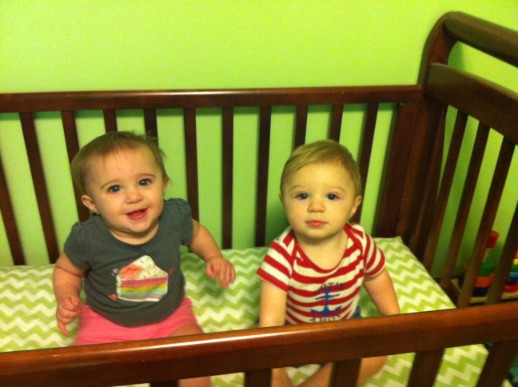 Sitting in Charlie's crib.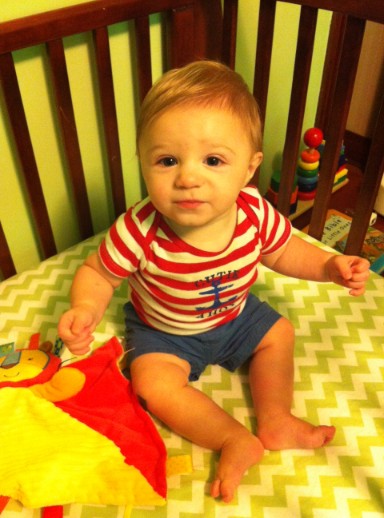 9 Months old
Some of Charlie's favorites include:
his bottle
Mommy
chicken casserole baby food
Sitting on the floor contentedly
his "taggie" (pictured above)
books (particularly one called Let's Go!)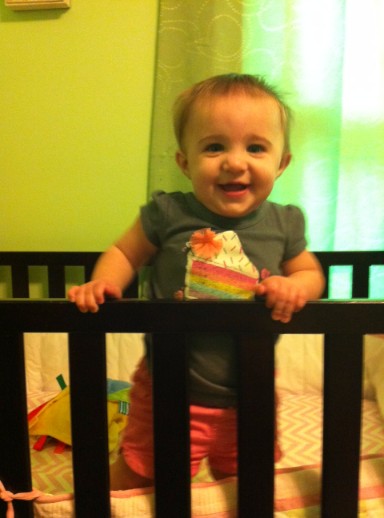 9 Months old
Yes, she's standing up. God help us.
Some of Mary Cate's favorites include:
Daddy
pulling up
crawling everywhere
the fireplace
extension cords and outlets
banana puffs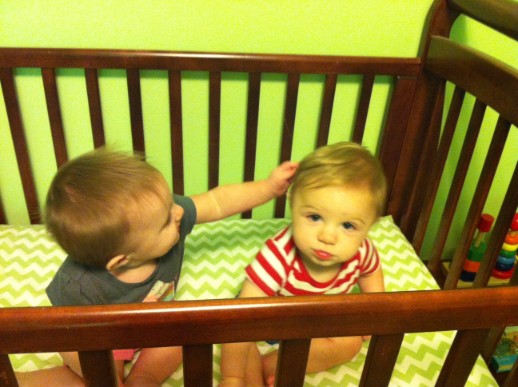 They spend a lot of time like this. He is absolutely along for the ride with this one.
I cannot believe they are closer to a year then they are to being newborns. It's really been a blur. A beautiful, messy, chaotic blur.
Today, fall officially began for our little family, with Maggie's first day of preschool, and the ceremonial bringing up of the fall decor from the basement. And the PSL.
Maggie is in two preschool classes this year, the Dolphin and Lion. Dolphin class starts today and is M-W-F. Lion class starts next week and is on T-TH. She was so excited she barely even looked back at me when I dropped her off. Just as I was at the threshold of the classroom, she shot at my like a bullet, saying, "I want a hug Mommy!". I gave her a great, big bear hug and she was off again with her little buddies. I love to see her independence flourishing, but I just live for those moments when she still wants a great big hug before I go. I know it won't always be that way. Baby girl, I will take every hug you want to give me.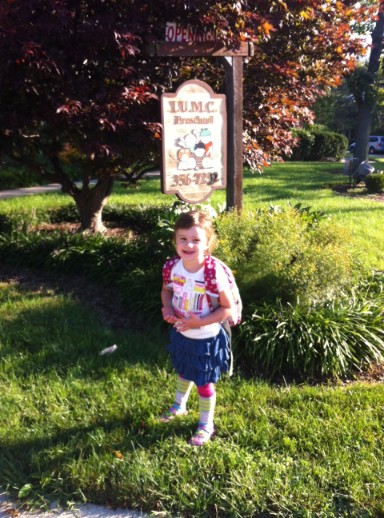 Outside of the building. She's so big.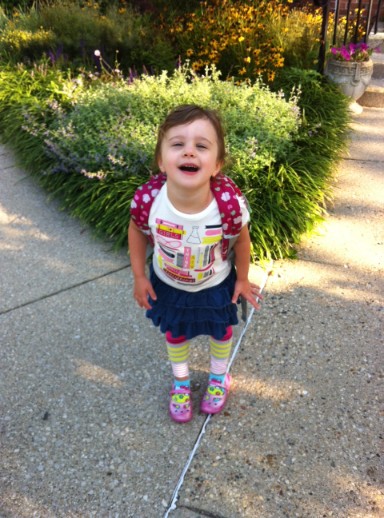 Margaret Gianna's signature smile as of late. Love this girl and her silly faces.
That's basically what's been going on around these parts. We are slowly working on getting our house ready for the market, and going to our first showing this weekend. It's all going pretty fast, and I'm just along for the ride. It's a lovely ride. Truly.
And a funny….
I tried it. It works.