To say I have a complicated relationship with Mother's Day is an understatement. Earlier this week I found myself standing in the card aisle of the grocery store, staring at a wall of Mother's Day cards that left me frozen and tempted to ditch my full cart of groceries, in a sprint for the door. Grief is an elusive companion, rearing her head at the most unpredictable and inconvenient times. This is my 26th Mother's Day buying cards for other mothers, mine being gone. None of this is new to me and yet this year for some reason this ordinary task of card buying left me paralyzed.
Shaking it off, I picked out cards for the other mothers in our lives and decided that next year, husband is responsible for all card buying. However, the experience got me thinking about all of the women who stare at that wall of greeting cards internally willing the floor to open up and swallow them rather than have to pick some up and read them.
Not just women like me, motherless daughters who maybe are now mothers themselves, but all of us who respond with "its complicated" when asked about our mothers, or our children. Where's the card for mothers whose only children are in the ground? For the daughter who has never heard words of kindness, caring or love from her mother? For the woman who longs to feel life within her but only experiences emptiness and isolation?
The answer is that there are no cards for us and the cards are bullshit to begin with. We know it, they know it, and the people who make the cards know it. What if there was another way to honor the mothers and children we loved who have left us or who couldn't love us, or who never arrived? What if we could recognize that the way our culture celebrates Mother's Day doesn't work for most of us – even those who "should" be happy on that day, but who experience frustration from forgetful families and unmet expectations? What if we women, carrying with us the wounds of mother loss, maternal abuse, mental illness, infertility, child loss, or just plain exhaustion and guilt for not being joyful every second, just decided to let it all go and make our own way?
Making a Way for Mothers
Something I've realized in my grieving process, which is at its heart a learning to let go process, is that I'm still here, so I get to make up the rules. I don't have to be sad on this holiday because I don't have a mother to speak with, fight with, or hug. I can be sad, and I am, but sadness and joy have permission to breathe the same air and occupy the same room inside of me.
To grow the joy and honor the sadness, to honor the Valerie shaped loss that lives within me, I am partnering with an organization giving hope, compassion, and empowerment to mothers in Costa Rica. Many of you may know the beautiful Colleen C. Mitchell, author and bad-ass woman behind St. Bryce Missions in Costa Rica. Let me tell you a little bit about them.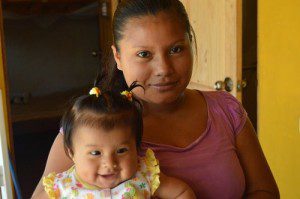 "St. Bryce Missions operates the St. Francis Emmaus Center, located in Turrialba, Costa Rica, the nearest city to the Chirripo indigenous reservation. The center, modeled off the internationally-lauded model of "pregnancy waiting homes", provides a safe, comfortable place for up to 30 Cabecar mothers, who must journey long hours on foot to have access to medical care, in the days before and after the birth of a child or in the event of the hospitalization of a child.
Mothers and children are offered housing, nutritional meals, access to all services of Costa Rica's internationally-acclaimed government health care system, and advocacy to ensure full comprehension and completion of medical requirements. In addition, women are offered childbirth education and the accompaniment of a trained doula during labor and birth, support in initiating successful lactation, education and advocacy for early bonding, and increased recovery time before returning to their homes long walking distances from access to medical care."
The
St. Francis Emmaus Center
empowers indigenous women and gives them the resources they need to give birth in safety and with compassionate care. The Center is currently partnering with another organization in the area to bring their services into the hospitals of the region. Partnering with
Mamasol Turrialba
, they are raising money to enable them as birth advocates in their community to equip, train and involve the maternity ward staff of the local hospital to provide a more compassionate and empowering birth experience to mothers, and provide doula support. Many indigenous women experience trauma associated with birth in a setting that is unfamiliar, during such a vulnerable time as labor and delivery.
Their goal is to raise $5000 which will enable the mission to purchase equipment and tools to donate to the hospitals, as well as provide three week-long training sessions for maternity staff, and equip doulas and midwives in both centers (St. Francis Emmaus and Mamsol) with the same tools to provide culturally sensitive and compassionate continuum of care for the mothers in their community.
Once successfully funded, this program and collaboration will hopefully become a model for use in other hospitals across Costa Rica.
In honor of the gift of life that my mother – Valerie Ruth – gave to me, I am giving to this project which will help other mothers give birth in safety with compassionate care. If you have a mother who is no longer here, or a child who has gone too soon, would you consider making a gift to this initative in their honor? If you had a mother who never deserved a gift for mother's day, can you give instead to these mothers who do?
What if, instead of being a day full of bullshit cards and platitudes, Mother's Day became a day of action, where women around the world found ways to lift up each other and sow peace where there was hatred, to sow joy where there was sorrow, to sow hope where there has been despair? Now that might be something worth having a card for.
If you are able, you can make a donation of any size to this project by visiting St. Bryce Missions and mentioning Mamasol when you make your donation.