It was the perfect time to drive to Notre Dame. There are a few weeks in June in Indiana where all is right in the world. The corn, not yet knee high, cast a lush green over the vast expanse driving on 31 between my home on the north-side of Indianapolis and South Bend. Fluffy, perfect cotton clouds of white against azure sky. The coldest iced coffee, the reddest lipstick, the loudest music chosen by a grown-up playing in the van.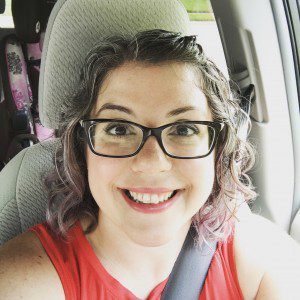 I was on my way to the Trying to Say God Conference, hosted by Notre Dame and planned by Jessica and Jonathan of Sick Pilgrim. A weekend gathering of artists, writers, poets, thinkers, and seekers. To quote Dave Matthews, "all soul searchers, like you and me". Frequent and easy conversations revolved around various mental health diagnosis and medications. Lucky for me, my newly prescribed Lexapro had started working and I was feeling good.
I tried my best to not have any expectations going into the conference of what it would be like. I didn't want to be let down. Preparing to meet people who over the last six months I have given large parts of my heart to was a nerve-wracking enterprise. Trying to string two or three coherent sentences together to present on a panel with some of the most interesting, wise, funny and salty women I've ever met was exhausting in the best possible way.
I had no idea what to expect, and I certainly did not expect to find my voice among the brick buildings and shrines at Our Lady's University.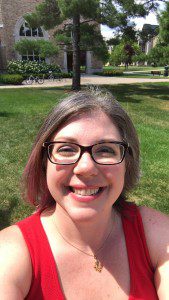 Yet, I did. Like a kaleidoscope you keep turning to see the image move, each panel and keynote presentation provided a new burst of new color and light into my hungry heart. Finally when Heather King (If you haven't read Heather, stop what you're doing and get any of her books right now) spoke on Friday night of writing not only as gift, as craft, but as a sacrifice we make — asking us, "What are you willing to suffer for love?" I knew this dream, this vision of mine to speak the truth of embodied womanhood and wounds was one I could not cast off because it seemed no one around me could see what I did.
On Saturday morning, preparing for my portion of the panel "Not Always Sweet: Beyond Liturgical Cupcakes in Catholic Women's Writing" (which you can listen to here), I attended a panel on Catholics writing on race, and then a panel on Devotional writing "with teeth". That morning, I felt the Spirit telling me to tear up the notes I had prepared before arriving on campus. A new voice was ready to speak.
I scribbled these words in my journal — I know, its 2017 but I still, always do my best work putting pen to paper.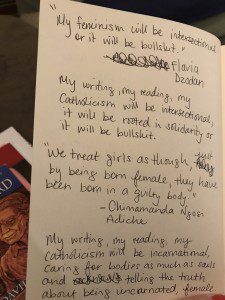 I decided to talk about intersectional feminism, solidarity, betrayal by our bodies, evil, and justice. I talked about Mary walking with me through all the shit of my life, showing me as the wise women of color said, that God makes a way out of no way.
Yes, he does. I did not expect to turn the kaleidoscope and find, waiting for me like a friend with coffee, my voice. The story Sophia wants to proclaim from my startled mouth. But I did and perhaps I am finally ready for her to speak.
I broke bread, and shed tears, and heard wisdom, and music, and Eucharist with this non-group group, this straggling bunch of sick pilgrims and truth-tellers, speaking to a world eating stones when they could have bread. I found a family, not of blood but no less real than the ones sleeping under my roof tonight.
In going to the place where I fell in love with my husband, and where he fell in love with God, I re-encountered my Catholic home, my sense of place, and a true sense of calling once more.
As I sat on a cool patch of shady grass in the shadow of Mary's golden dome, feeling the blades tickle and poke my full, fleshy, female thighs – strong legs, which have known both love and loss in the carrying of this body through life. There, with my feet stretched our bare in front of me, red toenails catching a hint of sunlight, I rested in my body in my home, knowing God was with me and She was good.