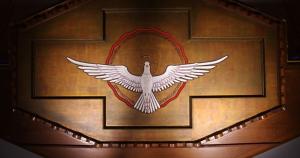 1 Corinthians 2
St. Paul is making a very important argument here in I Corinthians 2, but if we treat the Bible as a collection of individual verses to cherry pick for argumentation or meditation, we'll miss his point.  He seems to be arguing like this:
1.  No one knows the things of a man except the spirit of a man.
2.  In the same way, no one knows the things of God except the Spirit of God.
3.  We have received the Spirit of God.
4.  Therefore, we know the things of God, "the things that have been freely given to us by God."
5.  These things are the things of which St. Paul and the apostles speak.
6.  The natural man cannot accept the things of the Spirit, but the spiritual man can.
It's secret, not because God has hidden it for the spiritual elite, but secret because we do not go to great enough lengths to find it.  The secret is that we who have received the Spirit of God are able to receive the things of God.
The problem is that in some ways we have become so used to carrying around the treasures and wisdom of God that we have gotten too used to them and think they are ours genetically.  We have matured with them to the point that we no longer receive them like the little children we must remain, in terms of humility and wonder.
The fact is that if you're a Christian, you accept what to the world is a set of ridiculous and foolish beliefs.  You really believe that Jesus of Nazareth was God and was conceived by the Holy Ghost and born of the Virgin Mary, not just someone who had the divinity in him like all of us do.  You actually believe in God's power to resurrect the dead and stake your life on the fact that Jesus really rose from the dead and that after your body has died, so will you.  You believe that through faith in the crucified and resurrected Jesus that you will spend eternity in heaven with God.
You do not believe these things because they are so obvious or because you are so clever.  You believe them because God has sent you His Spirit to enable you to receive the things which man by himself will always reject.
It's a humbling thought to think that the Holy Spirit of God can and has entered into me so that I might receive His heavenly treasure.  We have the same experience Mary had when she received the Holy Spirit in a special way.  Mary's experience was unique, but ours is like hers.  We receive the Holy Spirit in us so that Jesus Christ may be born within us and live within us, for the Holy Spirit is the presence of Jesus Christ, sent by the Father, among us.  This is why Paul elsewhere can say that we have these treasures in earthen vessels.  Chief among these treasures is the Holy Spirit.
This treasure, however, is not to be buried (remember the parables of the talents and minas!)  Instead, because we have been given the mind of Christ and the Spirit of Christ, great treasure indeed, we are to put them to use.  Let me suggest two ways.
First, we must continue to seek the wisdom of the Spirit.  The same Spirit who has already taught us the basics of the faith wants us to know much more.  I believe there are dozens if not hundreds of times a day that same Spirit is trying to speak to us.  Mostly it is about little things, but sometimes about bigger things.  But only if we pay attention and respond will we more fully receive the wisdom and power of the Spirit.  There is no substitute for practicing your skills of listening and responding to the Spirit each day.  This Give Us This Day and its Resolution is one way you can practice such skills.
In fact, it was through a long process of listening to the Spirit speak spiritual things to me that He provoked me to begin writing 
Give Us This Day
, against my human calculations that I would not have the time or ability to do it.  Things came to fruition one week when the Spirit began to say more urgently to me "Begin!" until I relented and vowed to begin writing 
Give Us This Day
.  Perhaps later I'll have time to recount how God brought this about over the course of several years.
The other way to put God's treasure in you to is to speak spiritual things.  Each of us has been led to Jesus through the Spirit-filled speech of a human being: we have not had Damascus Road experiences, and we won't (we don't need to.)  If you have the Spirit of God in you, the one who has revealed His wisdom and given you grace to believe, then you must also speak this wisdom to others.  Again, you and I are not called to be St. Paul.  But you are called to speak the wisdom of God and to speak of spiritual things.  Even in America today you are likely to be rejected and resisted by natural men and women whose minds are still darkened.  But it is still your obligation to speak.  Remember, as well, that much of your spiritual speech, like Paul's, will be to those who already believe but who need to learn better the spiritual wisdom of the Spirit.
These are daunting tasks as well.  You may be having stage fright when you hear this call to receive more deeply the wisdom and power of the Spirit.  Good!  Mary, too, was troubled at this saying.  But the angel encouraged her, saying "Do not be afraid, for you have found favor with God."
In the end, her response, which should be ours, was: "Behold the maidservant of the Lord!  Let it be to me according to your word."
Prayer:  Thank you, Father, for the gift of your Spirit in my life.  Enable me to hear You speak through Your Spirit and give me Your grace to receive what You have told me.  Praise be to You that you have chosen to share Yourself with sinful people like myself: may Your glory shine through Your servant today as I receive Your Spirit. 
Point for Meditation:
What do you believe the Holy Spirit has been saying to you recently?  Find ways to test this, looking for repeated urgings of the Spirit, confirmation through the Word and other believers, and seeking the wisdom and patience to properly discern. 
Resolution:  I resolve today to practice listening to the promptings of the Spirit.  Where I am pierced through my conscience to confess my sins, I will confess; where I am offered encouragement, I will gladly accept it; where I am provoked to speak of the Lord and His goodness to me, I will speak.  And where I am asked to act, I will gladly obey. 
Holy Spirit, National Shrine of the Little Flower (Royal Oak, MI) – Creative Commons Attribution-Share Alike 3.0 Unported license