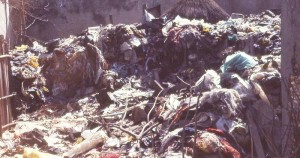 You might remember the Ajax White Knight, clad in silver armor, mounted on a white steed, and galloping valiantly down neighborhood streets zapping dirty laundry with his magic white lance to the tune of "Stronger than Dirt." Apparently, the inspiration for the White Knight campaign originated in a dream that the ad creator, Joe Sacco, had one night. He saw a nightmarish world of housewives trapped in dungeons filled with dirty laundry, unable to escape the drudgery of daily routine. This dream gave him the idea for creating a savior who would steal them away from that realm of soiled clothing, a liberator who would unleash them from those tedious household chores. At first a figure of Sir Galahad was considered, but later a nameless White Knight character was chosen to reflect the cleaning potential of the detergent.
That, of course, is the world of TV commercials. If only it were so easy to get rid of the dirt in our lives! But the physical dirt and mess, as much as there seems to be with five young kids, is nothing compared to the spiritual uncleanness that is the real problem all of us face every day. The problem is that we are sinful people who live in and are surrounded by a sinful world, and yet we are called to spiritual cleanness – to holiness. Like the housewife of the 1950s and 1960s we labor to keep the dirt out of our lives, but spiritually we are unable to.
But the truth is, there is a Savior, and He has come to deal with the sin in your life.
His name is Jesus Christ.
In Luke 11, Jesus has come to clean house, so to speak. In this passage, Jesus casts out a demon, and some think He does it by the authority of Satan, or Beelzebub. Now I just love that Beelzebub means "Lord of the Flies!" "Woo hoo – look at me, ma. Lord of the Flies!" Actually, I think it's kind of a fitting name for Satan because Satan's goal in life and all he can hope for is to smear dung over the world which God created good. In so doing, he attracts a lot of flies.
But Jesus sets the marveling crowds right: He has done this by the authority and power of God. Since this is so, surely the kingdom of God has come upon them. In this exorcism, Jesus reveals that God has come to deal with sin, our sin, and to transplant us into His kingdom.
This exorcism bears a resemblance to baptism. After Christ's baptism the devil tried to tempt Jesus to sin but was unsuccessful. Jesus' public ministry, you could say, all the way from His baptism, to seeing Satan fall like lightning from heaven, to His prayer in Gethsemane, to the Cross, was one extended exorcism in which He cast out Satan from His world. In the early church, baptisms were seen as exorcisms because the Church understood the corrupted nature of man.
Our baptism demonstrates that the Kingdom of Heaven is here, for in baptism, Satan is, in a way, cast out. At baptism, our allegiance and kingdoms change. When we are baptized and made a member of the Body of Christ, original sin is removed. God's House, our body, His Temple is swept clean.
We are the House that God built: we were created to be the House of God. But we were born into a life of filth because we are unclean by the unclean spirit of sin. But in baptism, we are made clean. God comes in like a white tornado and truly cleanses us for His holy purposes. Baptism is the first defeat of devil in our lives, as it was in Jesus'.
But the man cleansed of a demon had to go back out into the world. He faced the possibility of being possessed by seven demons worse than the first. And after God's House, you and I, have been cleansed, there is still the problem of dirt, that is, sin. Like the dirt and mess in our homes, sin never seems to go away but to keep coming and coming . . . .
In Luke 11, even right after a miracle, we see sin crouching at the doors of the houses of men. Some of us are blind. Like some in the Luke 11 story, we refuse to see what God has done, or, more correctly, that He is the one who has done it. How many good things has God done for you and given you, and yet you don't remember to give Him credit? How many times have you been seduced into thinking that things just happen in this life – and forget that God is the giver of every good and perfect gift?
It was by the power of God that the man in Luke 11 was healed, and it is by the power of God that you are given life and blessed. I'll bet that God has blessed you in some very specific ways this past week – and there's a good chance you didn't even recognize they were from God.
Some of us are also dumb: we refuse to confess our sins. We won't open our mouth to confess because we won't acknowledge there's a serious problem. We're like someone whose house has just burned down and, sitting among the rubble and ashes, who won't admit he's got a problem. But remember: if you refuse to use your mouth to confess your sins, then you will never be able to use your mouth to sing praises to God for His salvation.
God warns us through His Word, that if you have been baptized but then continue to turn your back on God you will end up in a worse place than you began. Peter writes, "For if, after they have escaped the pollutions of the world through the knowledge of the Lord and Savior Jesus Christ, they are entangled in them and overcome, the later end is worse than the beginning" (2 Peter 2:20).
What hope is there, then? It seems inevitable that the house that God has made clean will soon be defiled again. It seems inevitable that we will sin and be unholy before God. Are we all doomed to be Pigpen from the Peanuts comic strip, who takes a bath and is cleansed and yet by the fourth frame of the strip is completely filthy again?
How can we hope to cope with the sin that defiles and makes us unworthy before God? The answer is: repentance. We must renew the covenant God has made with us in baptism, and turn back to God. God, who created the House and cleansed it, can re-cleanse it as well.
Often, I remind my kids that they must put things back where they belong, and often I tell them to "take out the trash," meaning, "Deal with the sin in your life." Our physical trash is picked up only once a week by the trashmen. Let me tell you something: a family of seven makes a lot of trash! A few times, we didn't get the trash out in time, and we had the terrible challenge of trying to figure out how to hide it all and make room for our lives.
In our sins, we are like those with a form of OCD (Obsessive Compulsive Disorder) called Compulsive Hoarding. Some people hang on to things compulsively because they hope one day they'll be useful. Compulsive Hoarders don't prioritize well, and they don't make wise choices. Their lives are filled up with junk that crowds out life.
Perhaps the most famous example of a compulsive hoarder was Langley Collyer who,
between 1933 and 1948, filled a mansion on Fifth Avenue in Manhattan with 120 tons of refuse, junk, and human waste. He would prowl the streets of Manhattan at night looking for items to rescue from the trash. Both he and his invalid brother, Homer, were found dead among possessions that included 11 pianos and all the components of a Model T Ford. Langley was actually crushed to death by a falling heap of heavy items he had rigged as a booby trap for burglars.
It's the same with sin: if you don't take out the trash, it will continue to grow. Sometimes, we're Langley Collyers. We hang onto our cherished sins, thinking that someday they'll do us good. After a certain point, we have accumulated so much sin, so much junk, that we lose the ability to deal with our sins. Given time, if not dealt with, they will weigh down and kill you.
Christ cleansed the Temple at the beginning of His ministry, and He cleansed His Temple at the beginning of your life in Him, at your baptism, or earlier in many cases. But, by the grace that comes through confession and repentance, you must allow Him to cleanse His Temple a second time, and a third time, and . . . .
Whatever your demons might be in your life, whatever sins are threatening to lead you away from Christ and His Kingdom: Jesus Christ can cast them out. It was Jesus Christ who cleansed the Temple, His Church, by His sacrifice on the Cross. And it is Jesus Christ who will Himself cleanse His Temple once again – if you turn to Him in repentance. Today, if you turn to Jesus Christ with true repentance, He promises to remove your sin, and to take away its guilt.
For there is power in the Blood to make and keep us clean forever in the sight of God.
Prayer: Forgive me, Father, for I have sinned against You by thought, by word, and by deed, and am no longer worthy to be called Your son. But by the blood of Jesus Christ, hear me as I confess my sins, and pardon me, not because of my goodness but because of the perfection of Your Son. Amen.
Grant, we beseech Thee, merciful Lord, to thy faithful people pardon and peace, that they may be cleansed from all their sins, and serve thee with a quiet mind; through Jesus Christ our Lord. Amen. (Collect for the 21st Sunday after Trinity from The Book of Common Prayer)
Point for Meditation:
Use the 10 Commandments to guide your meditation on your sins and your repentance.
For one of the sins that plague you, find a verse from Scripture to use to combat it today.
Resolution: I resolve to spend time confessing my sins today and vowing to turn from one sin.
Garbage Dump in Senegal – Creative Commons Attribution-Share Alike 2.0 Generic license