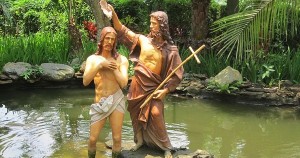 "What shall we do then?"
Imagine that you are in 1st century Israel, minding your own business, groaning under the Roman Empire and looking with weariness and almost complacency for the Messiah.
Suddenly, someone dressed in camel skins and a leather belt and eating bugs and bug by-products arrives in the region around Jordan. He attracts a lot of people, not so much by his weird threads and snacks but by his voice. Before you can even see him, you hear him, and he says, "Repent and be baptized for the remission of sins!"
He quotes the Scriptures and seems to have walked out of their very pages. You come closer, intrigued, and so do many other people. Many come forward to be baptized, professing to have confessed their sins and repented. Some of them are very emotional and joyful, and suddenly it's rather hip and fashionable to have had an encounter with John and to repent and be baptized.
Only some come forward just for the show, because they don't want to be left out of the emotional and social high, or because they don't want to look like someone who isn't willing to repent or thinks he doesn't need to. And others look on but refuse to come forward at all because they already know they're elect because they're Jews, right?
To all who listen or look but don't hear or see John says, "Brood of vipers! Who warned you to flee from the wrath to come? Bear fruits worthy of repentance, and do not begin to say to yourselves, 'We have Abraham as our father.' For I say to you that God is able to raise up children to Abraham from these stones. Every tree which does not bear good fruit is cut down and thrown into the fire."
That'll separate the men from the boys, and the sheep from the goats! Many of the people begin to walk away, muttering things like "Fanatic!" "Fundamentalist!" "Long-haired weirdo!" or "Judgmental bigot!"
But some of the people stayed and asked, "What shall we do then?"
Now that John had separated the wheat from the chaff, he tells them. They must truly repent, and not just say they that have. They must go and sin no more. He gets specific with them, telling all in their own situation which sins they must give up if they truly want to repent, and telling them that they must bear good fruit.
John the Baptist is hardcore. He tells it like it is and doesn't care who gets offended, even if it's King Herod himself.
Now imagine that Jesus Christ Himself has come. He, too, is a long-haired weirdo who is even more hardcore and radical than John the Baptist. John is just a pale reflection of Jesus. Imagine that He has ministered on earth for three years, has been betrayed and has suffered, and has been crucified and resurrected and has ascended and sent the Holy Spirit.
Imagine that He is standing before you now with his winnowing fan in His hand. Imagine – it's easy if you try, because for you all of these things have happened. And now a question emerges from within your soul. "What shall I do then?" I have witnessed all these things, Lord, and you have given me Your name. "What shall I do then?"
What would Jesus say? What will Jesus say, since this is no longer a hypothetical situation but is the reality of your life. How would He want you to answer this question if He were standing right there before you? (By the way, He is.)
You know the answers. Go search the Scriptures.
Wouldn't He tell you to repent and be baptized? Wouldn't He tell you to repent again, as many times as you have offended and that you must give up each and every sin that still separates you from God? Wouldn't He tell you that a tree is judged by its fruits?
In fact, He'd sound a lot like John, or actually it's that John sounds a lot like Jesus.
Wouldn't Jesus tell you to leave everything behind and follow Him immediately? Wouldn't He tell you to take up your cross daily, deny yourself, and follow Him? Wouldn't He tell you that if obedience to the Father was His daily bread that it should be yours as well?
And wouldn't He tell you to go and tell others the great things you have seen Him say and do in your life?
If even John the Baptist, who went before Jesus and was really the last of the Old Testament prophets, could do these things, then so can you. It must have taken tremendous courage to get up and say the things that John the Baptist said, knowing that it wasn't what people wanted to hear. Where did he get such courage, and where can I get some of it?
Do you remember when John kicked in Elizabeth's womb at the sight of Mary? How did he do that? By the power of the Holy Spirit. How did he get such courage as an adult? From the same Holy Spirit, who is also known as the En-courage-r.
But you have the same Holy Spirit: in fact, you have the Spirit to a greater degree. Jesus has told you that even the least in the Kingdom of heaven is greater than John.
"What will you do then?" It's the question that the faithful Jews asked John the Baptist 2000 years ago.
But it's also the question that Jesus is asking you today.
Prayer: Lord, I come before you today, freely confessing all my sins. I vow to repent from them and ask that you would give me the courage to give them up, as well as the grace, strength, and wisdom to know and do what you would have me to do. Fill me with Your Holy Spirit that I may be a fit vessel to serve you today. Amen.
Point for Meditation:
What is one sin that you know God is asking you to give up?
What is one good work that you know God is asking you to do?
Resolution: I resolve to listen to the Holy Spirit and hear one thing that Jesus Christ is telling me to do through the Spirit. Having heard, I resolve to obey and follow Jesus in this one thing,
Baptism of Jesus statue – Creative Commons Attribution-Share Alike 4.0 International license