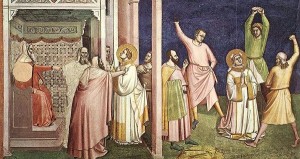 There are many great examples of love in the Bible. There is the great erotic love of the Lover for his Beloved in the Song of Songs. There is the great brotherly love of Jonathan for David, even though David was going to be made king instead of Jonathan. There is the brotherly and agape love of St. Paul for his fellow Jews so that he says he could wish he were accursed from Christ for his brethren, his countrymen according to the flesh (Romans 9:3).
But the greatest genus of love is agape love for our enemies. It is easy to love someone you feel a romantic attraction to, at least in terms of romantic love. (This is erotic love.) It is easy to love someone who is like a brother to you. (This is philadelphia love.) And it is relatively easy to love your family members, even if you don't love everything about them. (This is familial love.)
But it is difficult to love those who have not first loved you. (And this is agape love.) Our instinct is to mete out justice so that there is, in the language of anthropology, "balanced reciprocity." You give me this, and I'll give you that back. This can be positive, as in the case of the kind of hospitality found in the Greek myths, such as The Odyssey, in which you were to be hospitable to visitors, just as you expected to receive hospitality if you were a foreign visitor. It can also be negative, as in the lex talionis: "an eye for an eye and a tooth for a tooth." There is, of course, a place for this kind of perfect justice. But there is also to be room for mercy.
The greatest example of the greatest kind of love, agape love for our enemies, is the love of God Himself. While we were sinners, and before we loved God, He first loved us. The proof is the incarnation of the Father's love for His enemies in His Son, Jesus Christ the Righteous One who died for those who rejected Him and have sinned against the Father.
This is the kind of love that we are called to today, as God draws us to Himself that He might redeem us and make us like Him. We see the transmission of this divine love in the way that the Father sent the Son and the Son passed this love to His disciples.
On the night in which Jesus Christ was betrayed, even as Satan entered into Judas, Jesus offered Himself to Judas in His Supper. And when Jesus died on the Cross, He cried, "Father, forgive them, for they know not what they do!"
But the love of God didn't end there. The first Christian martyr, St. Stephen, on the day in which He was martyred by the Jews, said, "Lord, do not charge them with this sin." In this way, the love of the Father came through the Son to the Church.
But the love of God must not end with St. Stephen or with Christians of the past.
Now it is your turn, you who call yourself by the name "Christian."
When you are wronged and when you are hurt, what is your response? When someone shows a dislike toward you, do you also turn against him? Those who hate God and make themselves the enemies of God and therefore to some degree your enemies, do you hate them back? When someone has done you wrong, even a fellow Christian perhaps, do you hold it against him and determine to do him wrong or to write him off your list?
As you continue in your life as a disciple of Jesus Christ, remember His commandment to love your enemies. Remember that if you do not forgive, you have no right to expect forgiveness. And remember that once you were the enemy of God. But God loved you, when you did not yet love Him. As you carry Jesus Christ with you in life, and as you share Him with others, don't forget to share His love, even, especially, with your enemies.
Prayer: Father, I ask that as You have forgiven me my trespasses, so You would give me grace to forgive those who trespass against me. Help me to love those who don't love me, even as You have helped me to love You. Amen.
Point for Meditation:
What would it mean in your life to love your enemies or do good to them?
Watch the movie To End All Wars as an example of those who learned to love those who were their enemies.
Resolution: I resolve to lay hold of Jesus Christ today until I have learned from Him to love my enemies.
Martyrdom of St. Stephen – U.S. Public Domain